Win A Breakfast Sandwich Maker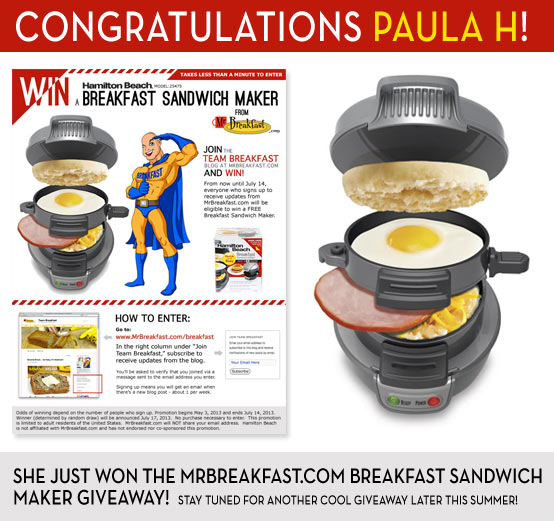 Update (July 16, 2013): This promotion has ended. Congratulations to Paula H. on winning the MrBreakfast.com Breakfast Sandwich Maker Giveaway!
Original Post:
From now until July 14th, everyone who signs up to receive updates from this blog will be
eligible to win a FREE Breakfast Sandwich Maker.  To enter, just go to the upper-right column of any page on the Team Breakfast blog and look for "Join Team Breakfast."  Enter your email address, hit the subscribe button and confirm that you subscribed via an email you will be sent immediately.  It all takes less than a minute.
By signing up, you'll get updates every time I post a new article.  Don't worry about getting too much mail. I rarely post more than once a week.  But when I do… you'll get tasty recipes, great tips, fun features and all the latest and greatest from the world of breakfast.
The winner of the Breakfast Sandwich Maker will be chosen randomly from all those who sign up during the promotion.
Please be sure to use an email account that you check occasionally as that will be the same address I'll use to notify the winner.
If you decide to enter, let me be the first to say, "Welcome to Team Breakfast!  Good luck!"
Odds of winning depend on the number of people who sign up. Promotion begins May 3, 2013 and ends July 14, 2013.  Winner (determined by random draw) will be announced July 17, 2013.  No purchase necessary to enter.  This promotion is limited to adult residents of the United States.  MrBreakfast.com will NOT share your email address with any third party entities.  Hamilton Beach is not affiliated with MrBreakfast.com and has not endorsed nor co-sponsored this promotion.

The Team Breakfast blog is found at https://www.mrbreakfast.com/breakfast.
Images of the Breakfast Sandwich Maker are from HamiltonBeach.com.  To see more, click here.
You Might Also Like: