Hash Browns: The Basics And Beyond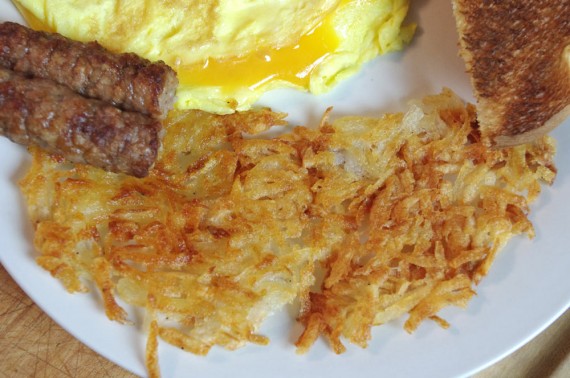 There's two major ways that people prefer basic hash browns: diner-style and extra-crispy.  Diner-style hash browns are golden brown and lightly crisp on the outside with a center that's tender and warm.  Extra-crispy hash browns are just that… extra crispy with almost every shred of potato browned and crisp, even crunchy.  However you like them, I think we can agree that hash brown are delicious when done right.  As you'll read here, they are also incredibly easy to make.
When it comes to ingredients, the only breakfast food that's simpler might be toast.  For basic hash browns, all you need are potatoes, butter or oil, salt and pepper.  Here's an ingredient list for 4 servings:
2 medium potatoes
2 Tablespoons butter, canola oil or peanut oil
1/4 teaspoon salt
1/4 teaspoon pepper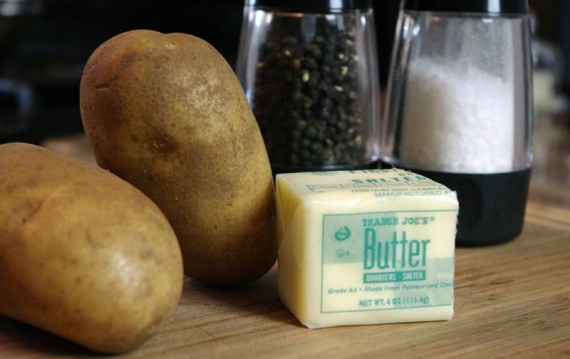 The best potatoes for hash browns are baking potatoes like Russet, Idaho or Yukon Gold.
Peeling your potatoes is an optional first step.  With the skin removed, you get hash browns that are uniform in color and probably what you're used to from most restaurants.  If you leave the skin, the hash browns are called rustic.  Just be sure to wash your potatoes before shredding.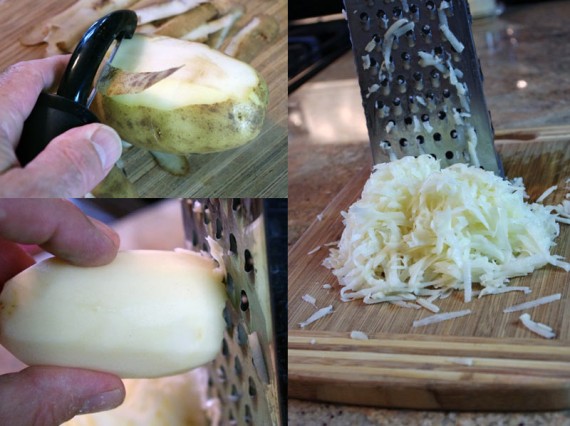 To shred the potatoes, I like to use the largest holes of a standard, upright box grater.  You could use a food processor or mandolin if you prefer.
The most important step I find is to remove as much moisture as possible from the grated potatoes.  To do this, I shred my potatoes directly over a clean kitchen towel or three stacked paper towels.  Once grated, gather the potatoes together in the towel – like a hobo fills his large handkerchief to carry his belongings.  Now, squeeze the bejesus out the potatoes.   Treat it like a test of strength.  Get the family involved.  Squeeze everybody… squeeze!  If your potatoes are wet and full of moisture, they'll spend their time in the pan steaming instead of frying.  Simply stated, soggy potatoes yield soggy, limp hash browns.  Removing liquid will also prevent splattering when the potatoes are added to the hot oil or butter.

The way you fry the potatoes will determine if you get diner-style or extra-crispy hash browns.  For either type, use a large frying pan or skillet – at least 10-inches in diameter.
For diner-style hash browns:  I prefer using butter.  It gives the hash browns – for lack of a better term – a buttery flavor.  Set the frying pan over medium-high heat and melt the butter.  Add the potatoes.  Season with salt and pepper to your liking.  Flatten the potatoes in the pan using a spatula so you get a uniform layer about a 1/2-inch thick.  Now wait for 4 minutes.  Check the underside.  It may need a minute or 2 more, but when the bottom is browned to your liking, flip the hash browns over.  They'll probably break apart as you flip.  Just flip in sections so the uncooked potatoes are on the bottom.  Cook the other side for about 4 minutes or until nicely browned.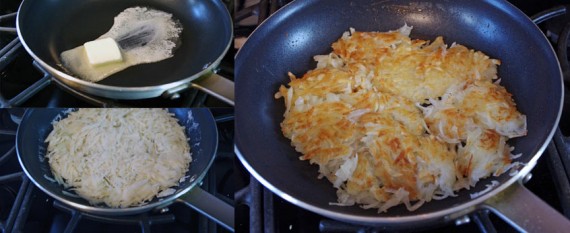 For extra-crispy hash browns:  Peanut or canola oil seems to work best for crisping the potatoes.  Heat the oil over medium-high heat until it gently ripples and shimmers.  As a test, drop a single shred of potato into the oil.  If it starts to sizzle and fry, you're good to go.  If it just lays there doing nothing, your oil needs to be hotter.  Work in two batches.  Take half of your potatoes and place them in the hot oil.  Season with salt and pepper. Press down on the potatoes with a spatula.  A thinner layer (about 1/4-inch thick) will provide more crispness.  I've had good luck frying both sides for exactly 5 minutes, but look for the amount of browning you prefer.  Add a little more oil to the pan between batches.  When the hash browns are cooked to your liking, transfer them to stacked paper towels to remove excess oil.  This also helps assure maximum crispness as the hash browns cool to eating-temperature.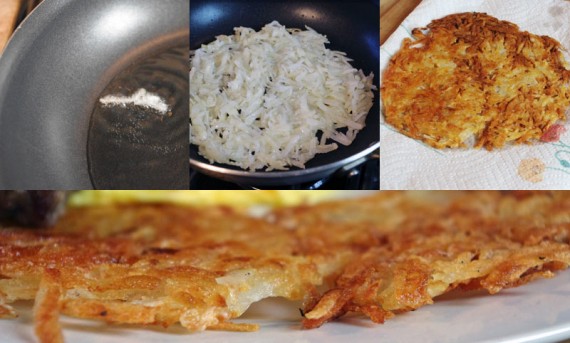 To keep cooked hash browns warm as you make more or work on other components of your breakfast, place them on a cookie sheet in an oven set to 225 degrees.
Note:  There's two steps mentioned in many recipes that I find unnecessary.   The first is par boiling (partially cooking) the potatoes before you shred them.  The second is soaking your shredded potatoes in water to remove excess starch.  I've done numerous kitchen tests and didn't find either of these steps to improve the overall result.
Adding Onions, Peppers, Etc.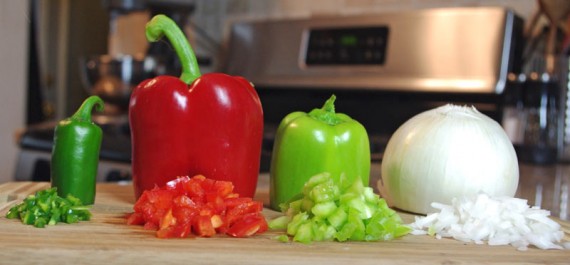 The most common extra ingredient added to basic hash browns is onion.  It adds a depth of flavor to the potatoes and a slight sweetness.  For two potatoes, I'll add about 1/4 of a medium onion – chopped into fairly small pieces.
Whenever I'm adding vegetables to the potatoes, I like to put everything in a bowl and toss it like a salad so the ingredients are evenly distributed.  Then, fry as normal.  Cooking time, heat and amount of oil or butter doesn't change.
As a general rule, I try not to overload my hash browns with too much extra stuff.  As long as the volume of extras doesn't exceed 1/4 of the volume of potatoes, you usually end up with a flavorful and often colorful mix that still lets the basic fried potato flavor shine.  Avoid overloading your pan.  Since you've added more stuff, the layer you're frying will be thicker.  Fry in batches to assure crispness.
The hash browns you see directly below have a Southwestern flavor thanks to multiple kinds of pepper, including Jalapeno.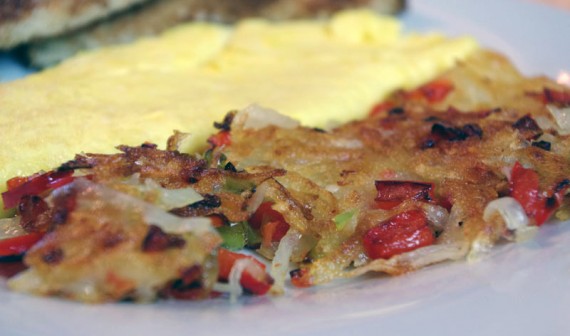 Hash Brown Patties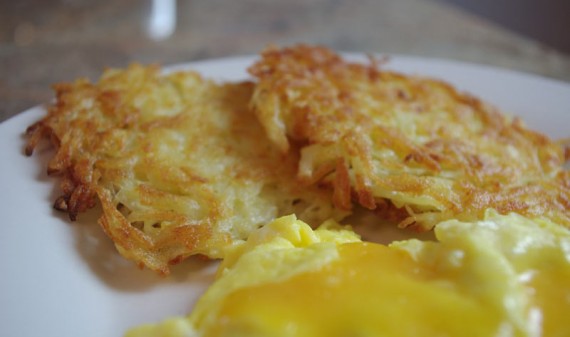 To make hash brown patties, you need to introduce some egg into the mix.  The egg will act as a binder so that the patties hold their shape.
Place your shredded potatoes in a mixing bowl.  Beat one egg.  Add the egg to the potatoes and mix well with a fork to coat all of the potato pieces.  For frying, oil and butter work equally well.  The heat is still medium-high.  Dollop a scoop of potato mixture into the pan – about 3 Tablespoons worth.  Form patties directly in the pan by pressing down with a wide spatula.   Cook each side for about about 5 minutes or as browned to your liking.  Avoid overloading your pan.  I usually fry two at a time.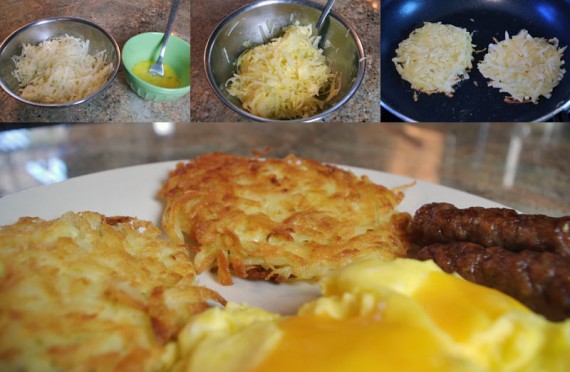 Other Ways To Enhance Basic Hash Browns: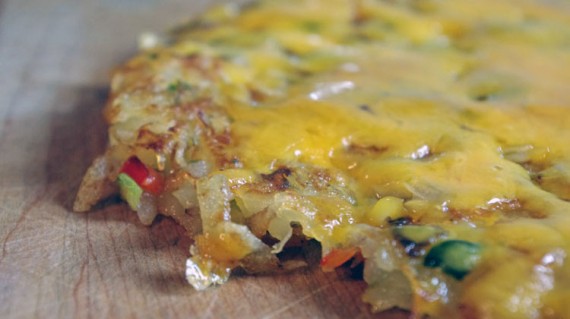 Meat:  You can add breakfast meats to hash browns with or in place of peppers, onions, etc.  For bacon, cook and crumble 2 or 3 slices and mix it in with the potatoes before frying.  For sausage, cook and crumble until no longer pink before mixing into the potatoes.  Ham can be diced and added directly with no pre-cooking necessary.
Cheese:  Back in Michigan where I'm from, some diners call hash browns topped with cheese "monster-stye" hash browns.  Just take about 1/3 cup grated cheese and sprinkle it over the hash browns about 1 minute before they're done.  I like a nice sharp Cheddar or a zesty Pepper Jack.
Garnishes And Condiments:  A Tablespoon (split among 4 servings) of chopped chives or parsley is a nice final touch.  Sprinkle over the hash browns for a little pop of color and a hint of extra flavor.  Have ketchup standing by.  It's the preferred condiment of most hash brown lovers.  Salsa pairs well with hash browns, adding a fresh, vibrant flare to the end result.  For what it's worth, I have one friend who tops his hash browns with A1 Steak Sauce and another who has to have sour cream on top.
I think it was the 70's rock band Journey who said, "Any way you want it… that's the way you need it."  This is nowhere more true than in the case of hash browns.  People know what they like and they know what they like on top of what they like.  Hopefully, you can now make hash browns any way you want.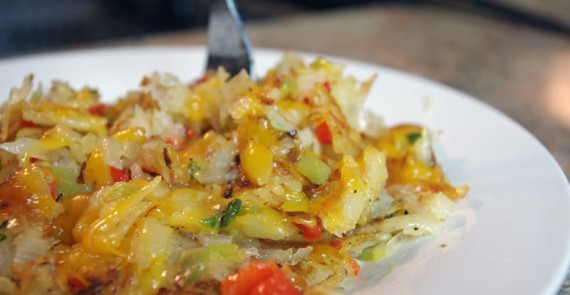 More About Hash Browns at MrBreakfast.com:
Extra Crispy Hash Browns Recipe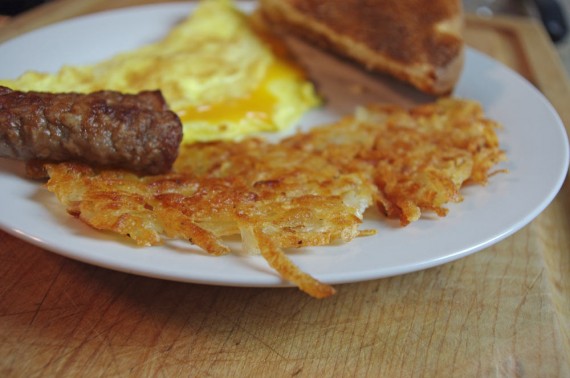 You Might Also Like: