Spam Breakfast Pie Gets No Respect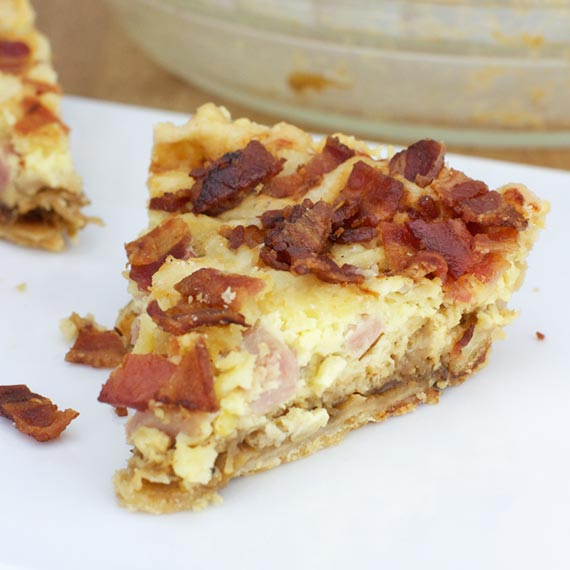 We knew it was a hard-sell entering the big pie contest with an entry called "Fig Jam & Spam Breakfast Pie."
The use of Spam was not a quirky, retro decision.  I'd made several test pies using bacon, ham and even chorizo as the meat in the filling.  But in every instance, the meat inside was overshadowed by our distinctive spicy, candied bacon crumble topping.
We'd gone camping the previous weekend and had campfire sandwiches made from the portable meat, so I happened to have an extra can of Spam on hand.  I gave it a shot in a test pie.  It worked.  It provided a flavor that contrasted but still paired with the bacon topping.  It not only worked, but it provided an umami element… a taste you remembered growing up but had almost locked away forever.
For our official entry in the savory category, we made a flaky herbed crust and lined the bottom with onions caramelized with a gorgeous homemade fig jam.  We mixed our quiche base with a combination of Gruyère and Cheddar cheese, to which we added the Spam and seasonings.  Once almost fully baked, we topped the pie with crumbled bacon that had been rubbed with brown sugar, smoked paprika and crushed cumin seeds.
As instructed, we made one pie for the judges and one for mass consumption.
It was a real blast serving the pie to the public.  As people read the name of our entry, we were greeted with either huge smiles or looks of complete dismay.  Fig Jam and Spam.  It was a risk.
I was very surprised that a handful of people asked us what Spam was.  When we told them that it was basically processed ham preserved in a can.  They seemed intrigued.
I had no real expectation of winning, but I found myself suddenly hopeful as people who tried our concoction returned to tell us that our pie was the best they tried.  In many instances, they said it quietly as if to say, "… but don't tell any one that I like Spam."
Things would be so different if Spam was a product of France or Italy.  Why does a preserved meat like prosciutto bring culinary experts to their drooling knees, while a canned American meat product makes them roll their eyes?
A Prosciutto And Gruyère Quiche would have been an easy win. I threw my apron in the ring with a Spam pie.  What was I thinking?  It's like I sent a lovable donkey to a purebred horse show.
One tent over, a Savory Korean Short Rib pie gleamed in the sun.
What if the Spam pie won?  It would be a victory for the underdog!  All the hoity-toity pies with their expensive ingredients would bow their crusts as the crowd erupted in Rocky-like cheers!
The judges approached the stage.  Host and Radio Food Phenom Evan Kleiman thanked a group of children for making pies, but said they were all winners and wouldn't be judged, per say.  Lucky for them.  I was starting to feel confident.  My Spam Pie would have destroyed them.
Former musician turned professional vegan enthusiast, Moby announced the winners of the vegan category.  He seemed like a high-brow hippy, too good for Spam.
Then it was our turn… the savory category.  Famed Los Angeles Chef Susan Feniger announced the results.  Third place… a summer tomato pie.  Second place… an onion quiche.
And the winner is…
My spirits were low as we walked to judges room to pick up our pie plate.  We were foiled by a Chicken Curry Pie.  It was probably great.  I didn't try it because it sounded disgusting.  Oh fate, put down your wretched mirror! I see the parallels.
We lost fair and square… or did we…
As we entered the judges room, I saw pie after pie with only a single forkful taken out.  Yards and yards of pie in exactly the same condition.  And then there was our pie, two-thirds gone.  The judges didn't vote for my pie, but it was the only one they had made a meal out of.
Actions speak louder than words.  By devouring my pie, they proclaimed my pie to be the king of all pies!  That was good enough for me!  (However, I still retain the option to file a legal appeal based on this astounding new evidence.)
This article is a companion piece to the following recipe on MrBreakfast.com:
The pie contest described here took place on September 7, 2013.  It was the 5th Annual Good Food Pie Contest sponsored by KCRW.  It took place at the Los Angeles County Museum of Art.
You Might Also Like: