Lemon Curd: The Best Food With The Worst Name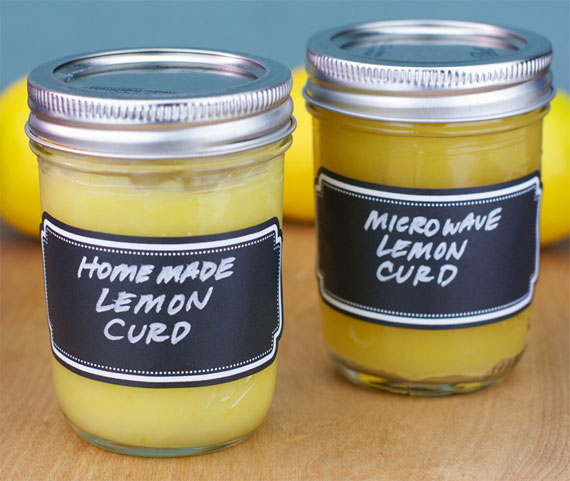 It's lemony, sweet and delicious.  It's easy to make and goes with just about anything.  But what's up with that name… Lemon Curd.  I like the "lemon" part, but a "curd" is something I expect to find in cottage cheese.  I don't even like when "curd" is used to describe pieces of a scrambled egg.   Maybe it's because it rhymes with "turd" or that the letters so easily rearrange to spell "crud".  It's definitely not a great word to describe the lemony, smooth, flavorful, custard-like spread that's so easy to love.
I've been experimenting a lot with lemon curd lately.  I've made a couple of homemade versions, including one that's prepared in the microwave.  In all cases, lemon juice, lemon zest, sugar, eggs and butter are combined and gently cooked until you suddenly have a beautifully thick substance.
In recent days, I've had lemon curd on pancakes, in pancakes, on toast, on English muffins, as part of a fruit parfait, as a filling for pastries and that's just for starters.  Anything you might use jam for, you can use lemon curd instead.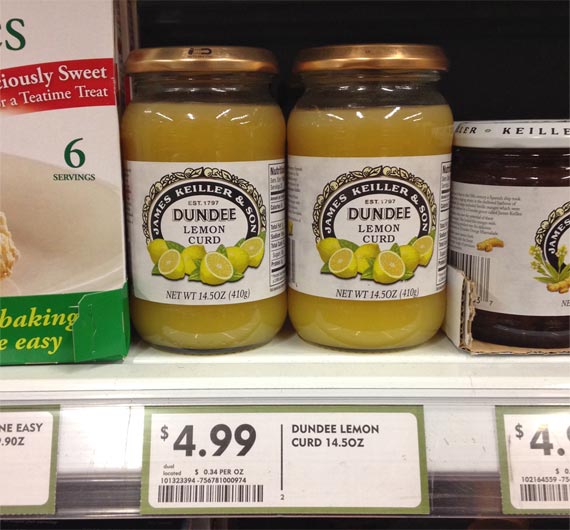 In grocery and specially stores, jars of lemon curd often cost more than five dollars.  By my estimate, it costs about 80 cents to make it at home.  It was even cheaper for me because of where I live.  A lot of my neighbors have lemon trees and it's not uncommon to see a basket of lemons on someone's sidewalk with a sign that says, "Free Lemons."  I grabbed about a dozen free lemons last week and, as you'll see from the variety of recipes that follow, I went a little lemon-loco.
As they say, a rose by any other name smells just as sweet.  So it is that lemon curd by any other name tastes just as sweet, although a new name would probably be more descriptive.  Here's a selection of recipes for lemon curd and recipes that use lemon curd… or as I'm calling it now… Lemon Delight, or Lemon Magic… how about Lemon Ecstasy.  On second thought, those all sound names you'd find at the medical marijuana store.  Anyway, here's some Lemon Curd recipes I hope you'll like.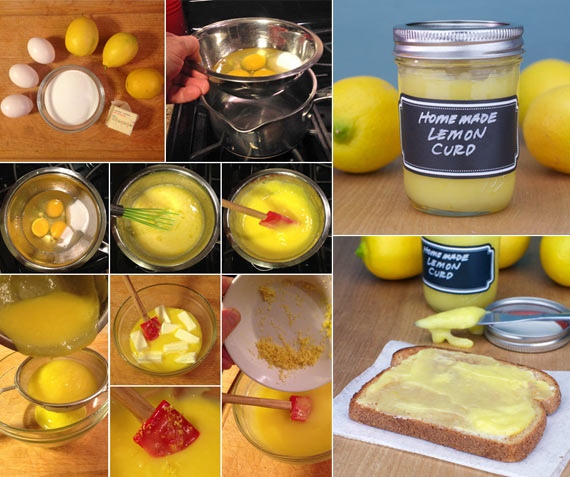 I swear by this recipe.  I'd put a jar of this against the store-bought stuff any day.  It requires only 4 ingredients (if you count lemon zest and lemon juice as one) and takes only 15 or 20 minutes to make.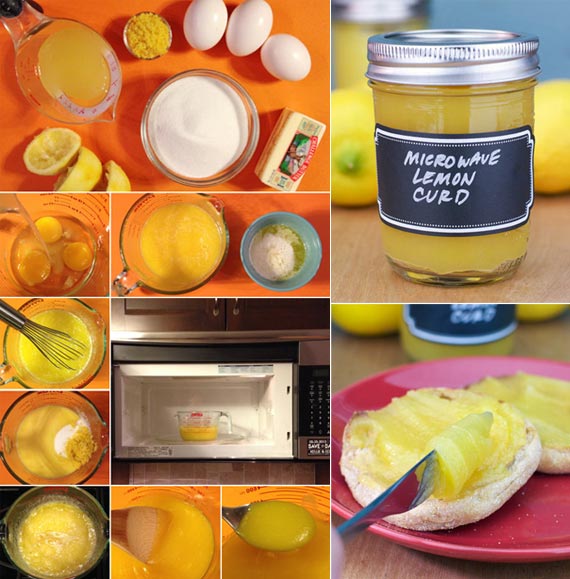 Do yourself a favor and make the recipe right before this one.  This is a weird case where a microwave version of a recipe actually takes longer than the stove top version.  It was rewarding to know I could make lemon curd this way, but it wasn't as rewarding for my mouth when compared to the traditional preparation method.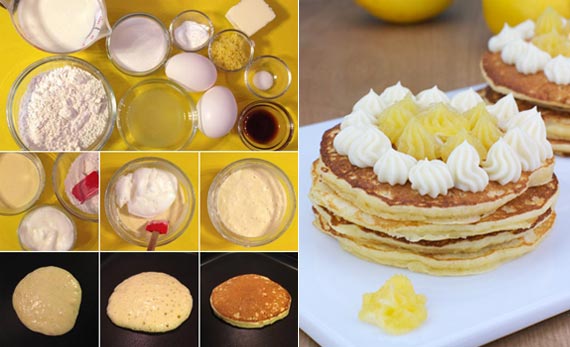 Lemon Pancakes Topped With Whipped Cream & Lemon Curd
If you want pancakes with big lemon flavor, put lemon zest and lemon juice in the batter and then top them with some lemon curd.  Of coarse, you could top any kind of pancakes with the good stuff, but why not go crazy.  As the saying goes… when life give you lemons, make lemon curd and lemon pancakes.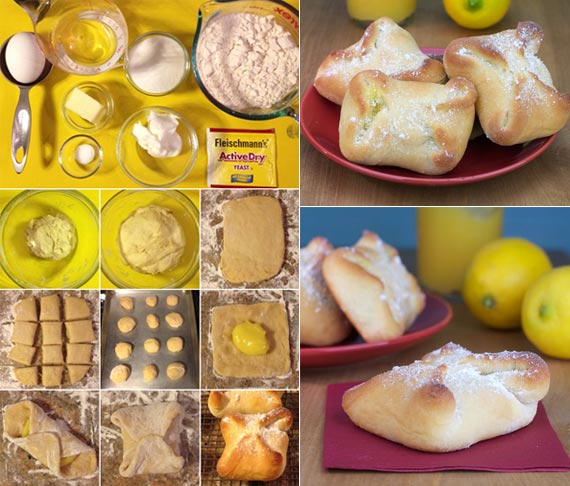 Kolache Pastries Filled With Lemon Curd
The recipe for this Czechoslovakian pastry was handed down from my Grandmother.  You can fill them with any favorite jam or preserve.  But if you have a jar of homemade lemon curd handy, I recommend giving it a try.  It might take some practice to get the dough the right shape and thickness, but they always taste amazing even when they don't look amazing.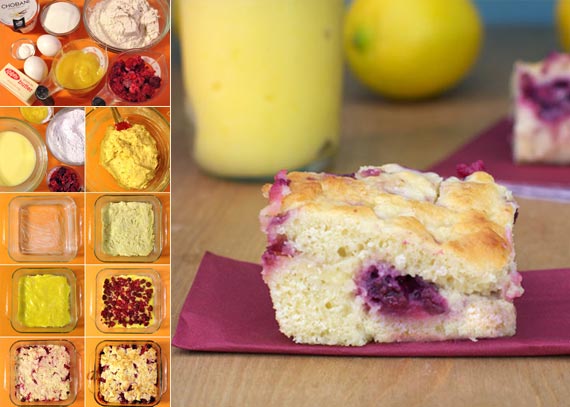 This coffee cake has a creamy, fruity center from lemon curd and raspberries.  Vanilla yogurt in the batter assures that it's moist and flavorful throughout.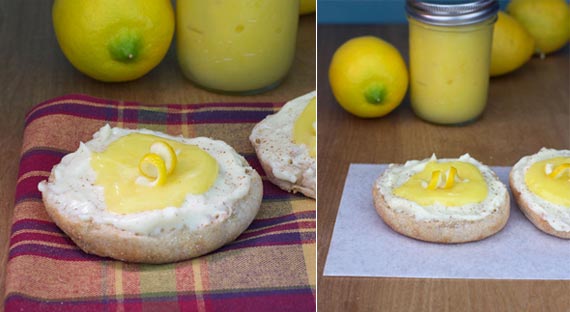 Mock Lemon Danish With Vanilla Yogurt & Lemon Curd
I was really surprised how good this was.  At first look, it seemed kind of lame.  It's an English muffin topped with cinnamon-infused yogurt and lemon curd.  It's insane how much it tastes like a pastry.
Funny story… when I took photos of the mock pastry, the yogurt didn't look good in the pictures.  Being a clever, sneaky guy, I replaced the yogurt with vanilla pudding so it would appear to have more substance in the pics.  That's when I made one of the best discoveries of my life.  Lemon curd mixed with vanilla pudding is… how do I say this without overselling it… it's orgasmic!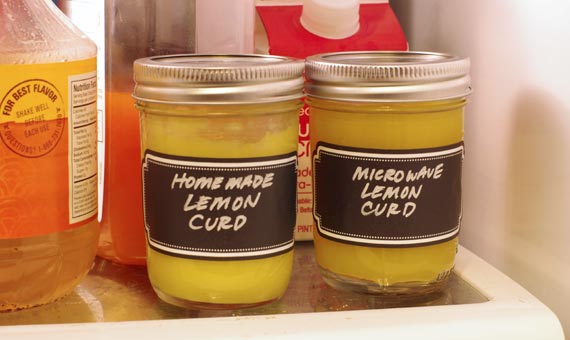 Remember… this is just a small sampling of the things you can do with lemon curd.  Try it on waffles.  Spread it between two pieces of French toast for Lemon-Stuffed French Toast.  Dip a banana in it.  Or try my favorite thing to do with homemade lemon curd… give a jar to a friend.
You Might Also Like: