Christmas Cake Donuts: Chocolate With Crushed Candy Canes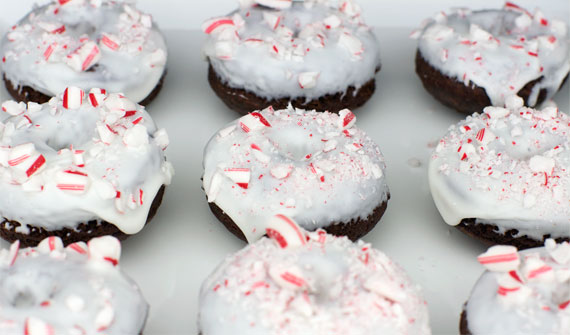 Happy holidays!  These are homemade chocolate cake donuts with vanilla icing and crushed candy canes.  When you read the name of this recipe, it sounds like I've just strung all the best words in the English language together:  Chocolate Christmas Candy Cane Cake Donuts. If you're looking for something to leave for Santa instead of milk and cookies… try these. You'll probably get a lot more presents.
I'll post complete recipes for the donut and icing below, but first… some advice.  Larger candy cane pieces make for great photos, but they're not so great for eating.  If they're too large, they have a distracting crunch.  I recommend pulverizing your candy canes until they're near dust with just a few small chunks.
When I make donuts, I always use two not-so-common ingredients.  If you have it, replace 2 Tablespoons of the all-purpose flour in the donut recipe with soy flour.  It will help deter oil absorption when they're in the fryer.  I also add a pinch of meringue powder to my donut icing.  That helps the icing firm up faster and results in more of a shell on the surface instead of a frosting texture that never really hardens.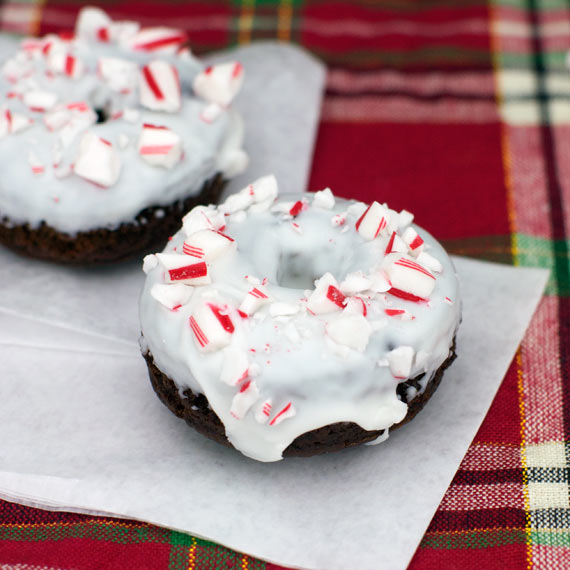 For best results when making cake donuts, chill the dough for a couple hours and work in two batches so some of the dough remains in the fridge while you're working the first batch.  This makes the dough easier to cut and work with.  When the dough is too warm, it becomes sticky and sloppy.
I won't lie.  Anytime you're making donuts, it's an involved process.  By the time you make the dough, chill the dough, cut the donuts, fry the donuts and ice and decorate the donuts, you're into it for several hours.  Personally, I love it.  I say put on some holiday music and make it a special time with family and friends.  Who knows?  Maybe it will be your new holiday tradition.
Have fun. Merry Christmas!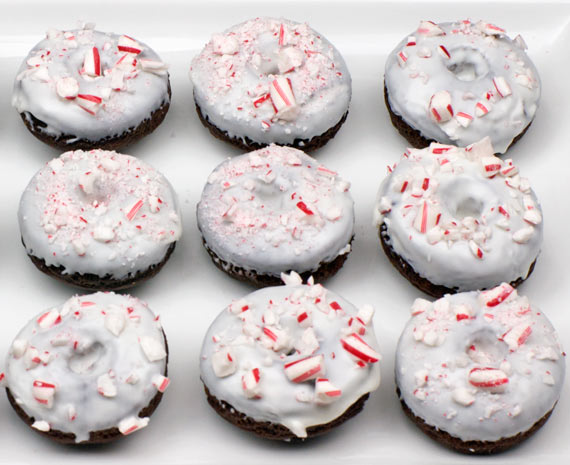 Chocolate Cake Donuts
2 and 1/2 cup + 2 Tablespoons all-purpose flour
2/3 cup natural unsweetened cocoa powder
1 Tablespoon baking powder
3/4 teaspoon salt
1/2 teaspoon cinnamon
3/4 cup white sugar
2 Tablespoons shortening
3/4 cup + 1 Tablespoon milk
2 Tablespoons chocolate syrup (like Hershey's)
1 large egg
1/3 cup mashed potato
canola oil for frying
Sift the flour, cocoa powder, baking powder, salt and cinnamon together into a medium bowl.
Make chocolate milk by stirring the chocolate syrup into the milk.
In a mixer fitted with a paddle attachment, add the shortening and the sugar.  Mix on slow until the mixture resembles coarse sand.  Add the egg and mix on slow until well combined and uniform in color.
Add the mashed potato, a third of the flour mixture and a third of the chocolate milk.  Mix on slow until just combined.  Scrape down the sides of the bowl.   Continue adding the flour and milk in intervals.  Stop when just combined – trying not to over-mix.  Mixture will resemble a firm cookie dough.
Transfer to a lightly greased cookie sheet and press the dough down with lightly floured hands until about 1/2-inch thick.  Cover with plastic wrap and refrigerate for at least 2 hour and up to 24 hours.
Heat 3 inches of canola oil to 360 degrees in a fryer or a heavy pot.
Turn the dough out onto a lightly floured surface.  Sprinkle the top lightly with flour.  Use a 2 and ½ inch biscuit cutter (that's been dipped in flour) to cut out donuts and a 1-inch cutter to make donut holes. Cut out as many donuts from the dough as you can.  Transfer cut-outs to a parchment-lined baking sheet.  Gather the dough remnants together.  Ball them up.  Flatten them again by hand and cut out additional donuts.
When the oil reaches 360 degrees, carefully slide 2 or 3 donuts into the oil (more if using a large pot – just don't overcrowd).  As soon as the donuts float (in about 6 to 10 seconds), flip them over using two chopsticks or spoons.  Cook the underside about 40 seconds.  Flip and cook the other side for about 30 seconds.
Transfer completed donuts to stacked paper towels.
Be sure the oil is at 360 degrees again before frying another batch.
Allow donuts to cool completely before dipping them in icing.
Vanilla Or Peppermint Icing
2 cups powdered sugar
1/4 teaspoon vanilla extract (or peppermint extract*)
4 to 5 Tablespoons milk
Place the powdered sugar in a shallow mixing bowl.  Add the flavor extract and 3 Tablespoons of the water or milk.  Stir until a frosting texture is formed.  Add additional liquid by the teaspoon until the icing is just fluid enough to drizzle your first initial over the bowl with the stream from your fork or whisk.
For best results,  take a pan that your mixing bowl can rest in and fill it part way with very hot water.  Let your bowl of icing rest in this hot water bath so the icing stays a little bit warm.  Stir the icing occasionally so it remains smooth.
Dip the tops of each donut in the warm icing.  After you dip, hold each donut above the mixing bowl for a moment so the excess icing drips off.
Immediately sprinkle crushed candy cane over each donut once it's iced so the candy pieces will stick.
* It might seem like a no-brainer to use peppermint icing for this particular donut.  I do NOT recommend it.  The crushed candy cane provides a huge amount of peppermint flavor.  It's better if the icing is vanilla (or even plain), so the peppermint doesn't get too intense.
BONUS:
As long as you're crushing candy canes, consider making some Candy Cane Hot Cocoa.  You can get the recipe here.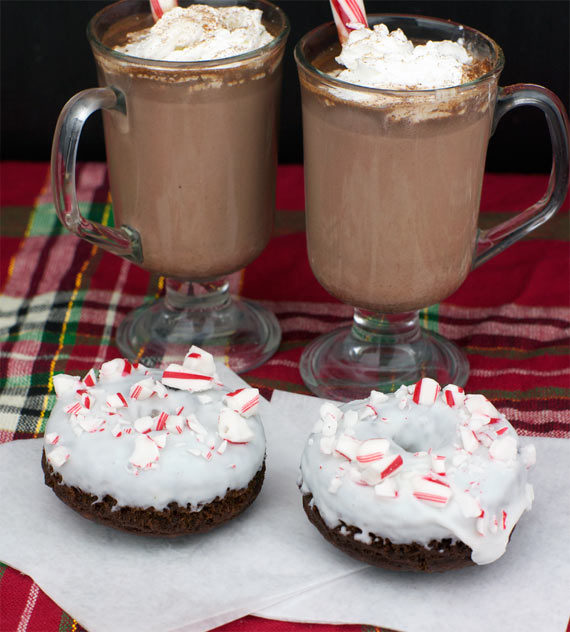 Test Kitchen Notes:
If kitchen space allows, cut out donuts as you're frying donuts.  That is to say… bring your oil to 360 degrees.  Place some of the dough on your counter-top.  Cut out 2 or 3 donuts and drop them in the fryer.  Cut out a couple more donuts while the first ones are frying and proceed in that manner.  The quicker you cut the donuts and get them in the oil, the easier they are to work with – without the dough becoming too soft.
If you decide to cut out all the donuts first before frying, I recommend putting the cut out donuts back in the refrigerator for 30 or 40 minutes, so the dough will remain somewhat firm.
Apologies for some of the weird measurements like 3/4 cup + 2 Tablespoons milk.  I've run these chocolate cake donuts through many tests and the flour to liquid ratio was always tricky.  I'm confident that I now have it right with those slightly odd measurements.
You Might Also Like: