Vive la French Toast: 15 Favorite Recipes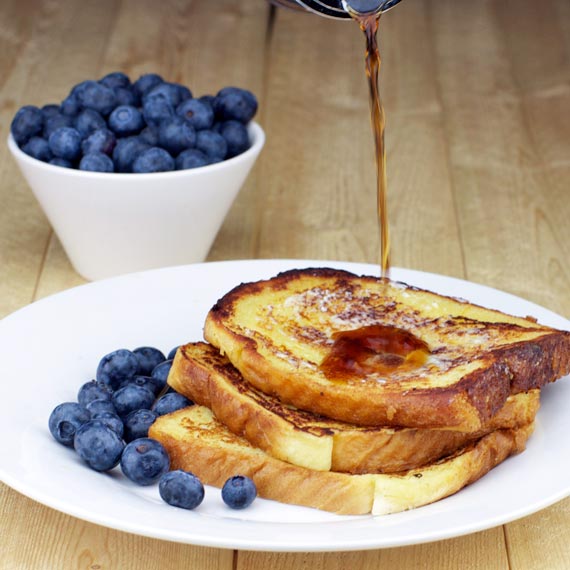 There's nothing quite like a perfectly prepared piece of French toast. The outside is ever so crisp and the inside is moist and tender. Ordinary bread suddenly becomes a playground for maple syrup and other toppings. Use extraordinary bread and you're in for a guaranteed breakfast bonanza.
Here's 15 of the best French toast recipes on MrBreakfast.com: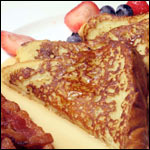 Everybody needs a good go-to French toast recipe. This is mine. The custard that you dip the bread into is a simple combination of milk, beaten eggs, sugar and a hint of salt. If you're craving no-frills, classic diner-style French toast, this is a recipe you should try. Get the recipe here.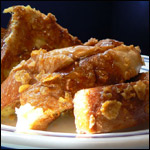 I can still remember the first time I tried Crunchy French Toast. It was several years ago at a restaurant in Los Angeles called Fred 62. I took a bite and was an immediate fan. A crisp French toast exterior is great. A crunchy exterior is even greater. The trick is dragging your bread through crushed corn flakes after you dip it in an egg and milk mixture. Get the recipe here.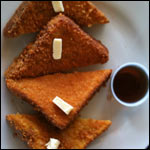 #3. Cinnamon Crunch French Toast
Once you try Crunchy French Toast (#2), you might want to explore other ways to achieve a crunchy French Toast exterior. In this recipe, the crushed corn flakes from the previous recipe are replaced with crushed Cinnamon Toast Crunch cereal. Get the recipe here.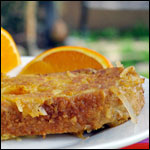 #4. Coconut Crunch French Toast
The "crunch" in this recipe actually refers to a man – one of the greatest men in the history of breakfast… Cap'n Horatio Magellan Crunch. That's his actual full name. Here, crushed Cap'n Crunch cereal and shredded coconut form a tasty crust on each slice of French toast. Get the recipe here.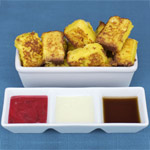 #5. French Toast Bites (aka Golden Nuggets)
This recipe was inspired by an offering on a limited edition Denny's menu where it was called Lonely Mountain Treasure. At Denny's, they offered maple syrup as a dipping sauce. Since "Lonely Mountain Treasure" is a weird name and one dipping sauce is not enough, I present you with French Toast Golden Nuggets and a variety of dipping sauces. Get the recipe here.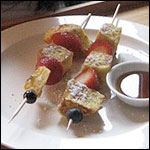 Once you know how to make French Toast Bites (#5), the next logical step is to stab them with a stick. This recipe for breakfast kabobs pairs golden brown French toast pieces with berries and pieces of fruit. Get the recipe here.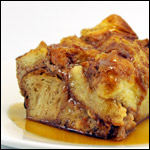 #7. Brown Sugar & Walnut Baked French Toast
This is one of my personal favorite overnight French toast dishes. All the ingredients can be assembled before you go to bed. The next morning, pop it in the oven for 30 minutes and breakfast is served. Get the recipe here.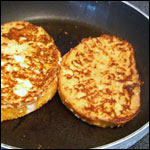 #8. Coconut Banana French Toast
If you desire a taste of the tropics, this might be the recipe for you. Mashed bananas and coconut flakes are blended into an egg custard so each piece of French toast is literally drenched in island flavor. Get the recipe here.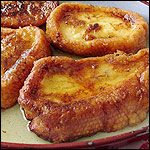 #9. Torrijas (Spanish French Toast)
The core recipe for Spanish French toast (aka Spanish Bread Pudding) is strikingly similar to basic American French toast. The thing that makes this recipe special is its simple topping of cinnamon, sugar and honey. You might find yourself saying "hasta la vista" to maple syrup for a while. Get the recipe here.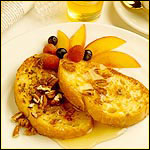 #10. Honey Custard French Toast
In our earlier study of Spanish French toast (#9), we discovered that honey makes an excelente French toast topping. This recipe from the National Honey Board takes that concept one step further. Honey is incorporated as part of the custard that the bread is dredged in. Then, everything is topped with more honey and some chopped pecans. To skip this recipe would be a "honey boo boo." Get the recipe here.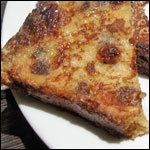 The 18th century English poet William Cowper once wrote, "I pity them greatly, but I must be mum, for how could we do without sugar and rum?" Tis true, for without rum, this recipe would be but raisin bread French toast. A modest amount of dark rum gives this French toast a unique and special flavor. Get the recipe here.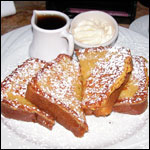 #12. Vanilla Cream French Toast
Using whipping cream in a French toast custard may not be very diet conscious, but it will result in an a rich and creamy center that will have you creaming will delight even the most critical of French toast connoisseurs. Get the recipe here.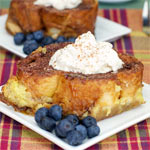 #13. Caramel Soaked French Toast
In this dish, pieces of tender French toast bake in a glorious wading pool of gooey caramel. The top and edges are golden brown and buttery, while inside is tender and custard-like. Get the recipe here.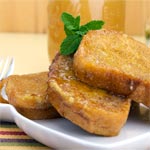 This baked French toast doesn't need syrup or any other topping. Honey melds with butter to create a sort of glaze. A little orange juice in the recipe adds bright notes of citrus that pair perfectly with the honey. Get the recipe here.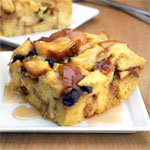 #15. Easy French Toast Casserole
Using the right bread is the key to making this recipe work. A cinnamon swirl bread with raisins is our go-to option. While this dish requires overnight refrigeration before baking, the actual preparation is quick and easy. Get the recipe here.
Want More?
The MrBreakfast.com French Toast Recipe Collection has over 170 different French toast recipes. If you try one, let me know how it worked out in the comments below or on any of the recipe pages.
For an in-depth study on making basic French toast, check out my previous blog post called How To Make Excellent French Toast.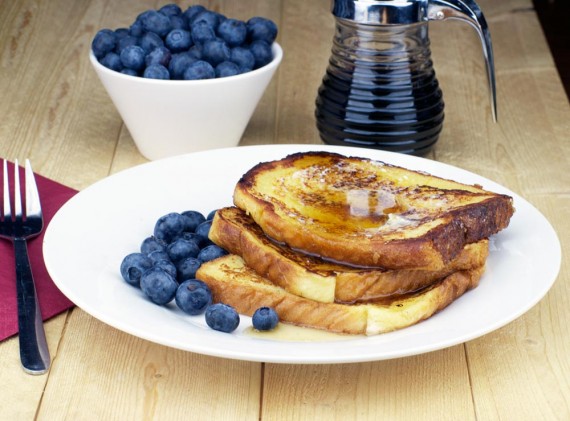 You Might Also Like: