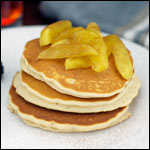 Apple Cinnamon Pancakes (Egg-Free And Dairy-Free)
1 cup all-purpose flour
1 Tablespoon sugar
2 Tablespoons baking powder
1/8 teaspoon salt
1 cup vanilla soy milk
2 Tablespoons vegetable or olive oil
1 teaspoon ground cinnamon
3 Tablespoons applesauce
1/2 teaspoon pure vanilla extract
This recipe was submitted by "nikkimack" back in 2003. Since then, I've been very happy to see the positive comments from people who were looking for a good egg-free and dairy-free pancake recipe.
I decided to try it myself this evening as breakfast-for-dinner (02/21/13). I'm pleased to report that the pancakes were great. They're not as fluffy as those made with eggs, but they held their structure and I didn't miss the eggs at all. The applesauce adds a very subtle apple flavor. To get the best out of this recipe, I'd suggest topping them with additional apple sauce or sautˇed apples and maple syrup.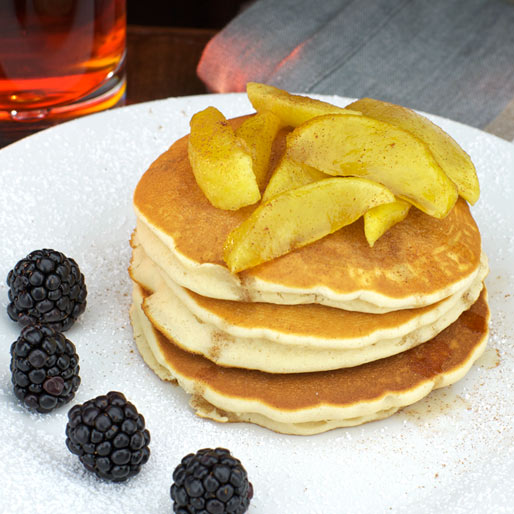 How To Make Egg-Free and Dairy-Free Apple Cinnamon Pancakes
Combine the flour, sugar, baking powder, salt, and vanilla soy milk in a bowl and mix thoroughly.
Mix in the ground cinnamon, apple sauce, and pure vanilla extract until smooth.
Pour about 1/2 cup (if you like big thick pancakes) on to hot, oiled griddle. In about 2 minutes, bubbles will appear on the upper surface of the pancake, flip the pancake with spatula. Cook for another 2 minutes.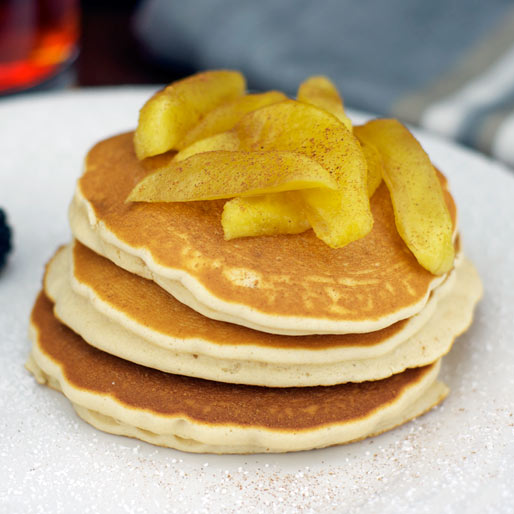 Tastes great served with maple or fruit syrup. This pancake recipe is dairy-free and egg-free.
Mr Breakfast would like to thank
nikkimack
for this recipe.
Comments About This Recipe
What do you think of Apple Cinnamon Pancakes (Egg-Free And Dairy-Free)?
Overall Average Rating =

(out of 5)

From Allergymum
This recipe is great! Really pleased I found it!!

Comment submitted: 5/14/2016 (#19926)



From Madison
I don't miss the egg and regular milk at all. They just taste like good pancakes. This is a keeper.

Comment submitted: 10/31/2013 (#17090)



From prodeo hotels
Great recipe. Buenos Aires is a pancake recipe richer! We use it at brunch! Thanks.

Comment submitted: 10/2/2010 (#11319)





From Onangelswings (Team Breakfast Member)
I loved it. Hugs to all from the Island of Puerto Rico.

Comment submitted: 4/27/2010 (#10392)



From mariam

Hi. The recipe is delicious. Unfortunately the pancakes wouldn't come unstuck from the pan and so could get only a gooey mixture. Tasty! But can u help me get pancakes that come off the pan in one piece?

Comment submitted: 4/3/2010 (#10226)



From hellabaked
DANK.... half apple + cinimon + vanilla extract in blender, mixed with bisquick mix

Comment submitted: 6/14/2009 (#8281)





From MelindaLongoria (Team Breakfast Member)
My recipe is easier. I use pancake mix. Put a quartered apple in the food processor. Add to mixture. Add cinnamon, sugar, and vanilla extract. Mix. Cook and flip. Serve with melted butter and cinnamon & sugar on the top. My husband loved it! We had Hawaiian coconut bread, potato eggs, and ham with ours.

Comment submitted: 11/29/2008 (#6989)



From rich kid$
OH My God. (So Good)

Comment submitted: 6/14/2008 (#5531)



From goldy
Wow! I should make this more often ;-)

Comment submitted: 6/14/2008 (#5530)



From CarrieLuvsKeith
I was sooo excited to make this for my family for a big Sunday breakfast. My 2-year-old son is allergic to dairy and my 1-year-old son is allergic to eggs, so I was ecstatic to find a pancake recipe that they could both enjoy. For that alone I give it 4 stars! They did love these pancakes, and my son still asks for them, 3 days later. I felt they lacked a whole lot of flavor. To me, they were just so-so, but everyone else loved them, so maybe it was just me! Like I said, though, I am thrilled to have found a dairy-free, egg-free pancake recipe, and will continue to make this for many weekends to come!

Comment submitted: 9/18/2007 (#3598)



From SpiritedSharon
I made these with diced fresh apple (approx. 1/2 cup - didn't measure) and a sprinkling of chopped walnuts and served with Maple Syrup. Boy! Was this good. With my additions, I made 18 small pancakes, serving 3.

Comment submitted: 6/24/2007 (#3098)





From Nicoleholt (Team Breakfast Member)
We just cooked and devoured these pancakes and I have to tell you that you get two enthusiastic thumbs up from all five family members! (ages 7-36)

We were out of applesauce and used very finely chopped apples instead, but that's the only change we made. Next time we'll make the pancakes with applesauce.

Comment submitted: 3/18/2007 (#1864)



From Amazing
To good to be true!

Comment submitted: 2/8/2007 (#1462)



From lorie
This recipe sounds very delicous! It would be really good if you put chunks of apples in it!

Comment submitted: 10/15/2006 (#504)



From sarahm
I've had this twice now and it's delicious! Try putting raspberry jam on them for extra yumminess. :)

Comment submitted: 9/30/2006 (#413)




---
Connect With Mr Breakfast: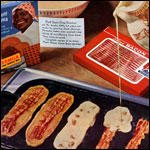 Bacon Strip Pancakes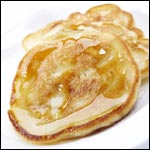 Reliable Homemade Pancakes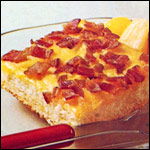 Maple-Bacon Oven Pancake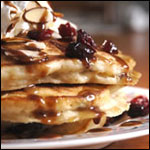 Cranberry Almond Caramel Pancakes