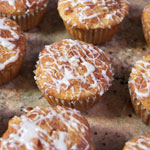 Apple Buttermilk Muffins
2 cups + 2 Tablespoons all-purpose flour
1/2 cup packed light brown sugar
2 teaspoons baking powder
1 teaspoon baking soda
1/2 teaspoon salt (omit if using salted butter)
1 cup buttermilk
1/4 cup butter - melted
1 Tablespoon vegetable or canola oil
2 teaspoons vanilla extract
1 large egg
2 medium Golden Delicious or Winesap apples
1/2 cup walnuts - chopped
1 Tablespoon sugar
1 teaspoon ground cinnamon
I found these muffins to be moist and full of flavor. I adjusted the recipe ever so slightly (reflected in ingredients above) by upping the flour a couple Tablespoons (for batter consistency) and by replacing a large portion of cooking oil with melted butter. I topped my muffins with a vanilla icing drizzle which was very fun. The muffin pan looked a Jackson Pollock painting. These muffins are a work of art. (Recipe submitted in 2002. It was tested and photographed in October 2013.)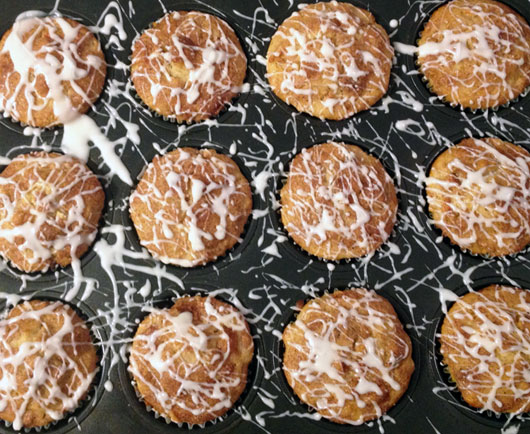 How To Make Apple Buttermilk Muffins
Peel, core and dice the apples. This should yield about 2 cups of diced apple.
Preheat oven to 400 degrees F. Grease twelve regular (2 1/2" by 1 1/4") muffin cups or line with muffin papers.
In large bowl, mix first 5 ingredients. In small bowl, with wire whisk or fork, whisk together the buttermilk, butter, oil, vanilla and egg until well blended; stir into flour mixture just until flour is moistened (batter will be lumpy). Fold in apples and walnuts.
In cup, mix sugar and cinnamon. Spoon batter into muffin cups; sprinkle with cinnamon sugar. Bake muffins 25 minutes or until toothpick inserted in center of a muffin comes out clean. Immediately remove from pan; serve warm. Or cool on wire rack; reheat if desired.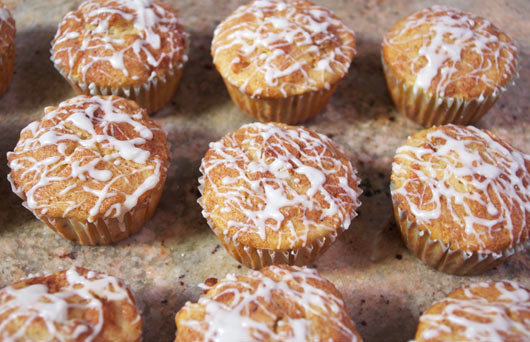 Recipe Notes:

Each tasty muffin has about 185 calories, 5 grams total fat and 1 gram saturated fat.

If you don't have buttermilk, you can use regular milk. Just use the same amount of milk and replace the teaspoon of baking soda with an additional teaspoon of baking powder.

To make a vanilla icing drizzle, take 1 cup of powdered sugar and and a teaspoon of vanilla and stir in milk 1 Tablespoon at a time until the consistency becomes barely fluid. Then, drizzle it randomly over the muffins with a small spoon.

Moist buttermilk muffins with noticeable apple in every bite. Drizzle with vanilla icing to make them pretty.
Mr Breakfast would like to thank
CrisiMarie
for this recipe.
Comments About This Recipe
What do you think of Apple Buttermilk Muffins?
Overall Average Rating =
(out of 5)

From Mandison (Team Breakfast Member)
We loved everything about these. They were very moist without being heavy. Your vanilla icing was awesome. Total success!

Comment submitted: 10/27/2013 (#17022)





From Kenyacook (Team Breakfast Member)
I had everything ready to make these when I discovered my apples had gone bad so what to do... I used dried apricots, some raisins and of course nuts - they were probably the best tasting muffins ever. I can't wait to try them with apples!

Comment submitted: 11/6/2010 (#11511)



From recipejnky
Me and my two kids made these on a school morning. She was in charge of the wet ingredients, he took care of the dry. Then I poured them into sprayed muffin liners and popped into the oven. They are moist and flavorful. We subbed pears for the apples and subbed one of the tsp. of vanilla for almond extract, and added a bit of cinnamon and ginger to the batter. Very moist base muffin recipe.

Comment submitted: 9/15/2010 (#11226)



From New Mom
These are yummy, only cooked for 18 minutes. My one year old really enjoyed them.

Comment submitted: 9/9/2010 (#11187)



From pogos
We didn't make it properly... for some reason the muffins ended up looking like something out of a bad horror flick... you know... like when really bad effects are used to portray bloody guts and nasty flesh... not the best look. Still good though!!

Comment submitted: 4/10/2010 (#10274)



From Rayford
Best muffins ever! Thanks!

Comment submitted: 3/11/2010 (#10029)



From J.D. Hogg

I liked them. They are really nice with butter and jam. If just eaten alone, the recipe could probably use more sugar.

Comment submitted: 12/4/2009 (#9154)



From Serap

Well explained muffin recipe. For the first time my muffins turned out like a muffin :) Thank you.

Comment submitted: 4/16/2009 (#7975)



From Blogoyavch

The cooking time given was too much - they were overcooked. The muffins were also too bitter.

Comment submitted: 2/15/2009 (#7587)



From Sarah T

Isn't butter needed?

Comment submitted: 5/26/2008 (#5370)



From cheffy
Good recipe. Use brown sugar and break down in oil before adding rest of wet ingredients. Make sure there are still lumps in the batter before baking.

Comment submitted: 2/17/2008 (#4650)





From DaniD (Team Breakfast Member)
Not bad. Quick and easy. I didn't have walnuts, but had pecans and they were yummy!

Comment submitted: 11/16/2007 (#4007)



From Sal
Fabulous recipe, under 200 calories as recommended by the new recipe book, The Best life....I used pears instead of apples and they were delicious....

Comment submitted: 11/8/2007 (#3959)



From beachy4q
A huge hit with family, friends, teachers. Moist, tasty muffin (don't overmix!) that you will make again and again.

Comment submitted: 6/25/2007 (#3102)




---
Connect With Mr Breakfast: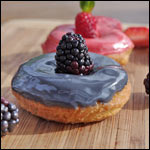 Berry Delicious Cake Donuts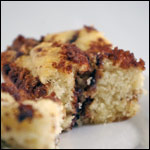 Cinnamon Flop (Coffee Cake)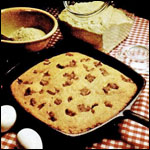 Bacon Spider Bread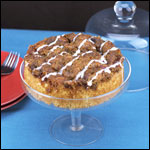 Strawberry Jam Coffee Cake

Our list of the best cereal premiums of all time.
Click here
.