Apple Buttermilk Muffins

(12 servings)

2 cups + 2 Tablespoons all-purpose flour
1/2 cup packed light brown sugar
2 teaspoons baking powder
1 teaspoon baking soda
1/2 teaspoon salt (omit if using salted butter)
1 cup buttermilk
1/4 cup butter - melted
1 Tablespoon vegetable or canola oil
2 teaspoons vanilla extract
1 large egg
2 medium Golden Delicious or Winesap apples
1/2 cup walnuts - chopped
1 Tablespoon sugar
1 teaspoon ground cinnamon
I found these muffins to be moist and full of flavor. I adjusted the recipe ever so slightly (reflected in ingredients above) by upping the flour a couple Tablespoons (for batter consistency) and by replacing a large portion of cooking oil with melted butter. I topped my muffins with a vanilla icing drizzle which was very fun. The muffin pan looked a Jackson Pollock painting. These muffins are a work of art. (Recipe submitted in 2002. It was tested and photographed in October 2013.)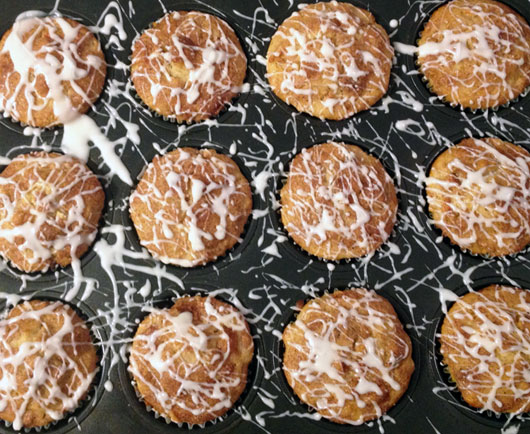 How To Make Apple Buttermilk Muffins

Peel, core and dice the apples. This should yield about 2 cups of diced apple.

Preheat oven to 400 degrees F. Grease twelve regular (2 1/2" by 1 1/4") muffin cups or line with muffin papers.

In large bowl, mix first 5 ingredients. In small bowl, with wire whisk or fork, whisk together the buttermilk, butter, oil, vanilla and egg until well blended; stir into flour mixture just until flour is moistened (batter will be lumpy). Fold in apples and walnuts.

In cup, mix sugar and cinnamon. Spoon batter into muffin cups; sprinkle with cinnamon sugar. Bake muffins 25 minutes or until toothpick inserted in center of a muffin comes out clean. Immediately remove from pan; serve warm. Or cool on wire rack; reheat if desired.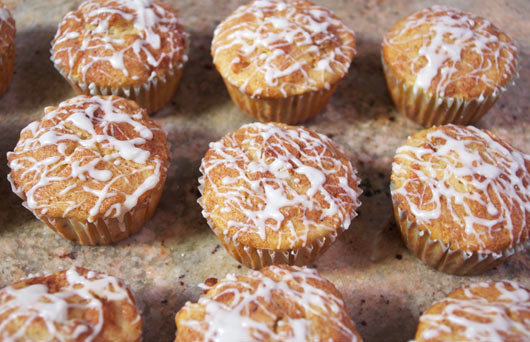 Recipe Notes:

Each tasty muffin has about 185 calories, 5 grams total fat and 1 gram saturated fat.

If you don't have buttermilk, you can use regular milk. Just use the same amount of milk and replace the teaspoon of baking soda with an additional teaspoon of baking powder.

To make a vanilla icing drizzle, take 1 cup of powdered sugar and and a teaspoon of vanilla and stir in milk 1 Tablespoon at a time until the consistency becomes barely fluid. Then, drizzle it randomly over the muffins with a small spoon.

Moist buttermilk muffins with noticeable apple in every bite. Drizzle with vanilla icing to make them pretty.




Mr Breakfast would like to thank CrisiMarie for this recipe.

Recipe number 668. Submitted 9/19/2002.