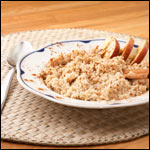 Apple Snapple Oatmeal
1 medium apple or pear
3 cups apple juice or cider
1 and 1/3 cups regular rolled oats
1/4 cup raisins or chopped pitted dates
1/4 teaspoon ground cinnamon
milk (optional)
brown sugar (optional)
On a cutting board, use a sharp knife to cut the apple or pear into 4 pieces. Cut out the core and throw it away. Chop each piece.
In a saucepan, put the chopped apple or pear, apple juice or cider, oats, raisins or dates, and cinnamon. Stir with a wooden spoon to mix. Put the pan on the burner. Turn the burner to medium-high heat. Cook just till bubbly. Turn the burner to low. Simmer, uncovered, for 5 minutes, stirring now and then. Turn off the burner. Remove the saucepan from the burner.
With a large spoon, put the oatmeal into 4 cereal bowls. Serve immediately with milk and brown sugar, if you like.
This can also be made in the microwave. Just reduce the liquid to 2 and 1/2 cups. Microwave the stirred ingredients on high for 3 minutes in a covered microwaveable 2-quart casserole dish. Stir and microwave 3 minutes more.



Available at Amazon.com
This recipe is from the classic cookbook titled New Junior Cookbook (Better Homes And Gardens, Meredith Corporation, 1989).

The New Junior Cookbook is a classic cookbook with easy to follow instructions for kids. In addition to a couple breakfast recipes, this cookbook has several lunch, dinner, beverage and snack recipes.
For a fun change, try using pear instead of apple in this recipe. Just a little brown sugar on top makes this oatmeal even better.
Mr Breakfast would like to thank
Mr Breakfast
for this recipe.
Comments About This Recipe
What do you think of Apple Snapple Oatmeal?
Overall Average Rating =

(out of 5)

From cloudy
Amazing recipe! Way better than Quaker instant packets.

Comment submitted: 11/1/2012 (#14805)



From somefatchick
Had no raisins or dates. Added stevia to the juice, which I made with a cup of soy milk and 1 1/2 apple.

Comment submitted: 3/7/2012 (#13631)



From Mom24Munchkins
Didn't have to cut any juice or add any sugar/milk: it was SO tasty!:) Thanks for putting this recipe out there!

Comment submitted: 1/23/2011 (#11979)



From Mr Stop
This is a breakfast standard in our house. Turned the family into oatmeal eaters!

Comment submitted: 1/1/2011 (#11818)



From Sally P.
Just tried it this a.m. with Craisins. I doubled the cinnamon & served it w/no added b. sugar or milk -- Great!

Comment submitted: 10/17/2010 (#11410)



From tmcfadin
Great starter recipe. I cut back to 2 1/2 cups juice (other wise it was soupie) and reduced w/apples and 1/2 tsp cinammon before adding oatmeal. Also added 2 tbsp brown sugar. Really yummy.

Comment submitted: 10/9/2009 (#8809)



From PhantomCooker
This is a favorite breakfast food here at our house. We add in 1/4 cup of chopped walnuts for added goodness (they add SO much flavor!)

Comment submitted: 6/9/2009 (#8243)



From Tina
I don't like regular oatmeal, but by substituting the water with apple juice, this recipe is delicious! Oatmeal is so good for you and I am so glad that I found a way to enjoy it! Thank you Mr Breakfast!

Comment submitted: 3/31/2009 (#7872)



From O. O. Ohhh
Delightful. Thanks for posting it.

Comment submitted: 1/10/2009 (#7316)



From mirabella
I am always trying to get my family to eat oatmeal, and this recipe worked, they loved it! It reminds me of an apple pie.

Comment submitted: 1/10/2009 (#7314)



From Charlyn
Made almost as directed. I'd never just used a juice for the liquid before so I used half juice and half milk. Next time, I'll try all juice, because it adds a whole lot of flavor to the oats. Also... I love these old cookbook recipes. Please do more!

Comment submitted: 1/3/2009 (#7253)




---
Connect With Mr Breakfast: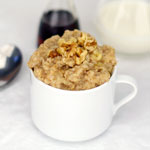 Pancake Oatmeal


Chocolate Chip Oatmeal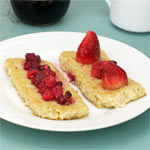 Fried Oatmeal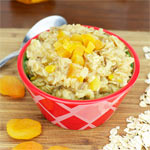 Apricot Honey Oatmeal