Breakfast Options For The Caveman Diet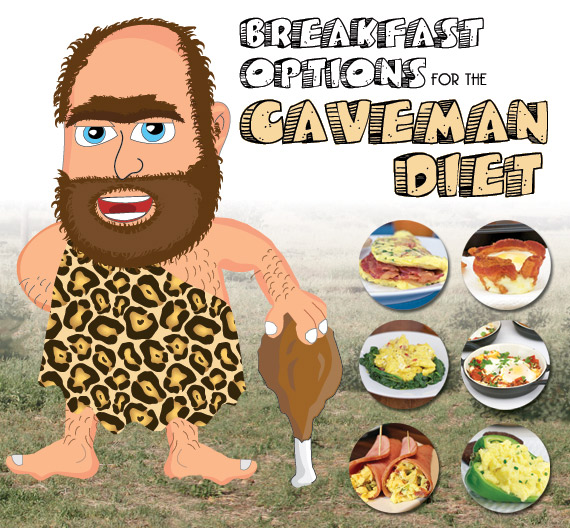 The Caveman Diet (aka The Stone Age diet; aka The Paleo Diet; aka The Paleontology Diet) is based on an understanding of foods that were consumed during the Paleolithic era.  During that time some 2.6 million years ago, our ancestors relied on hunting and gathering to provide 100% of their nourishment.  It's a common belief among those on the diet that consumption of grains and any processed foods runs counter to the nutritional needs of man (prehistoric or modern).  They tend to lay blame for modern ailments on 'unnecessary' advances in food technology.
The simple rules of a Paleo diet are this: If you can't pick it or kill it, you can't eat it.
Disclaimer:  I don't endorse this or any particular diet.  However, I do endorse that everyone on any kind of diet should be entitled to have a tasty breakfast every morning.
Foods To Avoid: All grains and foods made of grains, all dairy products, sugar, potatoes and all processed foods.
Foods Allowed:  Vegetables, fruits, meat, fish, eggs and nuts.
At first glance, you might assume that the Paleo Diet is no friend of breakfast.  Common recipes for pancakes, waffles, French toast, muffins, coffee cakes and hash browns are off-limits.  But a look through the MrBreakfast.com treasury of recipes turned up a number of very satisfying recipes that adhere to Caveman standards. Plus, there's a bunch of recipes that can be made Paleo compliant with slight ingredient substitutions. Here are a few of our favorites. Ugga-booga.  Ugga-bogga.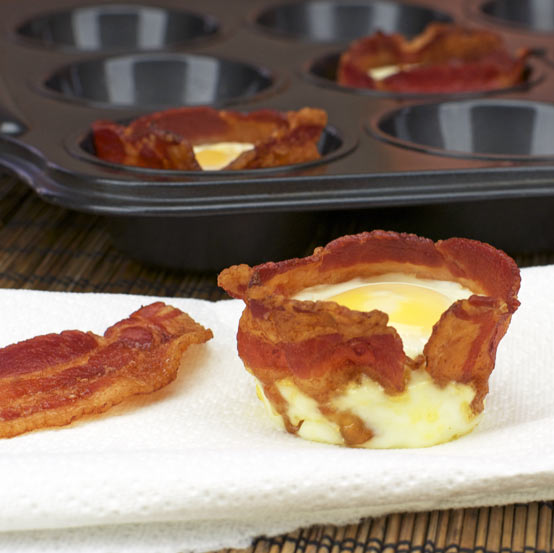 Bacon Breakfast Cups – Follow directions for the recipe but skip the layer of bread at the bottom of each cup.  Bacon should be eaten in moderation on The Caveman Diet as it is considered too salty.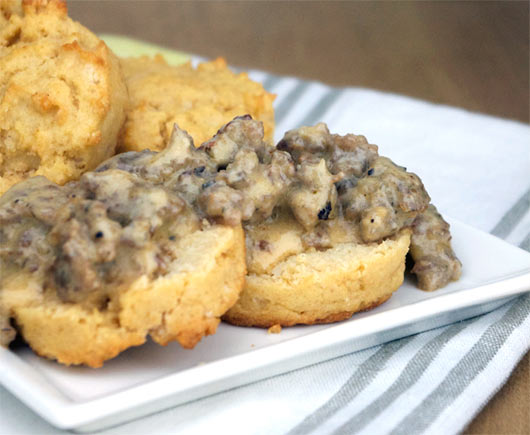 Stone Age Biscuits And Gravy – The biscuits are made with a combination of almond flour and coconut flour.  The gravy is rich, nicely seasoned and loaded with sausage.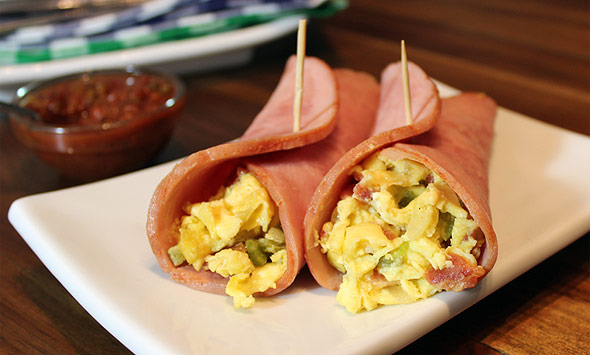 Ham-Wrapped Breakfast Burritos – It's a breakfast burrito but the tortilla is replaced by a hearty piece of ham.  This one has eggs, bacon, peppers and onion.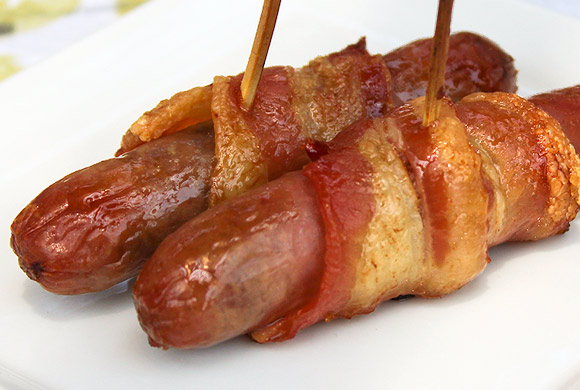 Bacon-Wrapped Breakfast Links – What's better than sausage? How about sausage wrapped with bacon.  Traditionally, this is a breakfast side dish.  But on the Paleo diet, it can be a fun main course.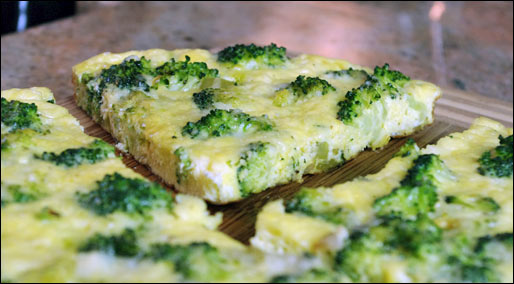 Broccoli And Bell Pepper Frittata – To make this recipe Caveman Diet appropriate, replace the milk with water and omit the cheese.  It will still be quite flavorful if you use fresh vegetables.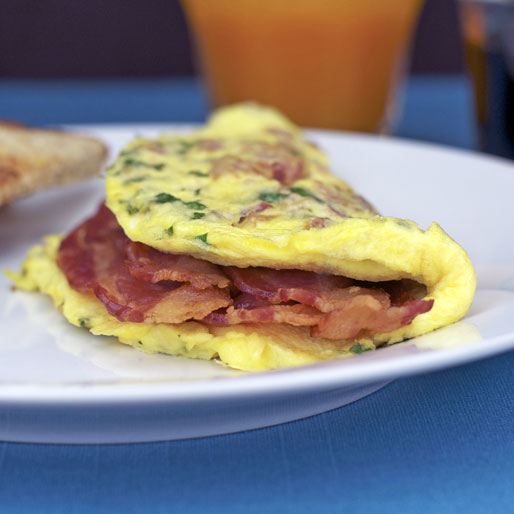 Simple Bacon Omelet – No adjustments are necessary.   Just be sure to limit your salty bacon intake to only once or twice per week.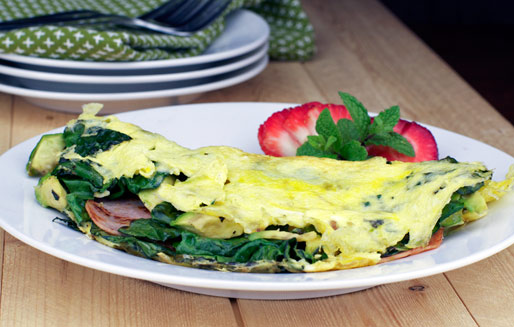 Green Eggs and Ham Omelette – To make this recipe Paleo proper, just replace the butter with olive oil and skip the optional cheese and salsa (unless you know your salsa is paleontology-approved).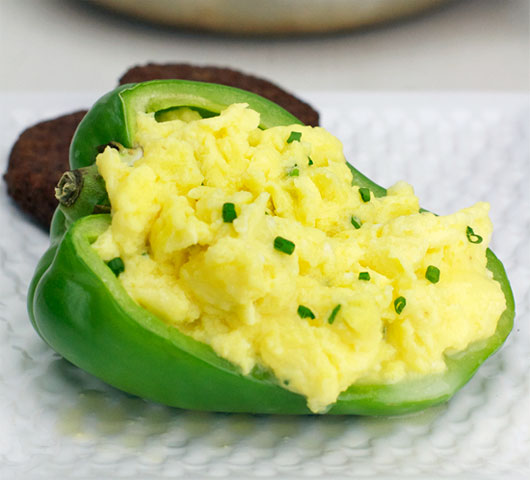 Scrambled Eggs In A Green Pepper – Roast a green pepper in the oven at 375 degrees until somewhat tender – about 12 minutes.  Then cut it and fill the halves with scrambled eggs.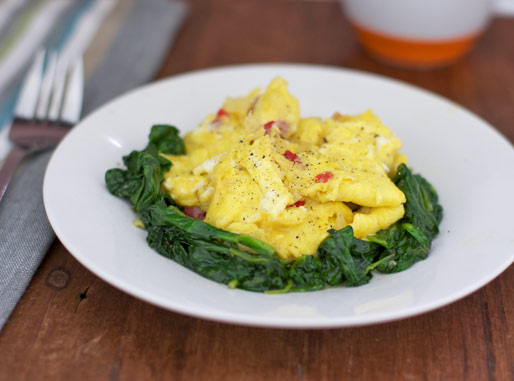 Low Carb Spinach Scramble – To make this scramble Stone Age appropriate, put a dab of olive oil on a paper towel and wipe the inside of your pan instead of using cooking spray.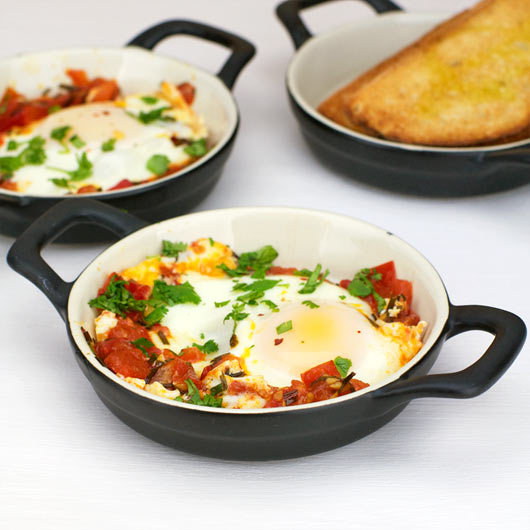 Afghani Eggs – Use the recipe as directed, but make sure to use olive oil instead of canola oil.  Canola and vegetable oil are must-avoid items on The Caveman Diet.  Olive oil and certain other un-pressed oils can be used.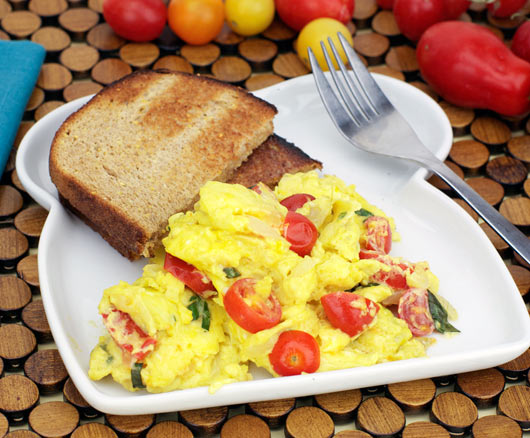 Onion And Tomato Scramble – You'll want to skip the toast that's shown in the picture.  Besides that, this recipe is stone cold stone age appropriate.  Be sure to use olive oil where the instructions mention oil.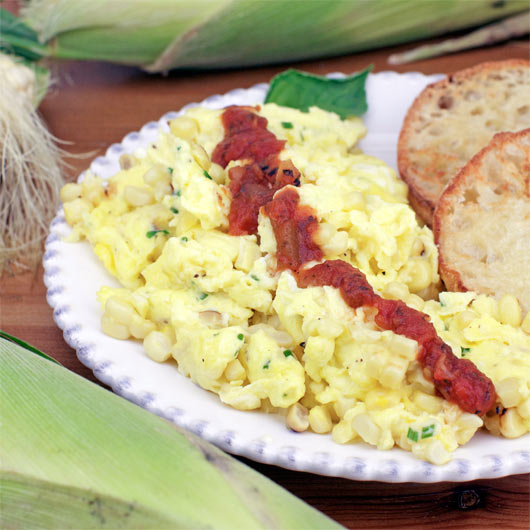 Eggs And Corn Scramble – For this one, omit the cheese and milk and replace the butter with olive oil.  If possible, replace the canned corn with 11 ounces of fresh corn kernels. Unfortunately, you must also skip the toasted English muffins shown in the picture.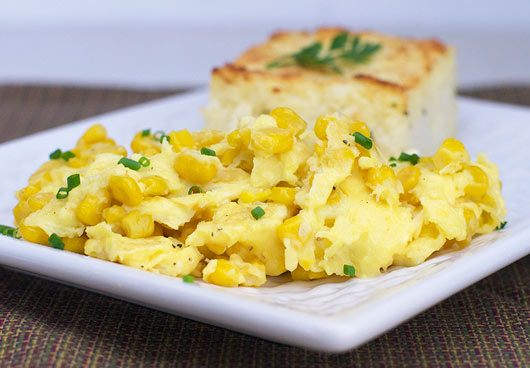 Kentucky Scramble – To make this scramble applicable to the Stone Age Diet, use bacon dripping and not butter where that option is offered.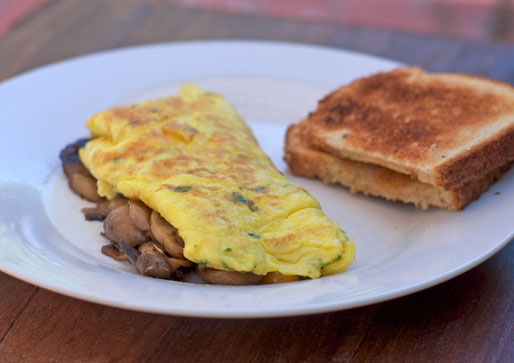 Mushroom And Herb Omelet – Replace the butter with olive oil and this omelet is Paleozoic perfection! Replace the toast in the photo with an apple or a carrot.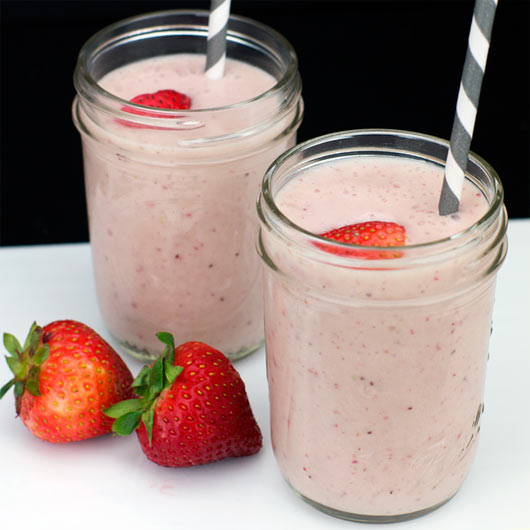 Fruit Smoothies – To wash down your Paleontology breakfast, consider blending together any combination of fresh fruit, fresh squeezed juice or berries (with a couple of ice cubes).  If a smoothie recipe calls for yogurt, replace it with a banana to achieve the creamy smoothness that yogurt provides.  If you throw enough good stuff in a blender, it can act as breakfast all on its own.  Visit our Breakfast Drinks section to get more ideas.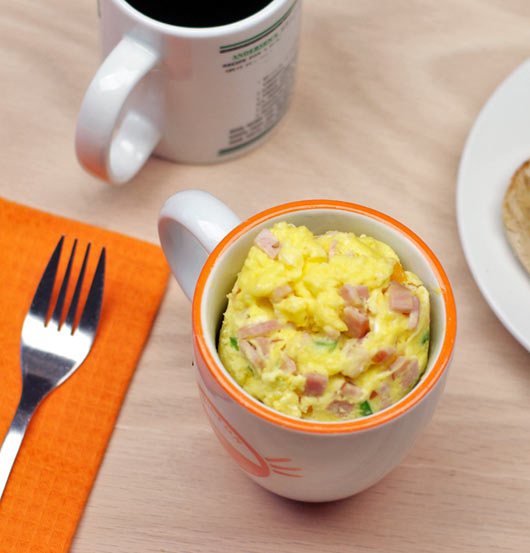 Other Omelets And Scrambles:  If you take a look through our Omelets, Scrambles and Egg Dishes recipe collections, you'll find hundreds of other recipes you can easily modify. Just remember to skip any cheese, replace milk with water and opt for olive oil or bacon drippings instead of butter or canola oil.
You Might Also Like: