Granola You Make In A Skillet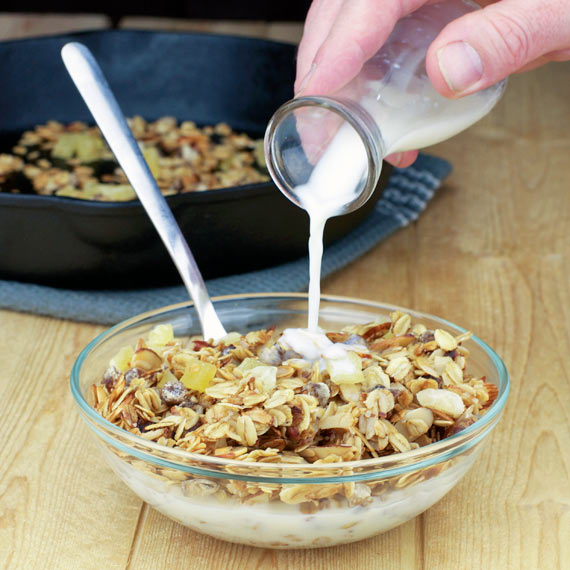 If you have some oats and a skillet, you're halfway to having homemade granola.   I was skeptical about this recipe before I tried it.  I'm a big proponent of oven-baked granola.  I've spent months trying to find ways to make prefect granola clusters in the oven.  So, the idea of just throwing a bunch of stuff in a pan seemed like a lot of hopeful thinking.  To my surprise and delight, this recipe actually works quite well.
You end up with a looser granola than the oven produces, but it's every bit as flavorful.  As I was making it, I couldn't help but think how fun it would be to make this over a campfire.  I'd like to see how a little smoke from the fire affects the oats.  I'll let you know next time I go to the forest. But for now, I used the stove-top.  Here's how it's done…

Melt 2 Tablespoons of butter in a skillet over medium heat.  Stir in 2 Tablespoons of honey.  Add 1/4 cup chopped nuts. Cook about 2 minutes until they start to brown – stirring often.

Add 1 cup Old Fashioned oats and mix well to moisten.  Stirring often, cook oats about 4 minutes until nicely browned.

Turn off heat and mix in 1/2 cup raisins or other dried fruit.  Transfer to a baking sheet to cool and crisp.
I found that if you compress the granola into the baking sheet with a spatula, you can get a few clusters out of this recipe.
Final Verdict:  It's not as good as oven-baked granola, but it's definitely satisfying. If you're looking just to make 2 servings of homemade granola on the fly, this is a convenient recipe. It doesn't get tremendously crisp so it's far better as a cereal with milk than it is as a snack.  Sadly, it doesn't store very well.  The modest amount of crispness that it gets seems to dissipate the longer it's stored.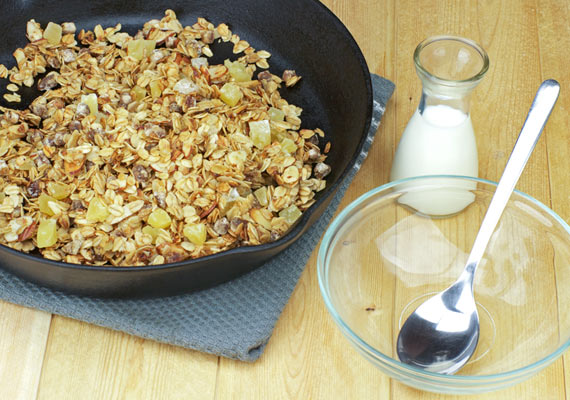 Suggestions For Adjusting This Recipe To Fit Your Tastes
For the 1/4 cup of nuts, just about any nut will work as long as the pieces aren't too big.  Try chopped pecans, peanuts, chopped walnuts or even chopped macadamia nuts.  For the nut component, you could also use seeds like flax seeds, sesame seeds or pumpkin seeds.  Try mixing a couple of those options together to fill out the 1/4 cup.
For the 1/2 cup of dried fruit, I decided to use a combination of dried pineapple and chopped dates.  Those flavors worked great, but the sky is the limit when it comes to the fruit component.  You could go relativity simple with raisins or cranberries or try something unique like dried mango or papaya.  Like the nut component, it's fun to make the flavor of your granola as interesting as possible by mixing a couple dried fruits together to make up the 1/2 cup.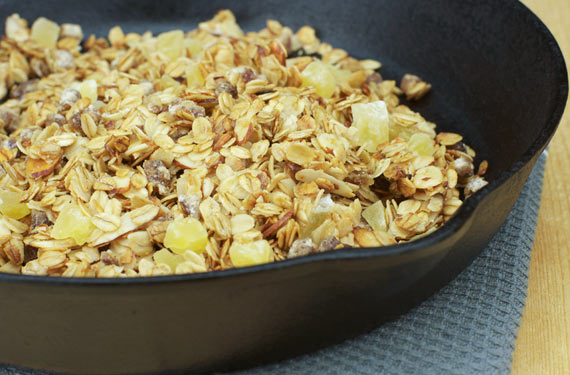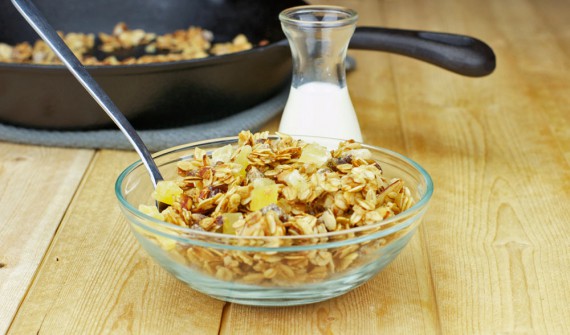 If you need a homemade granola fix and you don't have time to bake, this recipe more than satisfies the basic granola craving.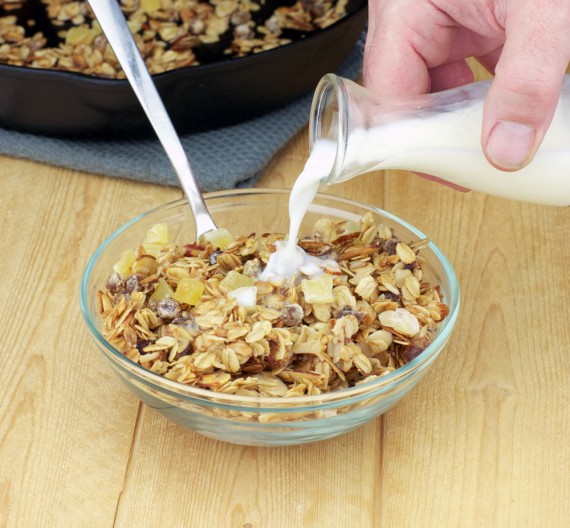 This post is a companion piece to the following recipe on MrBreakfast.com:
To check out a couple of my favorite oven-baked granola recipes, see my article called How To Make Granola With Clusters.
Also see the Homemade Cereal Collection on MrBreakfast.com for a bunch of other granola recipes.
You Might Also Like: