How to Make A Basic Breakfast Strata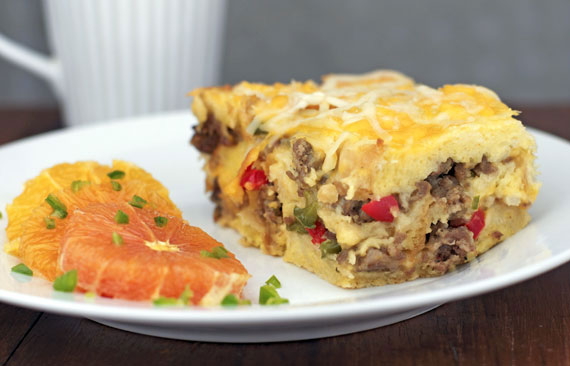 A breakfast strata is just a breakfast casserole with layered ingredients.  It's best when you assemble it the night before and refrigerate it overnight.  The next morning: pop it in the oven, take a shower, watch a little George Stephanopoulos* and then… wham, bam, thank you ma'am… breakfast is ready.
Think of a simple farmhouse breakfast of sausage, toast and cheesy eggs with onions and peppers.  Now, imagine what it would be like to have all those wonderful flavors mingled together in a single, delicious bite.  That's a breakfast strata.
This recipe features one of the non-glamorous superstars of breakfast… day-old bread.  You probably already know that day-old bread makes the best French toast.  It's a little dry so it retains its structure but it's also thirsty to absorb the egg, milk and other good stuff that make up French toast.  It's the key to French toast that's firm but pleasantly moist inside.   The same principal works for a strata.  After we assemble our strata (which includes slices of bread), we drown it in a French toast-like egg and milk mixture.
This dish elicited enthusiastic comments from the people I tested it on.  My Italian friend Pete said, "Dude, this is great. Is it cool if I get some more?"  My wife Kellie said, "Tell me about this.  What's in here? I'm gonna have another piece."
Nobody is 100% sure who coined the the phrase "leave 'em wanting more." It was likely either Walt Disney or P.T. Barnum.  Whoever it was, let's just assume they were talking about a good Breakfast Strata.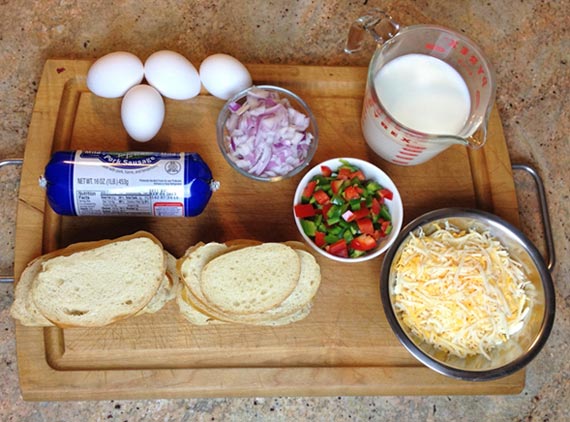 Let's assemble a strata…
For the quick and easy, printable recipe, click here.
There's only 7 ingredients:  French or Italian bread, eggs, milk, sausage, onion, bell pepper and cheese.  For the cheese, I used a Mexican blend of Monterey Jack, Cheddar, Queso Quesadilla and Asadero cheeses.  You could use Cheddar, Pepper Jack or almost any cheese or combination of cheeses.

The first step is to fry up a pound of sausage in a skillet over medium-high heat.  Crumble the sausage with a pair of forks as it cooks.  After 5 minutes, add a chopped onion and a chopped bell pepper and cook for about 7 more minutes – stirring often.  You know it's ready when the vegetables are softened and there's no pink visible in the sausage.
As the sausage cooks, prep a 7×11-inch backing dish by smearing the inside with softened butter.  Also, cut your day-old bread into 1/4-inch to 1/2-inch slices.  I used an entire loaf of French bread with just 2 slices left over to use for a sandwich later.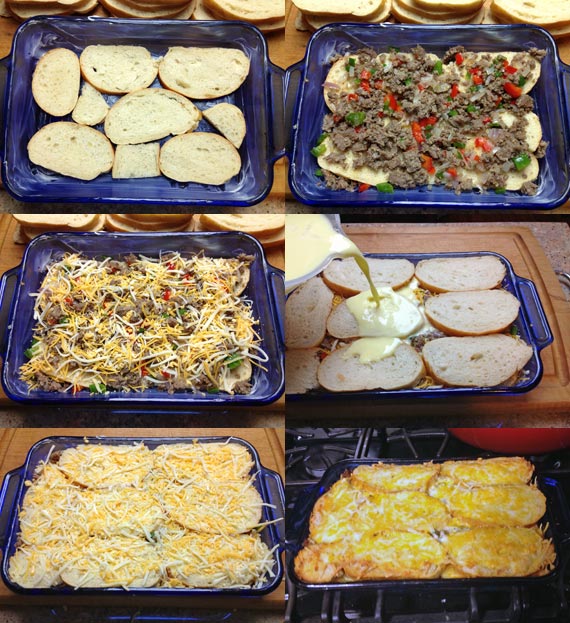 Place a layer of bread slices in the prepared baking dish.  As you can see in the picture, I laid down 6 slices of bread and then cut another slice in thirds so my layer of bread took up the whole surface of the dish.  Sprinkle half the sausage mixture over the bread, followed up by 1/3 of the cheese.
Repeat with another layer of bread, the remaining sausage and another 1/3 of the cheese.  Top that with a final layer of bread.  Pour a mixture of beaten eggs and milk over everything.  Top with the remaining cheese.
Place plastic wrap over the baking dish and refrigerate for 2 to 12 hours.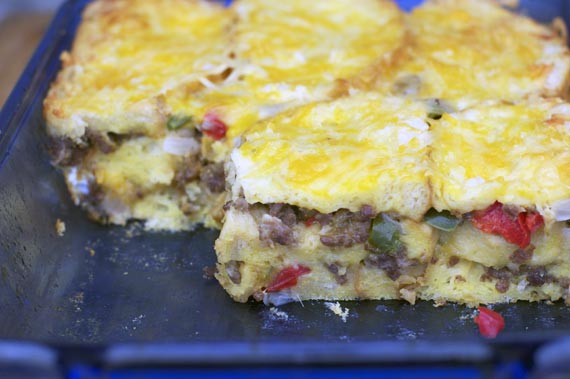 When you're ready to bake, just remove the plastic wrap and place the strata in an oven preheated to 350 degrees.  Cook for 50 minutes to an hour or until a toothpick inserted in the center comes out dry.  The strata seen above took 52 minutes.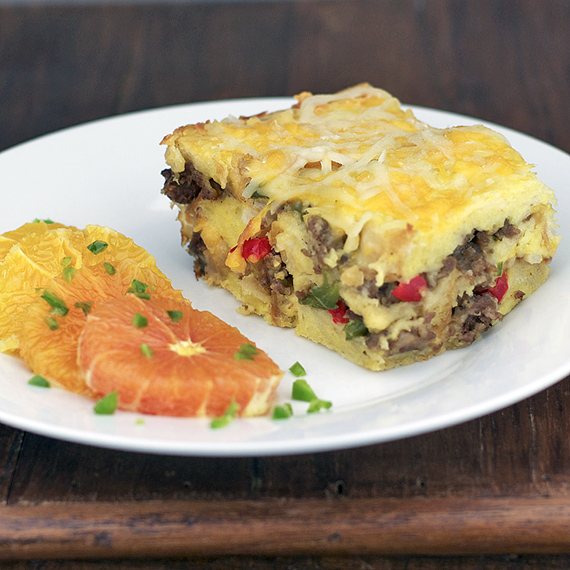 Let it cool for about 10 minutes and then serve it up.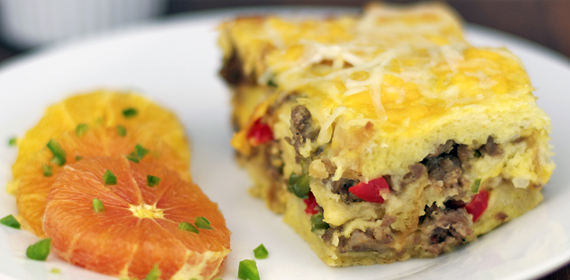 This strata also made great leftovers.  I refrigerated a couple pieces and had it for breakfast again the following day.  It was just as good (and possibly even better) than the day it came out of the oven.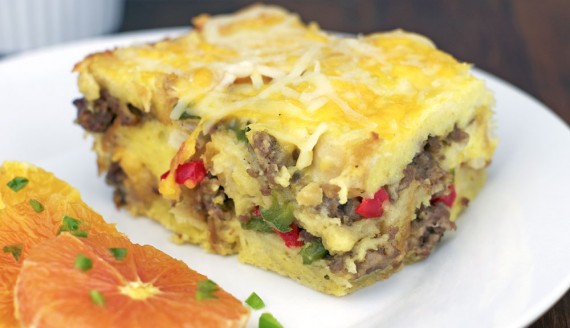 This post is a companion piece to the following recipe on MrBreakfast.com:
Basic Sausage Breakfast Strata
If you're curious about the oranges on the side, stay tuned.  I'll have a post about that in the next couple of days.
* George Stephanopoulos is the co-anchor of ABC's Good Morning America.  He is a small man at 5′ 6″.  When I said, "watch a little George Stephanopoulos," I was referring to watching the morning show for a short period of time, not watching a random little man after you shower. Although, that's the beauty of this recipe.  You can do whatever you want and breakfast will still be ready and waiting.
You Might Also Like: