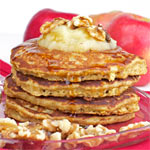 Applesauce Oatmeal Pancakes
1/4 cup all-purpose flour
1/4 cup whole wheat flour
1/2 cup oats (quick or old-fashioned)
1 teaspoon baking powder
1/2 teaspoon baking soda
1/4 teaspoon salt
1/2 cup milk
1/3 cup sugar (maybe a little more or less depending on the sweetness of your applesauce
1/2 cup applesauce
2 egg whites
1 Tablespoon vegetable or canola oil
This recipe was submitted to the site by 'florida222' in 2008. I tested it and photographed the results in August 2013. Overall, I liked these pancakes quite a bit. They were hearty and a bit more dense than your average diner-style pancakes. The oats and applesauce both made a great impact on the flavor. The only change I made to the recipe was that I mixed all the wet ingredients together separately before adding them to the dry ingredients. As you can see, I topped mine with more apple sauce, some chopped walnuts and a drizzle of maple syrup. It was terrific. I recommend it.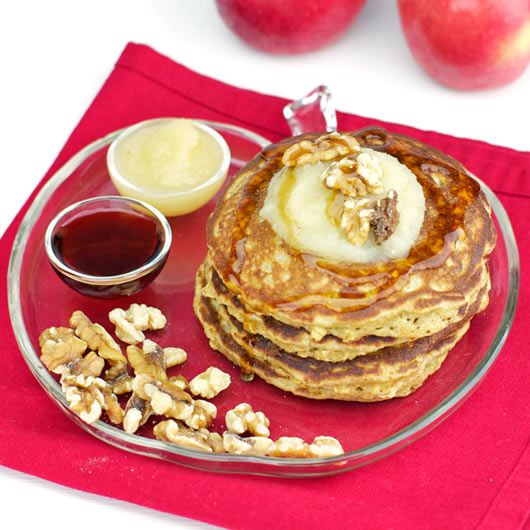 How To Make Applesauce Oatmeal Pancakes
In a large bowl, mix together the flours, oats, baking powder, baking soda and salt.
Add all remaining ingredients and mix well. Let the batter set at least 5 minutes to soften the oats.
Heat a frying pan or griddle to medium-high heat. Coat generously with cooking spray.
Dollop the batter onto the hot surface in 1/4 cup amounts per pancake.
When the edges of the pancakes appear dry and bubbles are forming on the surface, flip the pancakes and cook the other side until golden brown.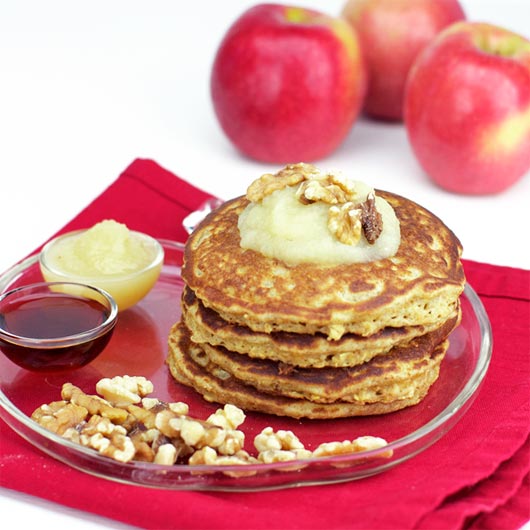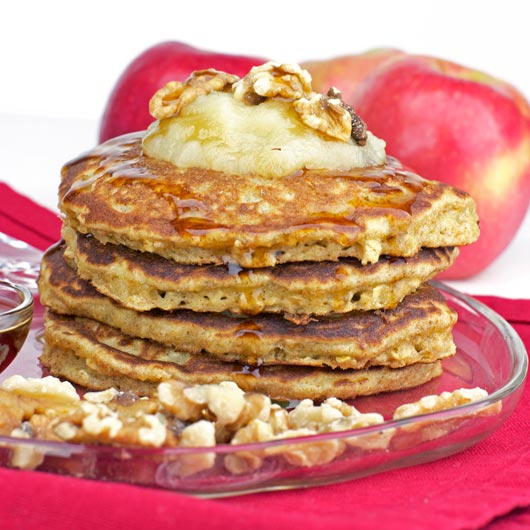 These pancakes are great with maple syrup. My favorite is to top them with applesauce and drizzle on just a touch of maple syrup. I hope you like them as much as we do.
Mr Breakfast would like to thank
florida222
for this recipe.
Comments About This Recipe
What do you think of Applesauce Oatmeal Pancakes?
Overall Average Rating =

(out of 5)

From kiwibear
I made these exactly as written and thought they were really good. I will definitely make these again but next time I will add cinnamon for sure and maybe a little vanilla - what isn't better with a little vanilla?

Comment submitted: 11/10/2012 (#14820)



From Lin

I would love to get the nutritional information, calories, etc. for this recipe. Possible?

Comment submitted: 5/21/2011 (#12708)



From Debbie
I substituted homemade canned pears for the applesauce and they taste wonderful! We will definately make these again! Debbie

Comment submitted: 4/9/2011 (#12428)



From kristy
My picky, picky, picky 3-year old loved these pancakes. Did I mention that she is picky? Thank you for sharing.

Comment submitted: 3/28/2011 (#12365)



From Alice77
Great taste!

Comment submitted: 2/20/2011 (#12167)



From nikki
Grind up oats!

Comment submitted: 1/11/2011 (#11887)



From D.D.
| | |
| --- | --- |
| Rating (out of 5): | |

Mine didn't cook well. Looked very well done on the outside but were uncooked on the inside. I took the advice of others and cooked them on a low setting so that was not the problem.

Comment submitted: 9/28/2010 (#11308)



From Alpha
Really liked them! Felt hearty but not heavy. Would be great with cinnamon, will definitely decrease sugar.

Comment submitted: 6/28/2010 (#10789)



From irbrown
When I first started cooking these I was pretty skeptical because they seem to stick to the pan and were just cooking funny (hard to flip, seemingly raw in the middle). I think the key is to cook them on low. They will take longer to cook, but it made a huge difference. The problem being that my kids were eating them quicker than I could cook them! I added: 1/2 tsp vanilla, 2 Tbs ground flaxseed, 1 tsp cinnamon, 1 Tbs honey. I also reduced the sugar to 1/4 C.

Comment submitted: 2/7/2010 (#9649)



From TheSidekick
Went without sugar... also slightly less applesauce since we were out but it had sugar added so that probably helped. Also added honey, cinnamon and vanilla extract but I do that to every pancake recipe. Amazing. I'm keeping this one around.

Comment submitted: 1/31/2010 (#9577)





From chirpylynn (Team Breakfast Member)
This is a great recipe. I made a few changes and my kids gobbled them up. I put the oats in my mini food processor to make them a little smoother, I used 3 T of flax seed istead of the oil, 1/4 c egg substitute instead of egg whites, added blueberries, and most interestingly I used a 3.5 oz size of apricots and mixed fruit baby food instead of the apple sauce. (You could use any baby food fruit as a replacement.)I liked how sweet the pancakes were, but if you are concerned about sugar, it would be no big deal to decrease the sugar or like some of the other comments suggested replace with honey or omit completely.

Comment submitted: 5/23/2009 (#8155)



From Rower
I tried the recipe, and it worked. Incredible since I am not a cook. I did not use any suger instead I put in honey. Also I did not use maple syrup; I mixed the suggested cinnamon, honey and pecans. So for my syrup, we used some applesauce. On top of the applesauce, we put the mixture of cinnamon, honey and pecans. It was a great little breakfast.

Comment submitted: 11/20/2008 (#6902)



From Margarita
These pancakes were incredible. It's become a special request from my kids almost every weekend. Sweet, wholesome, and filling. We always have to have oatmeal and applesauce on hand now! Instead of adding syrup, we'll add our apple cinnamon whipped honey and pecans.

Comment submitted: 11/15/2008 (#6823)



From Kids Liked Them
I follow instructions pretty well, and medium high on my frying pan burned the pancakes in like 2 seconds. I thought it sounded really high for pancakes. Also, why would you put sugar in your pancakes? Just add more maple syrup if you need to make your otherwise healthy pancakes into candy. Luckily the kids liked them, or else this would have been a "rotten" rating.

Comment submitted: 10/25/2008 (#6678)



From VV
I disagree with the maple syrup... I think they are great without any additives.

Comment submitted: 10/12/2008 (#6576)




---
Connect With Mr Breakfast: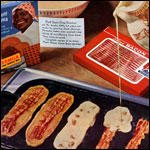 Bacon Strip Pancakes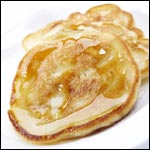 Reliable Homemade Pancakes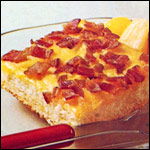 Maple-Bacon Oven Pancake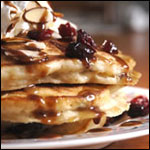 Cranberry Almond Caramel Pancakes