Battle Of The Fall 2015 Limited Edition Cereals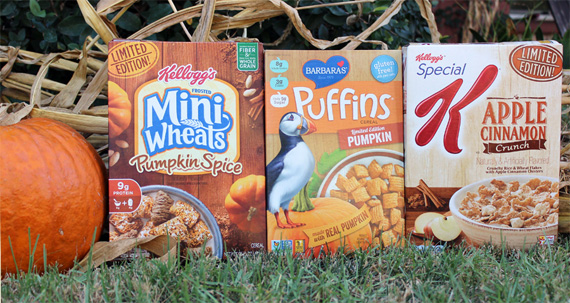 This is the year that everything became pumpkin spiced.  Here's a partial list of grocery items that came in pumpkin spice varieties this fall: bread, ice cream, yogurt, cream cheese, coffee, coffee creamer, beer, vodka, almonds, potato chips and corn chips.
Many breakfast items also received the autumn treatment.  You could get Thomas Pumpkin Spice Bagels and English Muffins, Quaker Pumpkin Spice Oatmeal, Eggo Pumpkin Spice Waffles and Pumpkin Pie Pop-Tarts.
As for breakfast cereals, there were 3 major brand cereals introduced this year capitalizing on the flavors of fall.   Here they are listed from worst to best: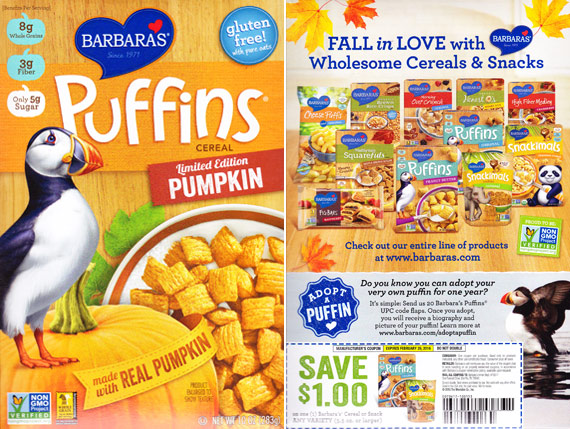 Pumpkin Puffins (Barbara's)
Have you tasted pure pumpkin to see what it's like before it's sweetened and spiced for a pie?  I have and it tastes dull.  It's a miracle that something so bland can become so marvelous.  Well, the good folks at Barbara's have captured what pumpkin tastes like before it tastes good.  This cereal gets props for being relatively low in sugar, but that's where the compliments end.  It's annoyingly crunchy as milk doesn't penetrate the pieces.  As a dry snack, it's acceptable.  As a cereal, it's (to quote Donald Trump) a real loser.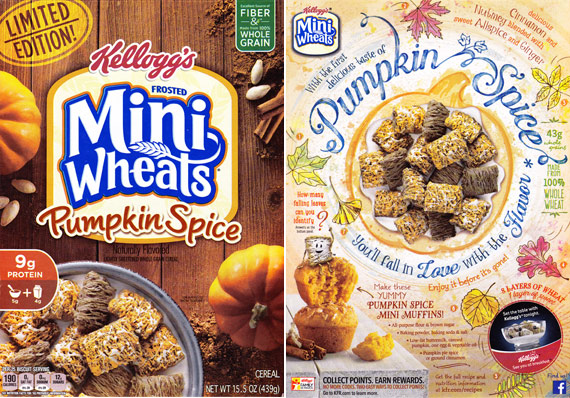 Pumpkin Spice Frosted Mini-Wheats (Kellogg's)
This cereal is good because Frosted-Mini Wheats are good.  The flavor is exactly what you would expect: traditional Mini-Wheats with a healthy pinch of holiday flavor.  The new flavor is impressive in the first few spoonfuls, but midway through a bowl, the pumpkin spice aspect becomes less apparent… leaving you with the taste and texture of a cereal you already know.  This one is very sweet with the highest amount of sugar of the cereals featured here.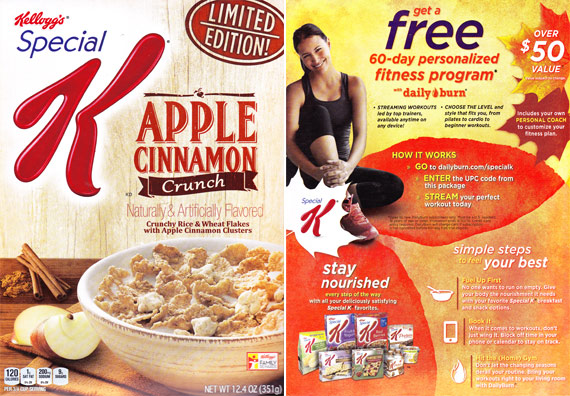 Apple Cinnamon Crunch Special K (Kellogg's)
The best fall-themed breakfast cereal isn't pumpkin flavored.  Instead of pumpkin pies and pumpkin patches, this cereal brings to mind apple pies and apple orchards on crisp autumn afternoons.  The flakes are crispy and light. Small apple cinnamon clusters make each spoonful sparkle with a flavor that's familiar in pies and oatmeal but new and exciting in a breakfast cereal.  The milk at the bottom of the bowl takes on some of that flavor for a final slurp of cinnamon apple goodness.   Of the 3 cereals, this one has the best chance of jumping from a limited edition product to a full time offering. The next time you're in the grocery store being pummeled by pumpkin products, look for this cereal.  It's a winner.
Additional Reading:
Breakfast Product Reviews at MrBreakfast.com
The Cereal Project at MrBreakfast.com (Encyclopedia of over 1,500 Cereals)
You Might Also Like: