Retro Classic: Meal In A Muffin Tin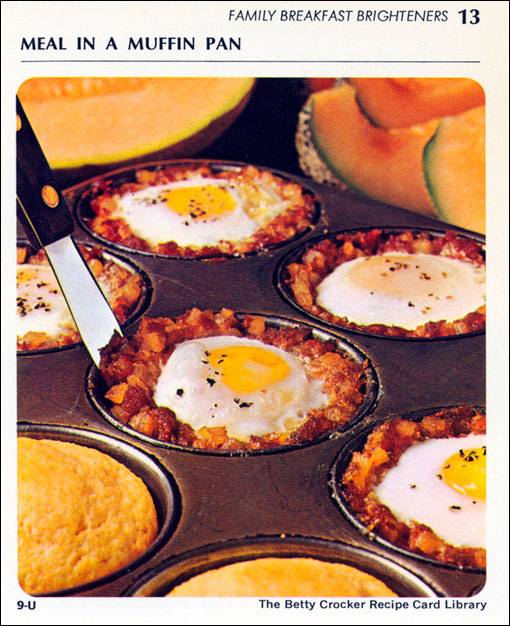 I love finding fun retro recipes.  I'm always scouring through kitschy vintage cookbooks, classic recipe cards and magazines from the 60's and 70's.  There's a certain lost naivety to many of those recipes.  It used to be just about the food.  Increased knowledge of nutrition would soon destroy the innocence of a generation who thought margarine was a health food.
Today's featured recipe is from 1971… a time when G.I. stood for a manly soldier and not a way to measure blood sugar (the Glycemic Index was yet be defined).   This is a complete breakfast that you make in a muffin tin. It consists of oven-fresh corn bread and cups of corned beef hash cradling baked eggs.
You can see the original recipe card above.  Below, you can see what it actually looked like when I made it this morning.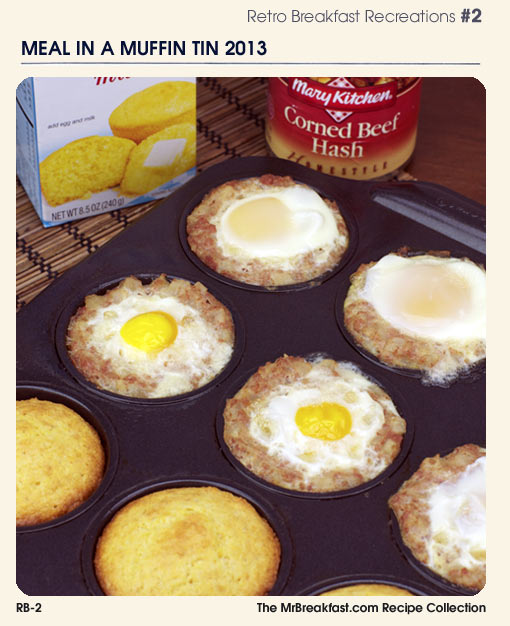 I can report that the recipe worked as promised and tasted exactly like you might expect.  It's not fancy, but it is convenient, filling and fairly delicious.
Here's how to make it…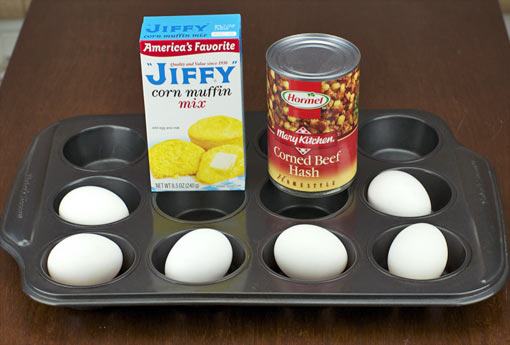 For the quick and easy, printable version of this recipe, click here.
The ingredients are just a can of corned beef hash, six eggs and a package of corn bread muffin mix.  You also need to prepare the muffin batter according to box which required an extra egg and 1/3 cup milk.  The only alteration I made to the recipe was to mix one more (beaten) egg in with the corned beef hash.  I wanted to make sure my hash cups held together as I removed them from the tin.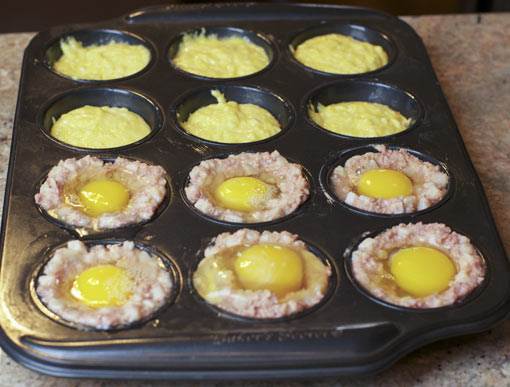 Grease the inside of each muffin cup with butter or cooking spray. Fill six of the cups with corn bread batter – filling each cup no more than 3/4 full.  Spoon 2 heaping Tablespoons of corned beef hash into each of the remaining six cups.  Use your fingers or the back of a spoon to make deep indentations for the eggs.  Crack the eggs into the holes you created.
Regarding the eggs: I found it important to use large or medium eggs.  Extra-large eggs overflowed out of the cups.  Large eggs were just right.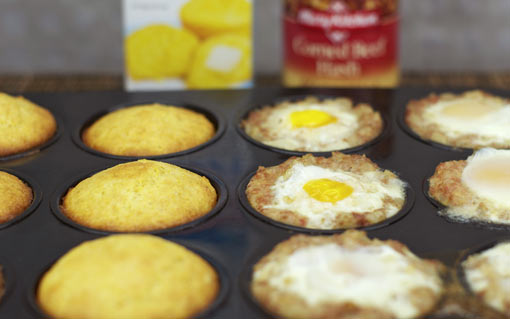 Bake everything at 400 degrees for 15 to 20 minutes.  My meal in a muffin tin took 17 minutes to be done to my liking.  That resulted in eggs with fully cooked whites, but with just a little bit of runniness left in the yolks.
If I had a do-over, I would bake the corned beef hash by itself for 5 minutes before adding the muffin batter and eggs.  The hash was thoroughly warmed through, but I was hoping I'd get a little more color to indicate doneness.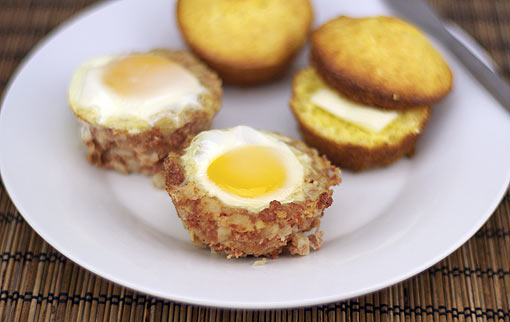 And there you have it… it's retro, it's fun, it's delicious and it works.  It's a meal in a muffin tin!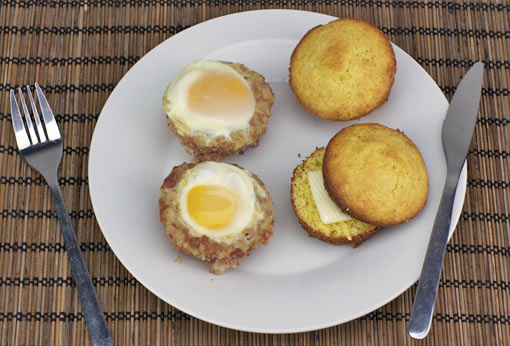 This post is a companion piece to the following recipe on MrBreakfast.com:
For more retro recipes, visit the Retro Breakfast Recipes page on Mr Breakfast.com.
Also check out my earlier post called Retro Classic: Waffle Maker French Toast.
You Might Also Like: