Retro Classic: Waffle Maker French Toast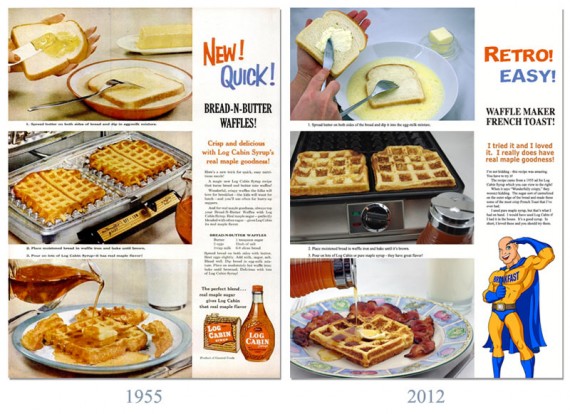 I found this recipe and posted it about a year ago, but it's taken me until now to make it myself.  I can't believe I wasted a whole year to try this!  This recipe is amazing!  It's truly the greatest use for white bread since sandwiches.  It's as easy as it looks and it's absolutely delicious.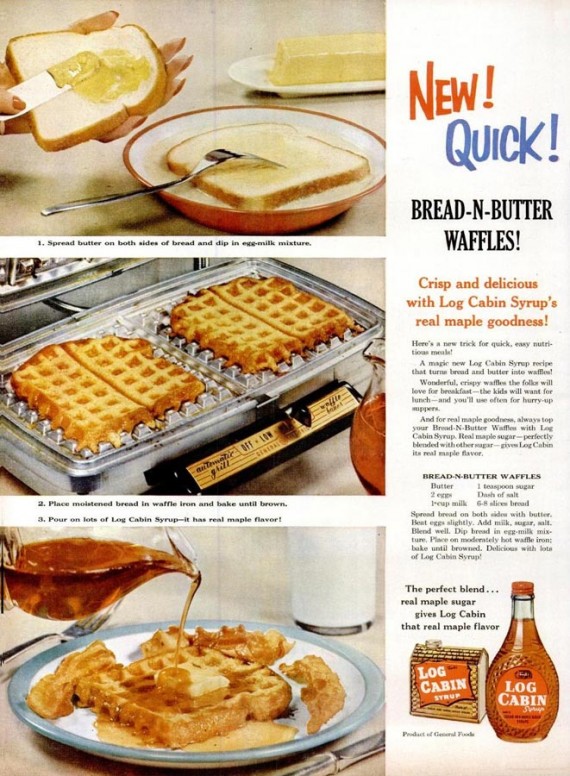 I found the recipe in a 1955 magazine advertisement for Log Cabin syrup.  They called the recipe "Bread-N-Butter Waffles," but I was thinking "Waffle Maker French Toast" is probably more descriptive.  The ad describes it as "Wonderful, crispy waffles the folks will love for breakfast – the kids will want for lunch – and you'll use often for hurry-up suppers."  I can vouch for that description.  They are wonderfully crispy, I loved them for breakfast,  and I'll use this recipe often from here on in!
For the short, sweet and printable version of the recipe, click here now.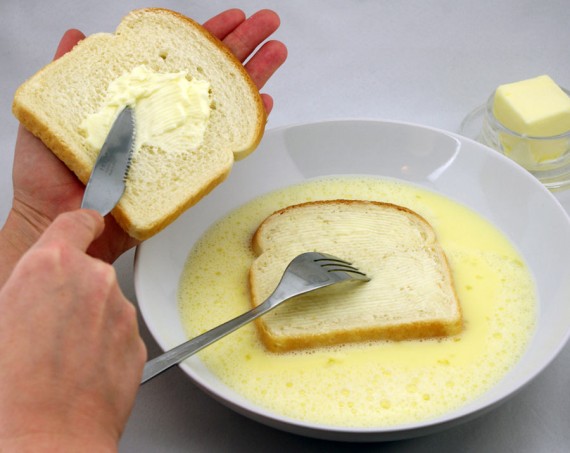 To make this recipe:
First, you make a customary egg and milk mixture to dip your bread slices into.  The recipe calls for 2 eggs beaten with 1 cup milk, a teaspoon of sugar and pinch of salt.  The milk to egg ratio is a little higher than I'm used to, but it worked fine.
Second, you butter each slice of bread on both sides. I was worried that this might create a wall preventing the custard from getting through the bread.  Not so.  Incidentally, the recipe calls for white bread.  I decided to use classic Wonder Bread since I was going full-on retro.
As you would with any French toast, you dredge your bread through the egg and milk mixture until it's thoroughly soaked.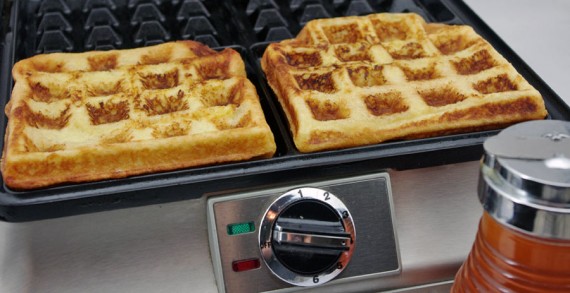 Once my waffle maker was fully heated up and I had the green light, I placed four slices of soaked bread onto the grates.  My machine fit four slices comfortably.  I shut the lid and cooked the slices undisturbed for about 3 minutes – medium on my waffle maker.
I did get just a little bit of butter dripping out of the sides of the machine – a clue to spread a little less butter on the bread for my next go-around.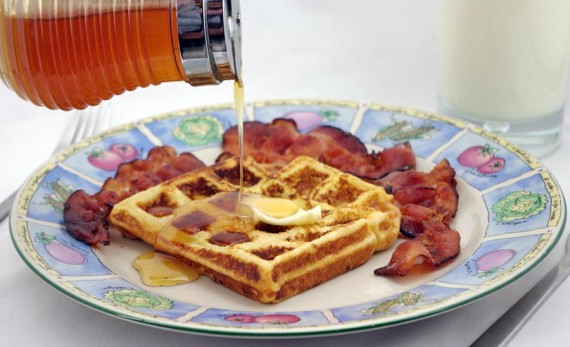 That's it!  My waffle maker beeped. They were done and they were awesome…  golden brown, perfectly done.  Considering the waffle maker usually has to cook liquid batter, I was surprised the "waffles" weren't overcooked using the same heat setting.
Whatever you want to call them… bread waffles…. waffle French toast… they were delicious.  The sugar in the custard, and I suspect, the sugar that was already in the bread, caramelized around the edges to create some of the crispest French toast I've ever had.  The flavor paired with a pat of butter and pure maple syrup was fantastic.  There's no need to add vanilla or other flavoring to the custard.  They got this recipe perfectly right back in 1955.
I urge you try this one.  It's pretty impressive.
This article is based on the following recipe at MrBreakfast.com:
For more Retro Breakfast Recipes, check out my list titled appropriately, Retro Breakfast Recipes.  It has over 30 old school breakfast recipes discovered in old magazines and recipe cards.
You Might Also Like: