Batman vs. Superman: Cereal Showdown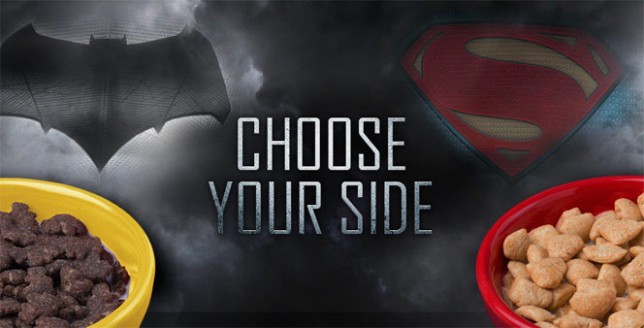 The blockbuster movie Batman v Superman: Dawn of Justice hits theaters on March 25, 2016.  To commemorate the event, General Mills has introduced two new cereals based on the movie:  Batman Chocolate Strawberry Cereal and Superman Caramel Crunch Cereal.  I had a team of taste testers (including one toddler) put the new cereals to the test.  Here are the results of the Batman vs. Superman Cereal Showdown:

Superman Caramel Crunch Cereal
This is a caramel flavored cereal that has no high fructose corn syrup, artificial colors or artificial flavors.  The cereal pieces are meant to resemble the shield on Superman's uniform.
Taste Testers Comments:  1) You can definitely tastes the caramel; 2) It's okay… not great; 3) Very sweet; and 4) The milk picks up a little of the caramel flavor.
Mr Breakfast says:  I wish I could say Superman Caramel Crunch is truly super, but I can't. It's just alright.  If you're a huge fan of caramel, you might want to give it a shot.  Although great appreciators of caramel might find the flavor overly artificial.  The cereal stays crunchy in milk for about 2 minutes.  I give this cereal a rating of 4 out of 7.
Toddler Reaction:  Skeptical of first taste, but eventually smiled and said, "Mo(re)… plee(ease)."  Ate 5 pieces and then decided to eat broccoli instead.

Batman Chocolate Strawberry Cereal
Like the name says, this is a chocolate and strawberry flavored cereal. Like the Superman cereal, it has no artificial colors, no artificial flavors and no high fructose corn syrup. The cereal pieces are meant to resemble the famous Batman bat emblem.
Taste Testers Comments:  1) I don't understand what the flavor is supposed to be; 2) It tastes like chemicals; 3) Yuck;  4) I don't like it; and 5) Do I have to eat anymore?
Mr Breakfast says: Batman Chocolate Strawberry Cereal is a colossal failure.  It's one of the worst tasting cereals I've ever had.  The melding of chocolate and strawberry into the same cereal pieces causes flavor confusion.  If there were two kinds of cereal pieces – one chocolate and one strawberry – the flavor combination may have had a better chance. I give it a rating of 2 out 7.
Toddler Reaction:  Look of initial interest turned to look of disgust.  Pushed remaining cereal pieces away saying, "No. No. No."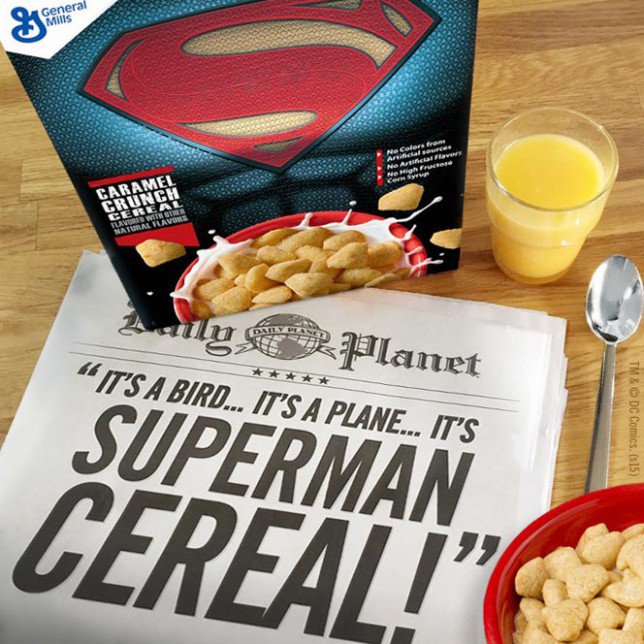 The winner of this cereal showdown is unequivocally and definitively… Superman!
The best thing about these cereals are the boxes.  They are really, really cool…  shiny and reflective with beautiful graphics.  If you're looking for cereals to sell on eBay in 10 years, these are great cereals.  For eating, not so much.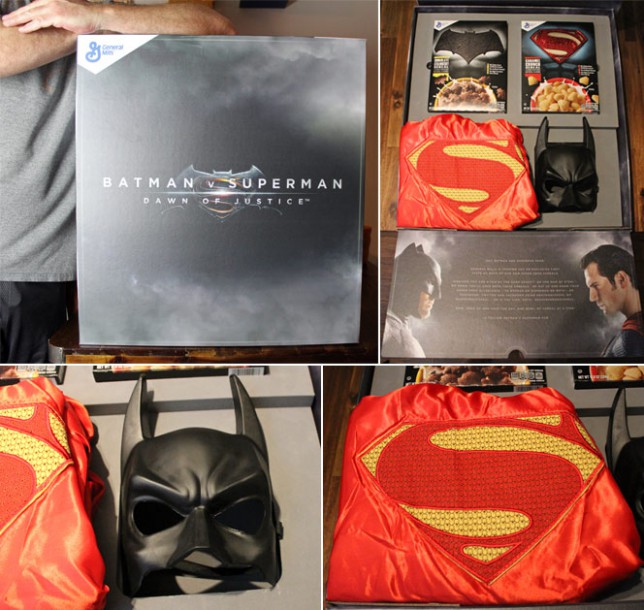 General Mills sent me samples of the superhero cereals in an amazing over-sized cereal box that contained both cereals, a full-sized Superman cape and a Batman cowl.  That was super (man) cool of them.
Since I had to give these cereals a pretty lousy review, let me be super (man) and give a shout out to a new General Mills cereal that's actually very good… my favorite cereal introduced in 2016 so far.  It's called Nature Valley Oat Bites and it kicks Batman and Superman into the ground.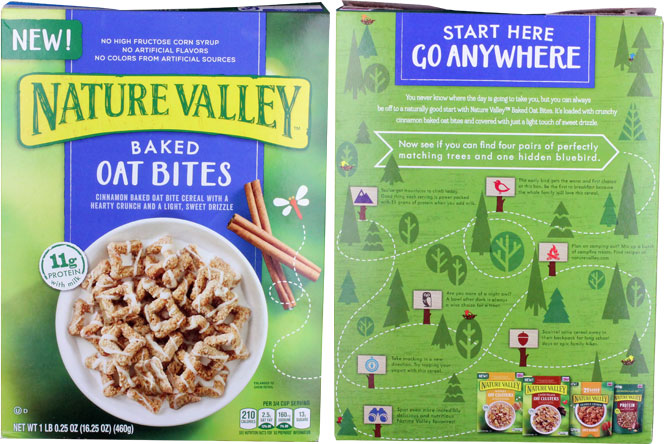 For more about the cereals in this post, see their individual listings in our encyclopedia of breakfast cereals:
Two images in this post (choose your side & it's a bird) are originally from a Tumblr page called DC Super Heroes Cereal.
You Might Also Like: