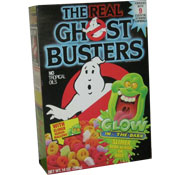 From: Ralston
Introduced in 1985
To get the most out of their rights to use the
Ghostbusters
brand, Ralston introduced three cereals over the course of a few years: Ghost Busters, The Real Ghost Busters and Slimer! And The Real Ghostbusters. All three cereals appear to have been the same cereal repackaged.
When this cereal - the first of the three - first hit shelves, an ad with the following song hit television:
There's a new cereal in the neighborhood
with O's and ghosts
(Tastes real good... Ghostbusters!)
Marshmallow ghosts... fruit flavored O's
Ghostbusters taste great with milk and juice and toast
(a nutritious breakfast with the ghost... Ghostbusters!)
What you gonna crunch? (Ghostbusters!)
The following text is from the Ghostbusters cereal box and coupons for the cereal:
four-grain goodness
natural fruit flavors
fortified with 9 essential vitamins and minerals
bigger box, better value
no tropical oils
with Slimer marshmallows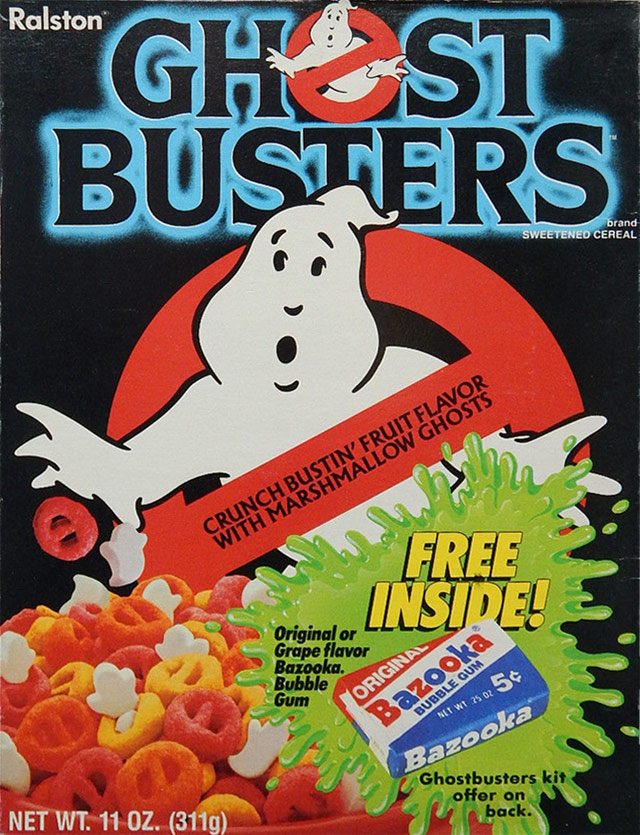 Known Premiums: Glow In The Dark Slimer Door Hanger; "Back Off! I'm a Ghostbuster" Flip-Open Identification Badge; Limited Edition Hologram Series Cereal Boxes; "I've Been Slimed" Button, Ghost Flyer Glowing Disk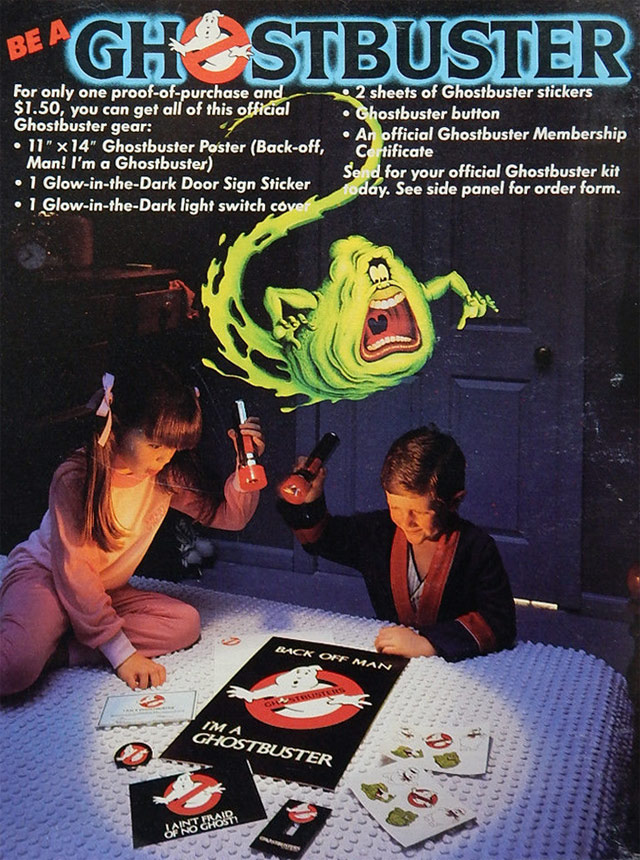 In 1989, Ralston introduced Ghostbusters II cereal as a tie-in with the release of the film
Ghostbusters II
. Once again, the actual cereal appeared to be the same.
Click here
to see all cereals from Ralston.
This cereal belongs to the following Mr Breakfast Cereal Families:

---
Ghostbusters Cereal Theater

Now Showing: Ghostbusters Cereal Commercial
---
Additional Images
---
Comments About This Cereal
What do you think of Ghostbusters?

Overall Average Rating = 5 (out of 5)

View all 22 comments for this cereal.




By tibbz (Team Breakfast Member)

I'm interested in buying unopened Ghostbusters cereals. Email pwgh33 at gmail dot com if you have any!

Comment submitted: 9/30/2019 (#24563)



By S.P.B.

They had a free bubble gum offer.

Comment submitted: 7/11/2019 (#24317)



By the collector


| | |
| --- | --- |
| Cereal Rating (out of 5): | |

I have three unopened boxes of Ghostbusters Cereal. Reply here if interested.

Comment submitted: 6/2/2019 (#24205)





By Warlocke (Team Breakfast Member)


| | |
| --- | --- |
| Cereal Rating (out of 5): | |

I used to eat two heaping bowls of this stuff on Saturday mornings, sometimes three if I was being an especially disgusting pig. It was delicious. For a while they were doing boxes that had a hologram of the logo on the front. I still have the hologram I cut out of one, but sadly not an intact box.

Comment submitted: 1/7/2019 (#23824)





By mistalorio (Team Breakfast Member)

Hello Ghost Busters cereal fans. I have 3 Vintage Super Cool Ralston Ghost Busters Cereal boxes for sale. Boxes never opened. Dates back to the 80's.

Comment submitted: 12/25/2018 (#23784)



By kit316


| | |
| --- | --- |
| Cereal Rating (out of 5): | |

Wish it would make a come back. I would do anything to have that taste back in my mouth again. They could bring it around for Halloween time as a limited edition cereal.

Comment submitted: 3/18/2018 (#22841)



By The Ritty


| | |
| --- | --- |
| Cereal Rating (out of 5): | |

Loved this cereal. The commercial song is so bad and I remember it's the same one for Ghost Busters II - just the logo ghost is updated. I wonder if those kids got PAID again? ;)

Comment submitted: 1/2/2017 (#21183)



By Willie-11


| | |
| --- | --- |
| Cereal Rating (out of 5): | |

I'd like a case delivered to my house ASAP. So get busy making some more of the Ghostbusters cereal. It was my favorite. Thank you. Now get busy! Wink!

Comment submitted: 3/19/2016 (#20082)



By Blueberry M.


| | |
| --- | --- |
| Cereal Rating (out of 5): | |

I had an allergic reaction to this cereal (and to Rainbow Brite cereal too). Despite my allergic reaction, it was still delicious!

Comment submitted: 10/25/2014 (#17904)



By Geckograph

Three years ago I wrote the first review on these cereals as I have a vivid memory of eating "Ghostbusters" cereals with "glow in the dark" marshmallows as a kid, around 1985-1987... Maybe was it a "special edition"? I'm wondering if anyone else remembers eating glow in the dark marshmallows?

Comment submitted: 6/28/2013 (#12580)



View all 22 comments for this cereal.