Bacon Cheddar Oatmeal?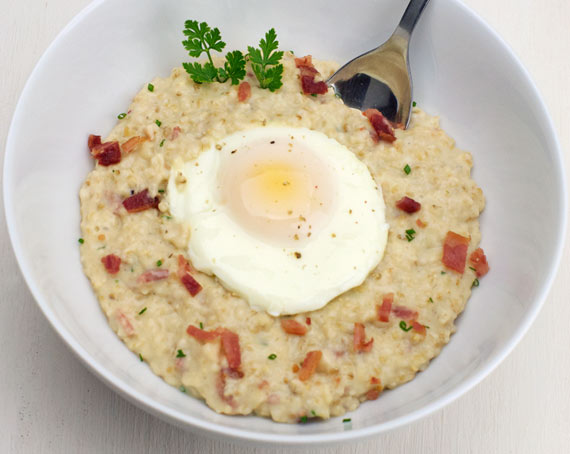 The idea of savory oatmeal might sound weird to people used to sweetened packets of oatmeal or simple Old Fashioned oats with brown sugar, etc.  If done wrong, savory oatmeal is weird.  If you use the right oats and treat them like rice or other grains associated with savory dishes, the result is pretty cool.
This post started when I tested a recipe submitted to the site called Billbo's Cheddar Oatmeal.  It received a handful of positive comments and I wanted to try it for myself.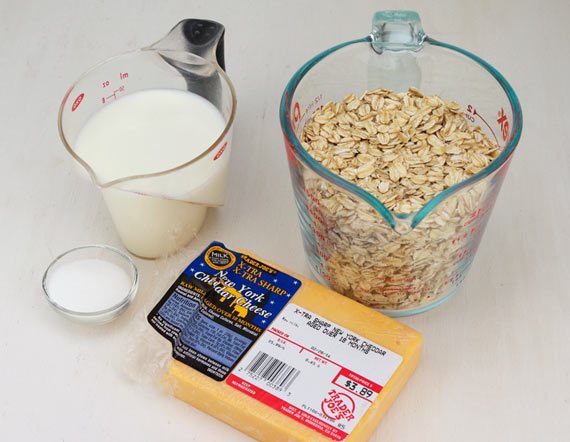 The ingredients were super simple: Old Fashioned oats, milk, cheese and sugar.   It's a microwave recipe that takes only 2 minutes.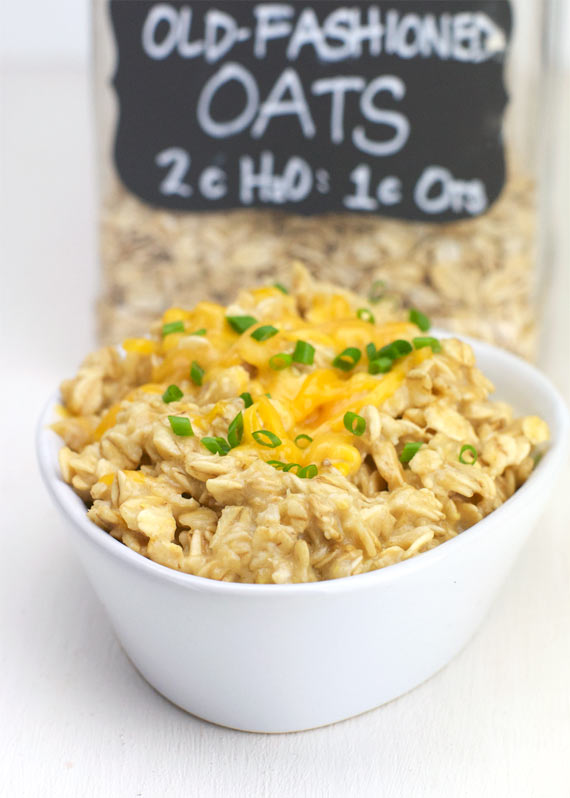 The recipe worked and I understood why some people liked it.  Unfortunately, I personally didn't like it that much.  My mental association of Old Fashioned oats with sweet ingredients is very strong and it took a few spoonfuls to accept that I was eating something savory.
As I was trying it, my overriding thought was that it would be better with steel-cut oats. Steel-cut oats have a firmer, rice-like texture. That kind of texture makes more sense in a savoy dish than the mushy texture you get from Old Fashioned or quick cooking oats.
From experience, I know that steel-cut oatmeal always benefits from the savory flavors of butter and salt. It seemed totally feasibly that they would get along with cheese.
I also thought… as I always do… that the dish would be better with bacon… which everything always is.
So I set out to experiment with steel-cut oats, hoping to achieve something that would transcend oatmeal as we commonly know it.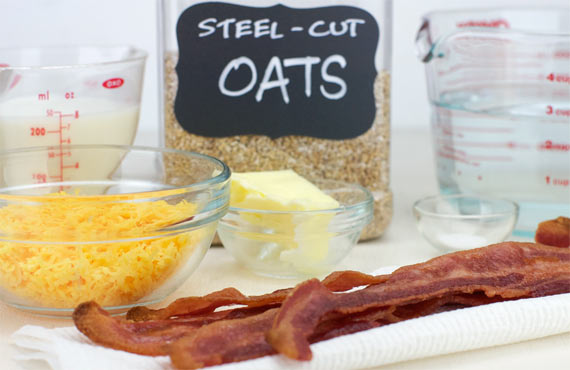 Steel-cut oats require about 30 minutes cooking time.  I found that if I let the oats set for an additional 10 minutes, the texture became a bit more creamy and reminiscent of risotto.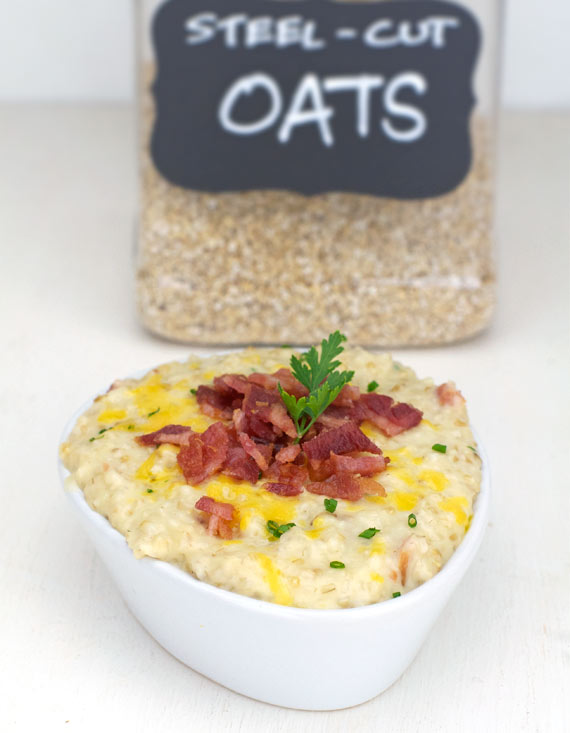 I was right.  When mixed with cheese and bacon, steel-cut oats are 100 times better than Old Fashioned oats.  I used LOTS of cheese and bacon.  The oat flavor worked with the savory ingredients, but it worked best when it was overpowered by the cheese and bacon… leaving the oats to act as more of a texture agent than an equal flavor component.
The thing that brought the dish together was a sunny-side-up egg in each serving.  Breaking the yolk and allowing that extra bit of richness to permeate the oats was like putting salt on popcorn…  It just needed it.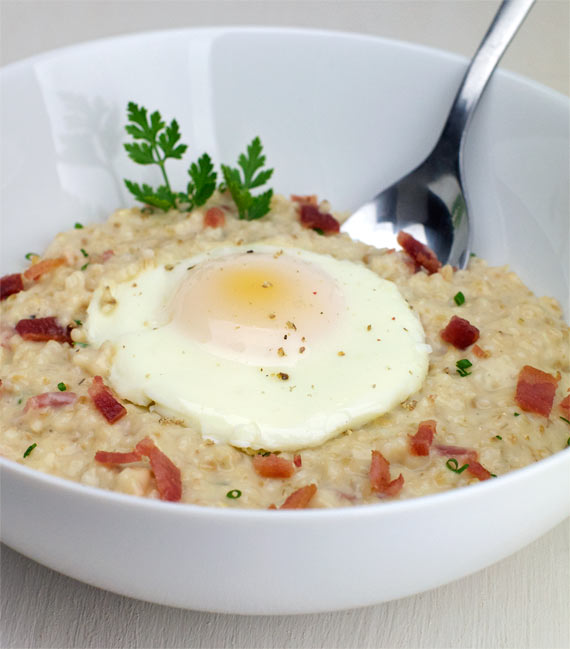 In theory, you could add any cheese, herbs, sautéed vegetables or cooked meat to any prepared oatmeal.  But I'd urge you to take the time to use steel-cut oats.  After you try it, it opens the door to many more flavor combinations:  Tex-Mex Pepper Jack Oatmeal,  Gruyère & Sausage Oatmeal,  Parmesan Pizza Oatmeal… and on and on.
This post is a companion piece to 2 recipes from MrBreakfast.com:
Bacon Cheddar Steel-Cut Oatmeal
For over 150 other oatmeal breakfast ideas, visit our Oatmeal Recipe Collection.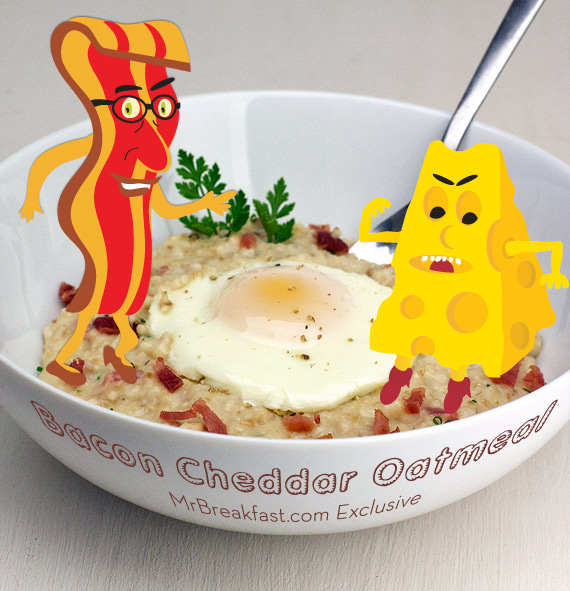 Recipe Realities:
My experiments with savory oatmeal brought me to an interesting conclusion.  It made me realize how much I love grits.  You can make oats work in a savory context, but it will always feel like an experiment.  The corn porridge cousin of oatmeal is grits.  When you pair grits with cheese, butter and bacon, it's like pairing a bird with the sky.  Some things are just naturally meant to be together.
I started this post with the title question, "Bacon Cheddar Oatmeal?"  I had hoped that the answer would be a resounding "yes."  As it turns out, the answer is "sure… but if you have grits, make Bacon Cheddar Grits instead."
Here's 25 grits recipes you might want to try.
You Might Also Like: