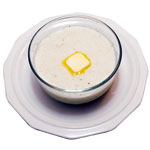 Grits
The word "grits" can refer to any coarsely ground grain such as corn, oats, or rice. Most often "grits" is used as a shorthand term for hominy grits. Hominy grits are a common breakfast dish in the Southern U.S. They are made from kernels of corn that have been soaked in lye. After soaking, the outer-casing of the kernal is removed resulting in what's called "hominy". Dried and ground hominy is called "hominy grits". Grits may be cooked in water or milk, usually by boiling or baking.
Articles that reference "Grits":
Columns that reference "Grits":
Recipes with "Grits" in the title:
Recipes with "Grits" in the ingredients:
The editorial content above may not be reproduced without the written permission of Mr Breakfast.com. Please contact us for reprint requests.