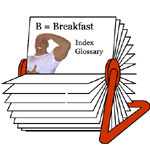 Gruel
A thin porridge usually made from water or milk combined with a small amount of cornmeal, oatmeal or flour. Pronounced "grooul".
Articles that reference "Gruel":
Columns that reference "Gruel":
Recipes with "Gruel" in the title:
The editorial content above may not be reproduced without the written permission of Mr Breakfast.com. Please contact us for reprint requests.