How To Make Buttermilk Biscuits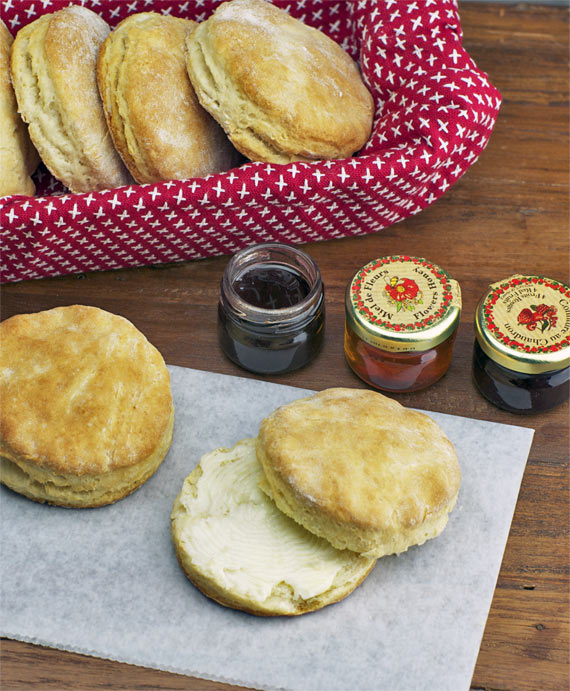 I'm putting my toaster in the cupboard and my bread in the freezer.   This week is all about light and flaky homemade buttermilk biscuits.  Great things happen when you replace your toast with biscuits.  Suddenly, everything you serve gets countrified.  Breakfast at home feels like y'all be eating in a charming Southern restaurant. It's like some wonderful, bespectacled grandmother used her whisk like a wand to cast a spell on your meal from her magic book of old family recipes.
The biggest and best secret about making homemade biscuits is just that it's so extraordinarily easy!  There's only 7 ingredients and that includes a pinch of salt.
Let's do it…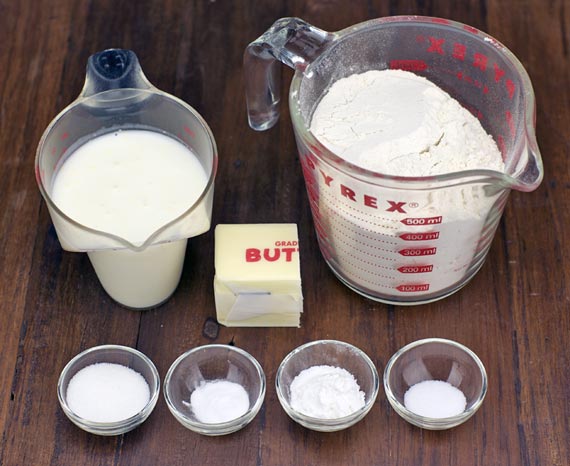 The ingredients are 2 cups flour, 1 cup buttermilk, 1/2 stick cold butter, 2 Tablespoons sugar, 2 teaspoons baking powder, 1/2 teaspoon baking soda and a generous pinch of salt.
For the quick and easy, printable recipe, click here.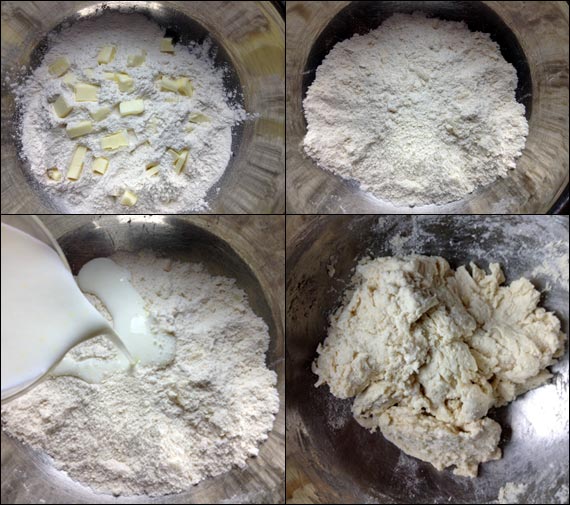 Sift the flour, sugar, baking powder, baking soda and salt into a large bowl.  Cut the butter into small cubes and add it to the dry mixture.  Using your finger tips, blend the butter into the flour mixture until the texture is like coarse crumbs.  This takes about 2 minutes.   You'll be sort of pinching the butter into the flour.  It's ready for the next step when the smallest piece of the combined mixture is no larger than a pea.
Now, add the buttermilk slowly while mixing with a wooden spoon.  You might not use the entire cup of buttermilk.  You want to get everything just moistened to the point where the dough can be gathered together in the center of the mixing bowl. I used about 7/8 cup buttermilk to make the batch seen here.  Mixing the moistened dough will feel clumsy, but it will come together fairly fast.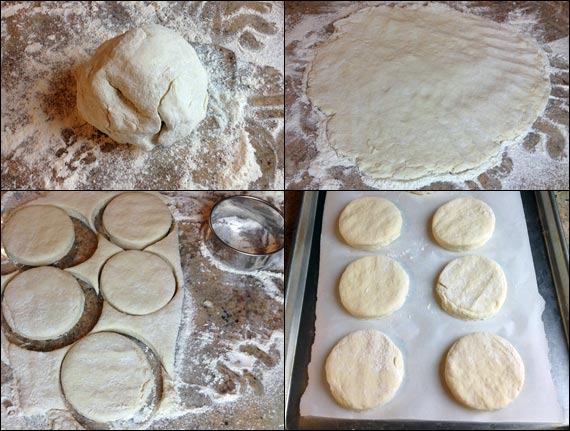 Turn the dough out onto a generously floured surface.  Compact it into ball and roll or pat the dough to about 1/2-inch thickness.  Fold the dough in half twice and then roll or pat down again to about 3/4-inch thickness.  Cut out biscuits and transfer them to a parchment-lined baking sheet.  I used a 3-inch biscuit cutter and got 8 biscuits.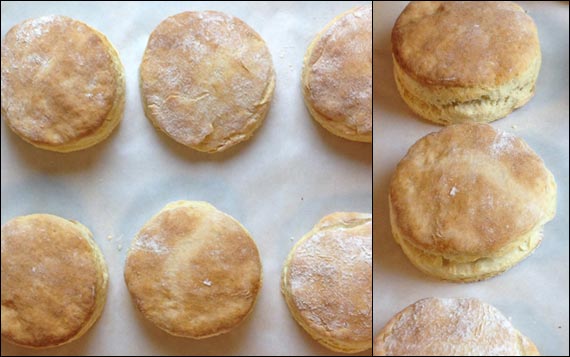 Preheat your oven to 450 degrees. Then, bake the biscuits for 12 to 15 minutes until the tops are golden brown.  If desired, brush melted butter on top of each biscuit to add a little more flavor.  I prefer a good smear of butter inside my biscuits so I usually skip that step.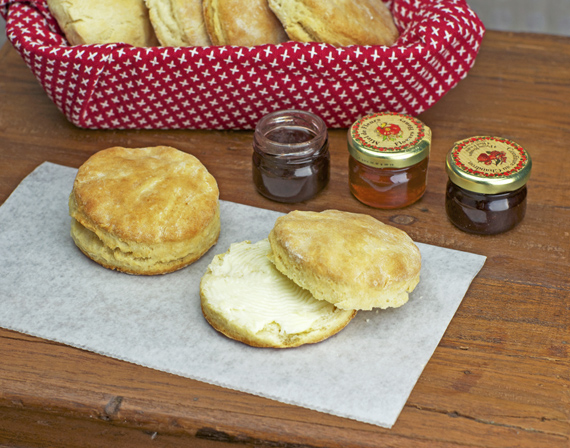 Serve warm with butter and jam.  Use them to make breakfast sandwiches.  Do whatever you want.  You have homemade buttermilk biscuits. The sky is the limit, y'all.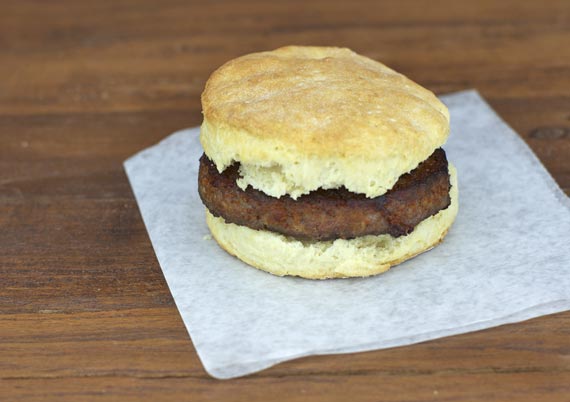 Additional Notes For Biscuit Lovers:
There are many hardcore biscuit enthusiasts who will tell you to use shortening instead of butter.  I opt for butter because it adds more flavor.  To a lesser degree, I use it because it's more politically correct.  Every time I post a recipe that includes shortening (God forbid I use the word "Crisco"), I get comments from well-meaning, abrasively health-conscience  people, calling me crazy.  If you do decide to try shortening instead of butter, use 4 Tablespoons.
Be careful that your biscuits rounds aren't too thick.  I love a big, tall biscuit as much as the next guy, but if you use too much dough per biscuit, the result is a big, dumb, misshapen biscuit.
Once the biscuits are cut, I like to leave them alone for 10 or 15 minutes before baking.  This step isn't necessary, but I find that resting the dough gives the biscuits a better structure and lessens the chances of having severe splits or fissures while baking.  You want a little of that flaky appearance – a visual hint that you can easily split the biscuits by hand, but you don't want them to break apart when you take them off the baking sheet.
This post is a companion piece to the following recipe on MrBreakfast.com: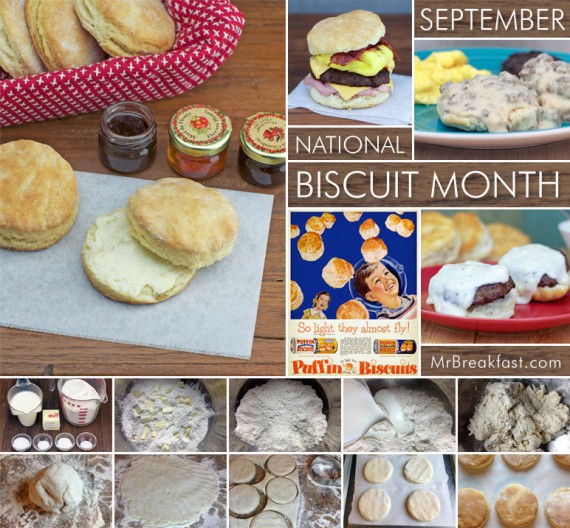 September is National Biscuit Month!
You Might Also Like: