Battle Of The 2016 Pumpkin Cereals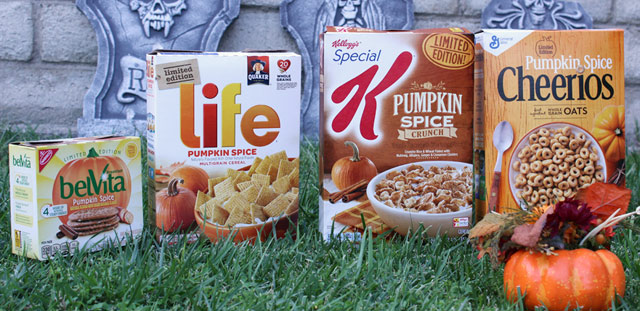 Last fall, I thought I would never again see so many limited-time-only, pumpkin-flavored products.  Then, I went to the grocery store this week and saw most of last year's products had returned, plus there's a whole new batch of stuff.  Autumn has arrived my friends.
Some of my favorite non-breakfast, pumpkin-spiced new products are Pumpkin Spice Peeps, LINDOR Pumpkin Spice Truffles, Pumpkin Spice Toll House Cookies and Pumpkin Spice Almonds from both Planters and Blue Diamond.
But this is a breakfast site, so to the business at hand… What is the best pumpkin spiced breakfast cereal introduced in 2016? There were 3 introduced by major cereal companies this year.  The following are listed from my least favorite to my most favorite: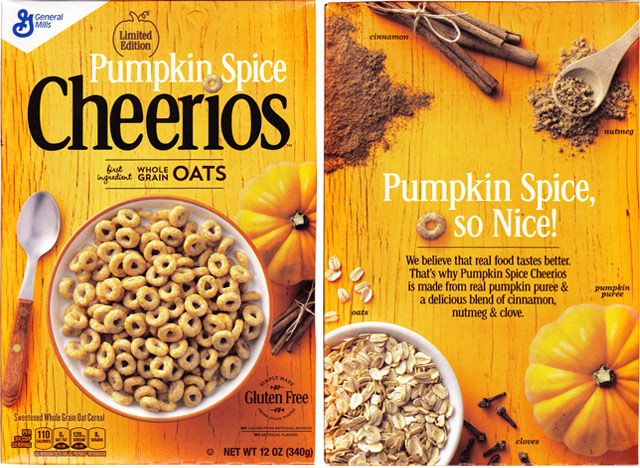 Pumpkin Spice Cheerios (General Mills)
This was my least favorite, but it's still pretty darn good.  The pumpkin spice flavor is super noticeable, especially in the first few spoonfuls.  Of all the cereals, the seasonal flavor here feels most like it was dusted on as opposed to being part of the recipe.  The biggest problem for this cereal is that Honey Nut Cheerios and original Cheerios are so very good.  Midway through my first bowl of this cereal, my mind was drifting to those other kinds of Cheerios – which are better than this new variety.
When eaten dry, the pumpkin spice in this cereal sort of sneaks up you and tastes a little overpowering.  But when you have it with milk, the flavors integrate and taste terrific.  I'm a big fan of Cinnamon Life cereal and this new variety feels kind of like that cereal's nice uncle.  He's interesting, fun, clearly-related, but somehow you're strangely content to only see him during holidays.  While this was my second favorite, it was the hands-down top favorite of our 2 and 1/2 year old toddler.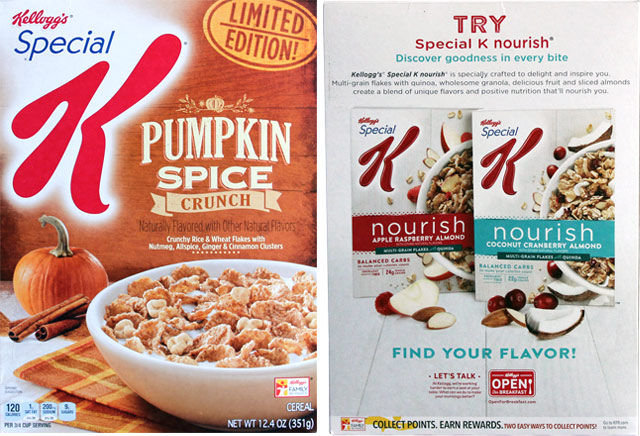 Pumpkin Spice Crunch Special K (Kellogg's)
The highest praise you can give to a pumpkin spice product is to say it tastes like pumpkin pie. The previous two cereals don't taste like pumpkin pie.  They taste like cereals that have been infused with spices associated with pumpkin pie.  This new Special K cereal actually does taste a little like pumpkin pie.  I was surprised that there's no pumpkin puree in the ingredients.  It might have to do with the sweet clusters you get in every other spoonful.  Alone, they taste like little clumps of plain sugar. But in the context of the whole cereal, they trigger thoughts of ice cream or whipped cream – to some, the best part of eating a piece of pie.  Of the three cereals, I also found that this one kept me feeling full for the longest time.  If you only try one pumpkin spice cereal this season, this is the one to buy.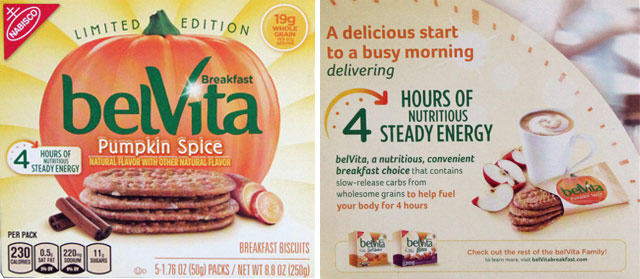 Non-Cereal Shout-Out:  BelVita Pumpkin Spice Breakfast Biscuits (Nabisco)
With a house full of pumpkin spice breakfast products, I was bound to eventually get temporarily tired of pumpkin pie spice.  It happened quickly with the Cheerios cereal and it's happening now with the Life cereal.  But… these biscuits that I've been snacking on every other day for a couple weeks are still tasting new and interesting.  There's nothing amazing about them.  They're basically just thin holiday cookies.  It could be that I'm usually extremely snacky when I have them.  Whatever the reason, I like them and I think you might too.
Be sure to check out the last year's Battle Of The Fall 2015 Limited Edition Cereals.
You Might Also Like: