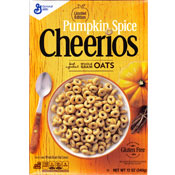 From: General Mills
Introduced in 2016
This limited-edition, fall-themed flavor of Cheerios is described on the front of the box as a "sweetened whole grain oat cereal (whose) first ingredient (is) whole grain oats. (It's) simply made (and) gluten free." The cereal was sent to us on August 4, 2016 as part of a promotional package which announced, "Get ready for the next pumpkin spice flavor phenomenon!"
The following description of the cereal is from the back of the box:
"Pumpkin Spice, O So Nice
"We believe that real food tastes better. That's why Pumpkin Spice Cheerios is made from real pumpkin puree & a delicious blend of cinnamon, nutmeg & clove."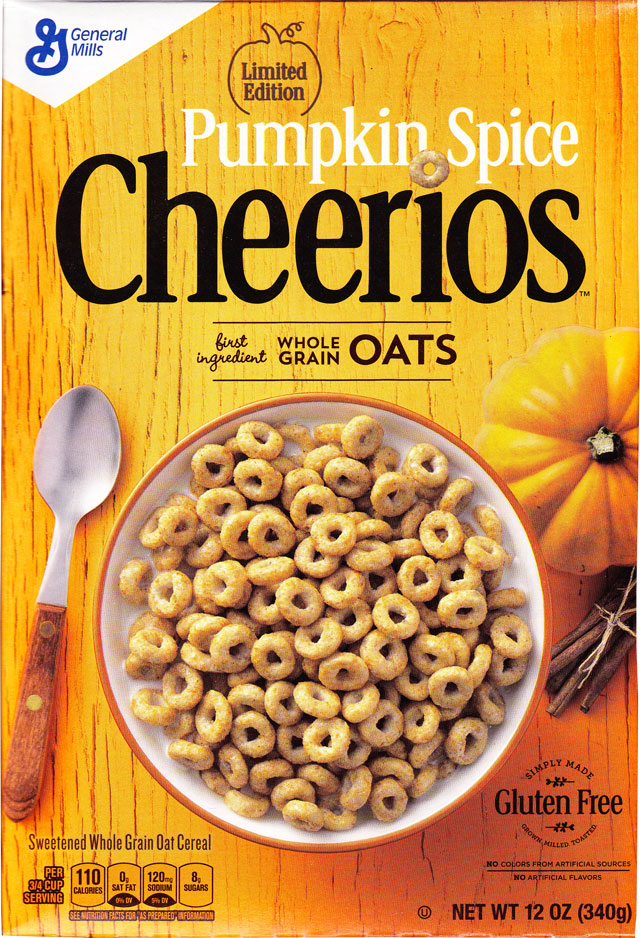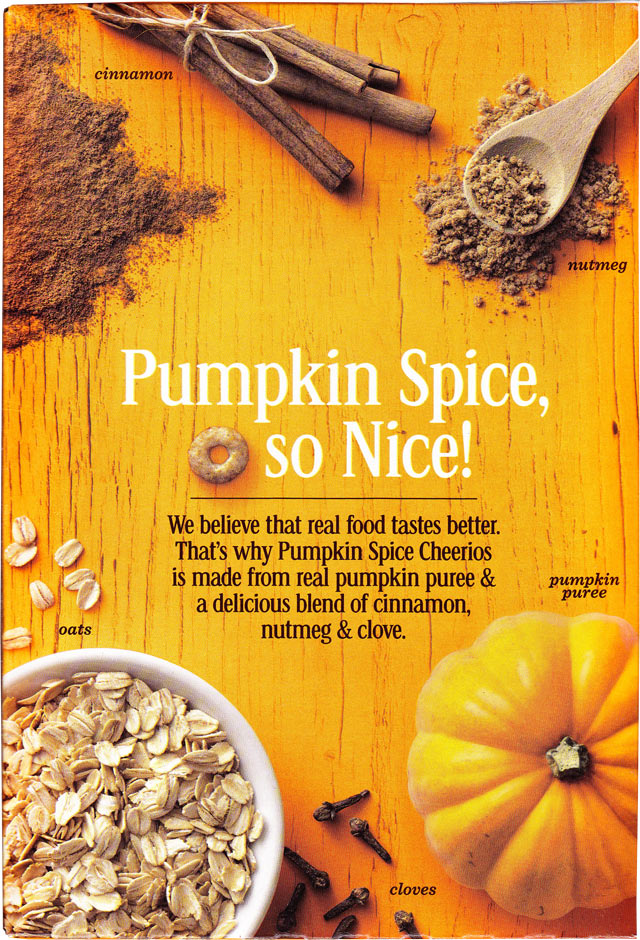 The next description is from a promotional card that was included with the cereal:
"Made from real pumpkin puree and a delicious blend of cinnamon, nutmeg and clove, Pumpkin Spice Cheerios will soon take over store shelves. Available for a limited time, it's gluten free. Did we mention it's pumpkin spice? Mmmmmmmm... Enjoy!
"Pumpkin Spice Cheerios is the latest General Mills Cereal free from artificial flavors and colors from artificial sources."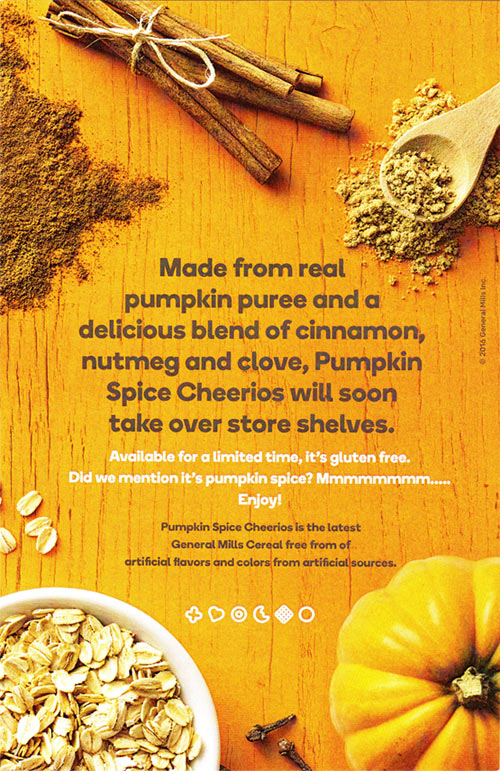 The first 9 ingredients listed on the nutrition panel are whole grain oats, sugar, corn starch, canola oil, salt, pumpkin puree, refiner's syrup, corn syrup and cinnamon.
Pumpkin-flavored, limited-edition cereals are part of an emerging new trend among major cereal companies. The previous year (2015) saw Kellogg's introduce
Pumpkin Spice Frosted Mini-Wheats
and Barbara's Bakery come out with
Pumpkin Puffins
.
Click here
to see all cereals from General Mills.
---
Comments About This Cereal
What do you think of Pumpkin Spice Cheerios?

Overall Average Rating = 4 (out of 5)

By Perry


| | |
| --- | --- |
| Cereal Rating (out of 5): | |

Totally awesome flavor! Wish I could buy it year round!

Comment submitted: 12/13/2017 (#22516)



By Jayson


| | |
| --- | --- |
| Cereal Rating (out of 5): | |

I personally love them but the milk does wash flavor off.

Comment submitted: 3/18/2017 (#21513)



By Jill L.


| | |
| --- | --- |
| Cereal Rating (out of 5): | |

Not enough pumpkin flavor. I have a corn intolerance, and something in this cereal (or maybe the clove/ spices?) does not agree with my stomach.

Comment submitted: 9/28/2016 (#20885)



By Irwin


| | |
| --- | --- |
| Cereal Rating (out of 5): | |

It's good. But Honey Nut Cheerios is still the best.

Comment submitted: 9/6/2016 (#20793)



By 3ileenjoyy


| | |
| --- | --- |
| Cereal Rating (out of 5): | |

It was only okay. They smelled better than they tasted. Most of the flavor is washed away in the milk.

Comment submitted: 9/5/2016 (#20792)



By Postman

Disappointing.

Comment submitted: 8/19/2016 (#20723)



By asterisk-3


| | |
| --- | --- |
| Cereal Rating (out of 5): | |

It's only ok. There's an overload of clove and the pumpkin flavor is barely there if at all. It's been over a half hour since I ate a bowl and my tongue is still numb from the clove. I will finish this box, so as not to waste it, but won't be getting anymore. I was truly disappointed.

Comment submitted: 8/17/2016 (#20710)



By Postman

This sounds really good.

Comment submitted: 8/8/2016 (#20674)





By CerealCrusher (Team Breakfast Member)

Oh h*lls yes... I love Trader Joe's Pumpkin Os, and the Pumpkin Spice Mini-Wheats were amazing in taste and scent... I am definitely looking forward to these!

Comment submitted: 8/5/2016 (#20662)