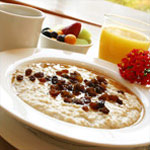 Butterscotch Oatmeal
1 and 3/4 cups milk
1 cup rolled oats
1 egg - beaten
1/2 cup brown sugar
2 Tablespoons butter
raisins (optional)
In a medium-sized sauce pan at medium-high heat, combine milk, egg and brown sugar. Stir in the oats. Cook until you get a rapid boil. Reduce heat to simmer and cook until thick. When you get your desired consistency, stir in the butter until melted and mixed.
Serve with milk. If desired, sprinkle raisins over the top of each serving.

I'm a fan of oatmeal again since my mother emailed me this recipe. Hope you like it too.
Mr Breakfast would like to thank
newjerseygal
for this recipe.
Comments About This Recipe
What do you think of Butterscotch Oatmeal?
Overall Average Rating =

(out of 5)




From Bjorn Disway
I make this almost once a week now. It's one of my favorites.

Comment submitted: 8/7/2013 (#16255)





From ahmom (Team Breakfast Member)
We loved this!

Comment submitted: 1/20/2013 (#15089)



From Le FA

Thanks for the recipe. I will try this one very soon!

Comment submitted: 1/8/2013 (#15064)



From Maria3
Best homemade oatmeal recipe I've made so far!

Comment submitted: 11/19/2012 (#14877)



From Davi
If you reduce the sugar to 1/3 cup, this is still really good. The only other similar recipe I found used butterscotch chips which we never have in the house (because I eat them as a snack and gain weight). Anyway... pretty good recipe. I'd make it again.

Comment submitted: 6/7/2011 (#12767)



From Pinoir
Add some sliced bananas at the last minute and sprinkle with cocoa powder and this has become my new favorite breakfast!

Comment submitted: 4/16/2011 (#12463)



From gsj007
I thought, when adding 1/2 cup of brown sugar, that seems like a lot of sugar. But, I like to follow the recipe the first time around. It is way too much sugar. I would say start with less and then add more later, if you like.

Comment submitted: 1/19/2011 (#11942)



From Greens
Very tasty and creamy, perhaps a little sweet, but otherwise excellent.

Comment submitted: 11/17/2010 (#11575)



From Morgi
| | |
| --- | --- |
| Rating (out of 5): | |

Even eaten with milk, this was much too sweet to consider as a breakfast item.

Comment submitted: 9/10/2010 (#11191)



From Dee Lishous
Favorite oatmeal I've had in a long time and it's always so much better to make from scratch than from those packets. Deeee-licious! Deee-lightful!

Comment submitted: 9/9/2010 (#11188)



From painter
Yes! Oatmeal reinvented. I would make this again for sure - might even make again this weekend. Yes! Yes! Yes!

Comment submitted: 8/5/2010 (#11017)



From wecki
This was very easy to make and was WONDERFUL! I did cut down to 1/4 cup brown sugar and added raisons and walnuts. I was concerned about how much it made, but it reheats in the microwave very well.

Comment submitted: 7/28/2010 (#10973)





From pamperedcook (Team Breakfast Member)
Very good!! Kids are eating it up as I type!

Comment submitted: 1/4/2010 (#9386)



From Tracychook
Wow - I have hated porridge (as we call oatmeal in Australia) my whole life. This porridge is the first I've eaten!

Comment submitted: 4/24/2009 (#8012)



From mjzucci
We are having a blizzard and my son, who has been shoveling snow for a half hour, wants me to make him this recipe for breakfast when he comes in. It really tastes like butterscotch and its easy to make.

Comment submitted: 3/8/2008 (#4782)



From buslady
Love it. I use splenda/brown sugar to sweeten. Less calories. A breakfast even small children will eat.

Comment submitted: 1/23/2008 (#4466)



From Amy
My mom use to make this for me, on special mornings, when I was little. I was so happy to rediscover this recipe, so I can share it with my children. They loved it. This one is a winner.

Comment submitted: 12/24/2007 (#4243)



From Tina
It was quite tasty, I liked it. But a little on the rich side - instead of gobbling it up like most oatmeal, I found myself slowing down halfway. Not to mention the guilt! Oatmeal should make me feel better about my diet, not guilty! It will definitely be a rare oatmeal variation in my household, assuming I even make it again when I have fruit or honey to add instead.

Comment submitted: 5/14/2007 (#2402)



From jgirl
Delicious - I made this and chocolate cookie oatmeal and my kids preferred this!

Comment submitted: 4/30/2007 (#2297)



From wendy
I threw in some oat bran and it was wonderful!

Comment submitted: 12/23/2006 (#1026)



View all 21 comments for this recipe.



---
Connect With Mr Breakfast: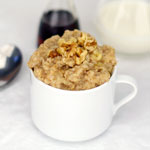 Pancake Oatmeal


Chocolate Chip Oatmeal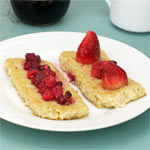 Fried Oatmeal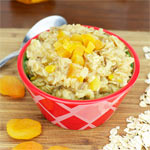 Apricot Honey Oatmeal

Check out our favorite vintage recipes from old magazine ads and recipe cards.
Click here
.