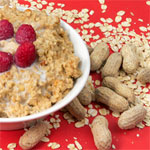 Peanut Butter Yogurt Oatmeal
3/4 cup of water
1/3 cup of quick cooking oats
1 Tablespoon all natural peanut butter
a single serving of yogurt (any kind you like)
I used vanilla yogurt when I tested this recipe. It added a definite creaminess to the oatmeal. I found that an entire single-serve container of yogurt was a bit much. I got better results when I used half of a 6-ounce container. I'd recommend stirring in the peanut butter as soon as the oats are cooked as they need some heat to melt into the final serving. All in all, this was a good recipe and it was amazingly easy. (This recipe was submitted 2004. It was tested and photographed in October 2014.)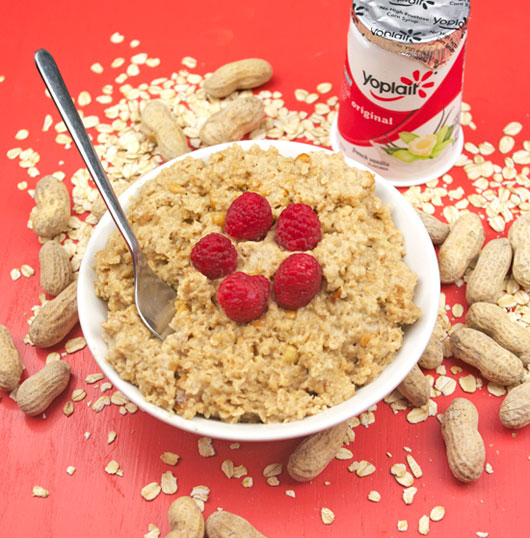 How To Make Peanut Butter Yogurt Oatmeal
First, cook the oatmeal in a microwave safe bowl. Combine water and oats in the bowl and cook on HIGH for about 1 3/4 minutes (more or less depending on the microwave, mine takes only a minute to cook).
Stand for 2 minutes and stir in peanut butter and choice of yogurt, stir and enjoy.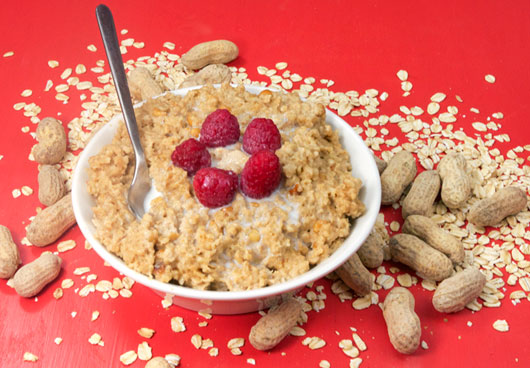 This is a real stick to your bones breakfast. I've done this with regular and all-natural peanut butter and other nuts spreads like almond, cashew and the like. I also use Silhouette yogurt with no sugar and low fat.
Mr Breakfast would like to thank
acexkeikai
for this recipe.
Comments About This Recipe
What do you think of Peanut Butter Yogurt Oatmeal?
Overall Average Rating =

(out of 5)

From loopydawg
Did it with vanilla yogurt - about 1/2 of a single serving pack. Very tasty. I'll have it again sometime.

Comment submitted: 1/1/2013 (#15023)



From K. Dusty
Great idea about using strawberry (or any berry flavored) yogurt to make peanut butter and jelly oatmeal. The yogurt gives it a really smooth texture and it's nice to get warm and cold in the same bite during the first couple spoonfuls.

Comment submitted: 1/11/2012 (#13413)



From BBoo
This was a great idea to actually get me to eat oatmeal :) I needed a high nutrient dense food (oatmeal) but I don't like oats and water... yuck! Thanks for giving a healthy recipe that tastes great! I used strawberry yogurt with natural pb

Comment submitted: 3/22/2011 (#12337)



From Hates oatmeal
This was not bad, made the oatmeal better and this is from someone who hates oatmeal. I love oatmeal in cobblers and cookies, but the whole oatmeal for breakfast mixed with water is a consistency thing with me. Not bad.

Comment submitted: 12/29/2010 (#11802)



From Michael A.
A very filling breakfast oatmeal that taste like a peanut butter and jelly sandwich. (I used strawberry yogurt) I can't believe I ate the whole thing!

Comment submitted: 10/28/2010 (#11472)



From abgirl
This tastes... weird.

Comment submitted: 10/21/2010 (#11427)



From j.w.

I do this with fat free vanilla yogurt and walden farms peanut spread. I also use a spoon of whatever polaner sugar free preserves I'm in the mood for and a handful of raisins. My slight modification - once I mix in all the other stuff, I throw it back in the microwave for a little less than a minute.

Comment submitted: 8/14/2010 (#11067)



From tullioto
Weird. This is what I eat for breakfast too... with the banana. I searched this wondering if anyone else ate exactly the same thing. Glad to know I'm not the only strange person :)... and just when I thought I was being original. I am going to try adding the honey. That sounds really good :) :) :)

Comment submitted: 12/4/2008 (#7024)



From Hungry
The yogurt I used didn't go well with the peanut butter. I had to add cinnamon and honey to make it taste better. If I try this again, I'll use a different yogurt but very interesting idea.

Comment submitted: 9/20/2008 (#6485)





From Nashta (Team Breakfast Member)
Mmm I loved this! Peanut butter is my favorite. I added a little mashed banana and some raisins and it was divine!

Comment submitted: 4/28/2008 (#5141)



From oatluvr
This also works well with 1 cup water, 1/2 cup oats, 1/2 tbsp peanut butter, and entire banana, and a half cup of yogurt, cooking the banana with the oats and stirring in the pb and yogurt towards the end. nice combo of ingredients (also added almond extract).

Comment submitted: 1/25/2008 (#4481)





From OLittleAsianOne (Team Breakfast Member)

What constitutes a single serving? 6 oz?

Comment submitted: 1/11/2008 (#4358)



From Nice
I used plain yogurt, and found that adding a little fruit or brown sugar will boost the flavor. Mmm!

Comment submitted: 10/23/2007 (#3831)





From Hairika (Team Breakfast Member)
Love this stuff. Add a little mashed banana and it's even better!

Comment submitted: 2/3/2007 (#1416)




---
Connect With Mr Breakfast: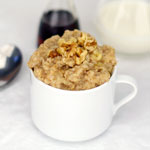 Pancake Oatmeal


Chocolate Chip Oatmeal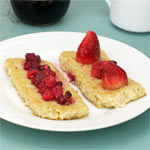 Fried Oatmeal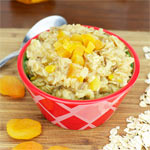 Apricot Honey Oatmeal