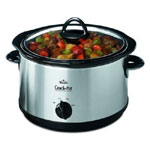 Crockpot
Crock-Pot® is a registered tradmark of Sunbeam Products. (Definition that follows will be updated later this week.)
Also called a "slow cooker", a crockpot is an electric cooking pot with a crockery liner used to cook food at low temperatures. A major advantage of cooking with a crockpot is the ability to cook a recipe for an extended period of time which allows flavors to blend together thoroughly.
Columns that reference "Crockpot":
Recipes with "Crockpot" in the title:
The editorial content above may not be reproduced without the written permission of Mr Breakfast.com. Please contact us for reprint requests.