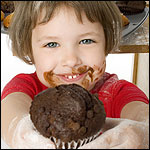 Chocolate
Christopher Columbus discovered cocoa beans in Nicaragua in 1502. The natives were using them as currency.
The person who commonly gets the credit for discovering chocolate is Spaniard named Hernando Valdez. He found Aztec Indians using cocoa beans to make a drink called "chocolatl".
On Valdez's return to Spain, "chocolatl" rapidly became a popular a drink among the aristocracy. It wasn't until "chocolatl" found its way to England that the drink became popular among commonfolk.
By the late 1700's, chocolate still hadn't found its solid form, but people started experimenting with it in recipes. It began showing up in cakes and pastries. This is the point in history where most historians believe the first chocolate pancakes and waffles appeared.
Chocolate as we usually identify with it - in solid form - came to being in 1928 when a Dutch man named Conrad van Houten invented a machine that pounded cocoa beans. The process was called "Dutching" and the result was cocoa powder. Cocoa powder mixed with sugar and butter results in a chocolate nugget, lump or bar. An English candy maker named Joseph Fry is credited with making those first "eating chocolates".
The Swiss then added milk and created milk chocolate.
Special Section:
Chocolate For Breakfast
- Includes Several Recipes
Articles that reference "Chocolate":
Columns that reference "Chocolate":
Recipes with "Chocolate" in the title:
Recipes with "Chocolate" in the ingredients:
The editorial content above may not be reproduced without the written permission of Mr Breakfast.com. Please contact us for reprint requests.