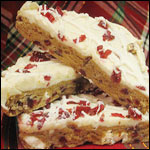 Cranberry Bliss Bars -- a la Starbucks
For Cake Base:
2 sticks margarine (or butter if you want to indulge) - softened
1 and 1/4 cups brown sugar - packed
3 large eggs
1 teaspoon ground ginger
1 teaspoon vanilla
1/4 teaspoon salt
1 and 1/2 cups all-purpose flour
1/4 cup minced dried cranberries
1/4 cup Lindt or Perugina or other quality white chocolate - coarsely chopped
1/4 cup minced candied ginger


For Frosting:
4 ounce cream cheese - softened
1 and 1/2 cups powdered sugar
2 Tablespoons butter - softened
1 teaspoon vanilla


For Garnish:
2 Tablespoons minced dried cranberries
1/3 cup white chocolate chips (e.g. Ghiradelli or Guittard) -- melted
Preheat oven to 350 and lightly grease a 9x13 pan.
Beat butter and sugar together for the cake base, and add eggs/vanilla beating until fluffy. Sift together flour, ginger, and salt and then add to the butter/sugar mixture beating well. Fold in the cranberries, chocolate and ginger. Spread thick batter in pan and bake for about 20 to 25 minutes or until light golden.
When cake is cooled, mix all frosting ingredients together and spread a thin layer over the cake. Immediately sprinkle with the minced cranberries. Then use a cake decorating bag of melted white chocolate with a tiny decorating tip (like the size used for writing on cakes) and drizzle the chocolate over the cake.
Cut this into bars immediately because the white chocolate hardens pretty fast and makes cake cutting messy.
Note From Mr Breakfast:
You wouldn't believe how many emails I receive about Starbuck's Cranberry Bliss Bars. This version of the recipe was emailed to me by a great breakfast lover named Gerry. Both Gerry and myself are anxious to know what you think and how they compare to the real deal at Starbucks. Hope you enjoy them! Thanks for the recipe Gerry!

User reviews for this popular recipe have been very good. Hope you enjoy them! Please be sure to read the additional comments on this one.
Mr Breakfast would like to thank
Mr Breakfast
for this recipe.
Comments About This Recipe
What do you think of Cranberry Bliss Bars -- a la Starbucks?
Overall Average Rating =

(out of 5)




From Bear
Theses were great!

Comment submitted: 12/24/2014 (#19167)



From alisadoll

Crust is a bit too firm following the recipe exactly. Next time, I will decrease the flour to 1 cup + 2 tablespoons.

Comment submitted: 12/21/2014 (#19163)



From Heidi R.
These are magical and perfect! There are several other recipes that claim to be just like Starbucks, but they are missing one key ingredient, the candied ginger!! I love these and make them every year. I like to add a little lemon to the frosting. Optional, but good.

Comment submitted: 12/3/2014 (#19135)



From LucyDean
I've made these every year for the last 4 years!

Comment submitted: 11/22/2013 (#17173)



From Jordan
Absolutely fantastic! Probably better than Starbucks and now we can have them anytime of year. Thanks for this one!

Comment submitted: 4/17/2013 (#15693)



From LoveBakingInCO
This recipe was definitely superior to the actual Starbucks version! Perfect moistness and texture. A taste sensation. Thanks, it's now a Christmas staple at my house. It even looks festive!

Comment submitted: 12/26/2012 (#15003)



From Stanville
This is better than Starbucks. The only thing I would change about it is to put in less sugar. It's too sweet (for me).

Comment submitted: 10/2/2012 (#14495)



From ZigZig
I had an unstoppable craving for these the last few days. It was time-consuming but these were almost, like 98%, as good as the real thing. Friends agreed - good recipe!

Comment submitted: 6/24/2012 (#14079)



From Penny
Delicious! Almost as good as the real thing, but much cheaper in the end.

Comment submitted: 12/20/2011 (#13330)



From ShellyBean
Everyone LOVED these!

Comment submitted: 12/4/2011 (#13278)



From Shelby F.
These are becoming a post-Thanksgiving tradition for us. Second time I made them that weekend. Like others, I also add 1/2 teaspoon orange zest to the frosting. One of the best recipe on your website. Thanks!

Comment submitted: 11/29/2011 (#13252)



From Candace
These are always a huge hit when I make them at Christmas time. I use minced ginger instead of ground ginger and I add a splash of pure orange extract or orange zest to the cream cheese icing.

Comment submitted: 11/25/2011 (#13232)



From freeda
I made these the last 2 years in a row. Everybody loves them. I like to go to Starbucks now just to see how much money I'm saving. Last year, they were charging over $3.00 a bar. These are just as good in my opinion.

Comment submitted: 11/12/2011 (#13171)



From CarrieT
I like making these in the summer. The taste and smell remind me of the holidays and stopping into Starbucks after shopping. Delicious!

Comment submitted: 6/6/2011 (#12751)



From Emily
Excellent!! I adore these bars!

Comment submitted: 4/4/2011 (#12391)





From Cooldude4007 (Team Breakfast Member)
I just made this today, and I'm and 11 year old kid! It is delicious and my whole family loved! I'm gonna make this recipe a LOT!!:)

Comment submitted: 1/3/2011 (#11837)



From copae
We made this for the family... and they loved it...

Comment submitted: 1/2/2011 (#11829)



From Karen M
I only 2 eggs and add orange zest to the batter and the frosting, Delish......

Comment submitted: 12/23/2010 (#11773)



From bingogal
Just finished making these bars and the crust is really hard and cookie consistency. I followed the recipe. I have had the bars from Starbucks and they are better. Frosting is good. Don't know why the crust is so hard. Can anyone tell me what happened?

Comment submitted: 12/22/2010 (#11770)



From benton21

"Indulging" in butter only makes good sense, it's real food. Unlike margarine, which is supposedly one molecule different than plastic.(Not good for health)!!

Comment submitted: 12/21/2010 (#11763)



View all 98 comments for this recipe.



---
Connect With Mr Breakfast: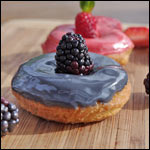 Berry Delicious Cake Donuts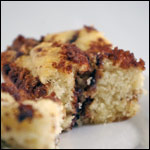 Cinnamon Flop (Coffee Cake)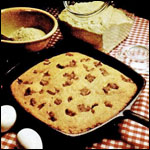 Bacon Spider Bread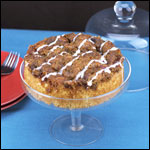 Strawberry Jam Coffee Cake

Just because it looks fancy and tastes great doesn't mean it's hard.
Click here
.