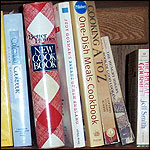 Cookbooks
Occasionally, I'll post a recipe from a favorite quirky, vintage cookbook such as
The Nancy Drew Cookbook
. If you visit that page, you'll see other cookbooks in the upper-left.
Also, check out our
Team Breakfast Blog
. From time to time, I'll try a recipe from a classic cookbook and post the recipe and pictures of the results. For instance, check out
Making Quiche Lorraine With Alfred Hitchcock
.
Resources:
Purchase Cookbooks And Other Breakfast Related Books
Columns that reference "Cookbooks":
The editorial content above may not be reproduced without the written permission of Mr Breakfast.com. Please contact us for reprint requests.