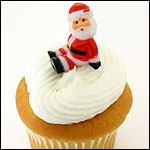 Christmas
A holiday in the Christian calendar observed on the 25th of December. According to the gospel, Jesus was born to in Bethlehem near that date a few years back. The exact date of the Nativity is not known but is supected to haver occured between December 25 and January 6 — known as "The Twelve Days of Christmas".
The word "Christmas" is from the Old English words "Cristes" and "moesse" which together mean "the mass of Christ".
Feature:
Christmas Recipes and Traditions
Feature:
Turning Holiday Leftovers Into Great Breakfasts
Holiday Cereal Treat:
Pebbles Snow People
Articles that reference "Christmas":
Recipes with "Christmas" in the title:
The editorial content above may not be reproduced without the written permission of Mr Breakfast.com. Please contact us for reprint requests.