Christmas
Breakfast
Recipes & Traditions
Christmas is all about gathering with family and friends, celebrating traditions, making memories, and of course, breakfast. Make this year's holiday easier with some of our suggestions for truly special, memory-making breakfasts. We have fun treats for the kids, special surprises for the grown-ups, quick fixes for a no-fuss Christmas morning, and traditions from around the world. Have a very merry breakfast!
Favorite Christmas Breakfast Recipes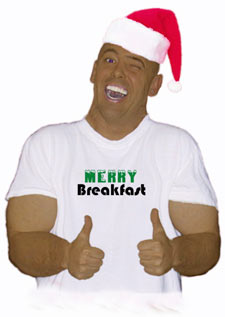 Holiday Breakfast Customs

Sweden
The Christmas season here begins on St. Lucia Day, December 13. That morning, the oldest daughter of the house dresses in white and wears a wreath with seven lit candles on her head. She serves the other members of the family breakfast in bed.

Belgium
Christmas breakfast here includes a sweet bread called
Cougnou
, which means "Bread Of Jesus". The bread is shaped into the form of wee baby Jesus with currants for eyes. It's also served at traditional Belgian Easter celebrations.


Appalachian Mountains, USA
Many residents here are ancestors of old seafarers. Their dying custom is eating oysters - either fried or in stew - for Christmas morning breakfast. You can fry your own Christmas oysters by dipping them in egg, dredging them through cracker meal and frying them up.

Finland
At breakfast on Christmas Eve morning, natives here have a rice porridge with cinnamon, sugar and milk. An almond is hidden in the porridge and whoever finds it first is believed to have great luck all through the following year. They might even get married!

Jamaica
Christmas breakfast in Jamaica usually includes ackee and saltfish (salted cod), breadfruit and fried plantains. Ackee is the national fruit of Jamaica. It's flavor has been described as being similar to scrambled eggs. Seriously. But be careful. If the inside of the fruit is not ripe or overly ripe, it's poisonous. And that's no good for a holiday breakfast.
Turn Holiday Leftovers
Into Amazing Breakfasts

Don't throw anything away until you look at our recipes that use holiday dinner leftovers. Those mashed potatoes? They make wonderful potato pancakes. All that stuffing and turkey? Who's up for a marvelous Country Benedict.
Gift Idea: Breakfast In A Jar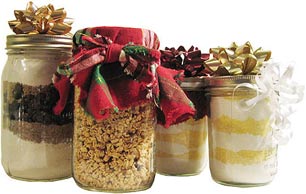 Our special section dedicated to those charming gift jars has everything you need: the recipes, tips to make them pretty and a special printable, personalized recipe gift tag to attach to each one. Fancy looking presents made with stuff from your cupboard. The holidays just got a little easier.
Holiday Breakfast Cereals
Just for fun! Take some time off holiday cooking and dig our museum of every holiday-themed breakfast cereal ever made. Click a box.
More Christmas Breakfast Ideas
Mr Breakfast wishes you the happiest of holidays! Remember to start each day with a moment for yourself and for your family. May your New Year be filled with breakfast! And may all your Christmases be white... or wheat, toasted golden brown as part of a nutritious delicious breakfast!