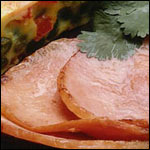 Ham
Ham is defined as the thigh and buttock of any animal. So technically speaking, you have ham in your pants. However the word is most often used in reference to a cut of pork.
Most ham is cured. A dry-cured ham is rubbed with a mixture of salt and a variety of other ingredients (often sugar). A wet-cured ham is cured in a liquid brine.
In terms of pork cuts, ham is relatively low in fat. It's a source of essential B vitamins and is rich in phosphorous, zinc, potassium, iron and magnesium. As for protein, a 3-ounce portion of ham provides approximately 30% to 50% of your daily requirement. On the down-side, ham is often high in sodium due to the curing process.
The ham and cheese omlelet ranks consistantly as one of America's most requested omelets.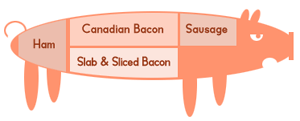 Articles that reference "Ham":
Columns that reference "Ham":
Recipes with "Ham" in the title:
Recipes with "Ham" in the ingredients:
The editorial content above may not be reproduced without the written permission of Mr Breakfast.com. Please contact us for reprint requests.