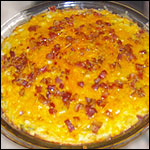 Breakfast Hashbrown Casserole
6 cups loose packed frozen hash browns - thawed
2/3 cups butter - melted
2 cups cooked ham - diced
1 cups Cheddar cheese - shredded
1 cups milk
4 large eggs
1/2 teaspoon salt
Spray a 9 x 13-inch or similar baking dish. Press hash browns on bottom of pan. Drizzle melted butter over crust. Bake at 425 degrees for 25 minutes. Reduce heat to 350 degrees. Sprinkle ham and cheese over crust. Beat eggs, milk and salt; pour over ham and cheese.
Return to oven and bake 25 minutes or until knife inserted near center comes out clean.

If desired, you can add a couple Tablespoons of finely chopped peppers or onions to the egg mixture for more of a garden fresh flavor.
Mr Breakfast would like to thank
caroline
for this recipe.
Comments About This Recipe
What do you think of Breakfast Hashbrown Casserole?
Overall Average Rating =

(out of 5)




From Rappinghood
This is like something that I could probably eat for every meal, every single day!

Comment submitted: 3/19/2017 (#20228)



From Carlos Danger
Add 1/4 teaspoon dry mustard and 1/4 teaspoon paprika and it makes it even better... maybe a little black pepper too. Also, I agree with the other guy about the butter. All you need is 1/2 cup.

Comment submitted: 9/19/2013 (#16555)



From Dingo

Does anyone know if I could put this in a crockpot to make it?

Comment submitted: 11/27/2012 (#14909)



From XenaBob
I love this recipe! I don't worry about the quantity of hash browns, I just use a bag full. I've also add 2 more eggs, 1/2 cup more milk and a little extra salt. Sometimes I use ham, sometimes sausage links, sometimes a roll of sausage. And whatever cheese I have on hand.

Comment submitted: 10/23/2012 (#14726)





From tamarle53 (Team Breakfast Member)

I use tots in the freezer bag and chopped them as hash browns for breakfast sometimes.

Comment submitted: 1/5/2012 (#13393)



From The Lundens
Added 2 more eggs like someone in the comments did and it turned out really good. Got good reviews from my family. Thanks! Oh... I also added half a small onion (chopped) which I sprinkled over the crust before the ham. It added a nice flavor.

Comment submitted: 12/24/2011 (#13342)



From MammaBear
I added an extra 2 eggs the 2nd time and used bacon and ham. Easy and delicious and a lot of fun to play with!

Comment submitted: 9/16/2011 (#12913)



From hungry

Can this casserole be made ahead of time and frozen?

Comment submitted: 6/14/2011 (#12793)



From I. M. Dana
For the best results, you should squeeze every last drop of liquid from the thawed potatoes before adding them to the pan. I've been making this for years now and everyone always ravs.

Comment submitted: 6/4/2011 (#12748)



From my kids mom
This is truly a wonderful dish and very easy to make. I also added an extra egg and a little chopped onion. Delicious!!!

Comment submitted: 5/16/2011 (#12684)



From RRC78
I made it with sauteed peppers & mushrooms. I cut the butter to 1/2 cup and used 5 instead of 4 eggs. Was easy and delicious.

Comment submitted: 1/11/2011 (#11895)



From Duffy
Chop up a small onion and a small green pepper and add one more egg and this is amazing. I might saute some mushrooms and add that to next time too.

Comment submitted: 10/19/2010 (#11417)



From Thorn
Have made this using fresh potatoes as well as with frozen. It's great with mushrooms and onion. We've also made it with chicken. Really great recipe with lots of possibilities. We do use a bit less butter though.

Comment submitted: 9/26/2010 (#11299)



From emarie
Yes, I made it with fresh potatoes, reduced butter to 1/4 cup (come on, 2/3 cup, really?), added onion and green pepper, used cut up sausage links. DELICIOUS!

Comment submitted: 5/23/2010 (#10543)



From fresh not frozen

Can you make this with fresh potatoes instead of frozen?

Comment submitted: 3/15/2010 (#10068)





From Mothe52 (Team Breakfast Member)
Good breakfast casserole. May try with bacon next time. Added diced green peppers and onions to half!

Comment submitted: 3/7/2010 (#9992)



From Pump U.
Try it with bacon - cooked and crisped - instead of the ham. Deee-licious!

Comment submitted: 1/28/2010 (#9558)



From shelly/atlanta
This is a nice basic recipe! I fatted and nastied it up with sour cream, extra eggs, a can of mushroom soup and way too much cheese, but it was pretty darn good. The ham is a good choice- next time I'll add sauteed mushrooms and green onions too - I like the hash brown crust!

Comment submitted: 12/5/2009 (#9161)



From Sweet Cheeks
I made this for work and everyone loved it!

Comment submitted: 11/20/2009 (#9060)



From Indiana007
This was extremely good. I exchanged ham with bacon. Good inexpensive dish for a crowd.

Comment submitted: 4/6/2009 (#7916)



View all 25 comments for this recipe.



---
Connect With Mr Breakfast: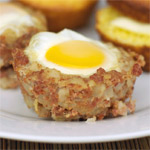 Meal In A Muffin Pan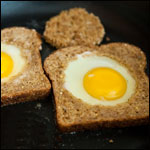 Egg In The Hole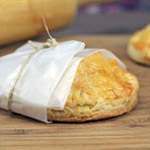 Breakfast Hand Pies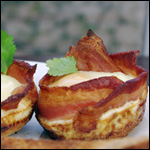 Bacon Breakfast Cups