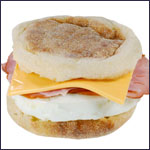 Microwave Breakfast Sandwich
1 English muffin - lightly toasted
1 large egg
1 slice American cheese
1 slice pre-cooked bacon or sliced ham
butter as desired
Break egg into lightly greased microwave-safe small bowl. The bottom of the bowl should be roughly the size of your English muffin.
Beat the egg lightly and microwave for about 45 seconds to a minute until set.
Butter the English muffin as desired. Make a sandwich with the cooked egg, cheese and meat. Microwave sandwich 10 or 15 more seconds until cheese just begins to melt.

Have a healthier fast-food-style breakfast sandwich in the same amount of time you'd be waiting in line at the drive-thru.
Mr Breakfast would like to thank
BethH
for this recipe.
Comments About This Recipe
What do you think of Microwave Breakfast Sandwich?
Overall Average Rating =

(out of 5)

From R. P. Coltrain
I make these all the time. Like someone else kind of said... It's best to microwave the egg for 20 seconds, stir it up and then microwave for another 20 seconds... much more fluffy and like a fast food restaurant that way.

Comment submitted: 10/29/2013 (#17063)



From foo222

To make the egg patty more fluffy like the fast food restaurants: Microwave for 20 seconds and then stir the egg. Then, microwave until the egg is completely set - about 20 more seconds.

Comment submitted: 3/18/2013 (#15422)



From Katie K.
I liked it and it was easy too. It's a fun way to make eggs.

Comment submitted: 6/22/2012 (#14072)



From EggMeg
Wow. I love how easy this is. Thanks.

Comment submitted: 4/5/2012 (#13751)



From phoebe t.
I am totally surprised at how good the egg turned out in the microwave. Is that what some of the fast food restaurants do? Anyway, the breakfast sandwich came out really good and I'll make it again sometime.

Comment submitted: 9/30/2011 (#12953)



From JumpAround
I make this all the time with Canadian bacon. Only suggestion is to cover egg bowl with a paper towel because it sometimes splatters a little bit. Also... I forget the brand, but look for honey-wheat English muffins. They work best and are healthy.

Comment submitted: 9/26/2011 (#12940)



From Feje
This recipe is great cause before I was making this same thing the long hard way. I have tweeked it some to make it more healthy by using a 100% whole wheat muffin, 2% cheese, and no butter. I also use Olive Oil to make the egg with.

Comment submitted: 2/14/2011 (#12128)



From ash
So simple but so good!

Comment submitted: 2/2/2011 (#12049)





From joe999a (Team Breakfast Member)
I started making something like this several years ago while I was on Weight Watchers. To save calories and fat, instead of ham or bacon, I sprinkled some Penzey's Breakfast Sausage seasoning instead. All the flavor of Sausage without the bad stuff.

Comment submitted: 9/17/2010 (#11242)



From EggMan

So easy a teenager can do it! Recommendations... place a paper towel over the bowl when you are cooking the eggs (it will save time for clean up). Make sure you use non-fat cooking spray in the bottom of the bowl before you put in the egg so the finished egg mix will slide out onto your English Muffin (again helps in clean up) and finally Canadian bacon is the perfect size and taste paring for this high protein meal.

Comment submitted: 6/29/2010 (#10796)



From norris
I love this recipe! Thanks for the post. I make it all the time now.

Comment submitted: 3/31/2010 (#10209)



From M. Del Rey
It is easy and simple. Good recipe. Thank you.

Comment submitted: 3/14/2010 (#10061)



From DOJman
Another way...

Whip the egg until beaten. Add salt and pepper as desired. Microwave on HIGH for about 1 minute. Take out, Place Just the cheese over the egg, and microwave for another 30 secs. While this is happening, you can toast your bread, bagel, or muffin until the cheese is melted. When all is finished, slide the egg and cheese right off the bowl and onto the sandwich. (To Add Bacon, Just Microwave for 1-2 minutes. Then Add!)

Hope you all can enjoy this as much as i do. VERY VERY fast breakfast.
-Brandon Johnson SF, CA

Comment submitted: 9/24/2008 (#6497)



From Super
I don't usually cook in the microwave, but now I know better!!!

Comment submitted: 8/5/2007 (#3324)



From Nick
You can make it even more healthy by using egg beaters and microwaving for 90 seconds, shake and then microwave another 30 seconds...

Comment submitted: 7/31/2007 (#3293)



From PL8OFCAKE
I had no idea you could cook an egg like that... great for on the run eating.

Comment submitted: 1/24/2007 (#1292)



From cher
I add ketchup too. Easy and good.

Comment submitted: 12/5/2006 (#883)




---
Connect With Mr Breakfast: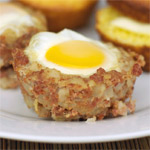 Meal In A Muffin Pan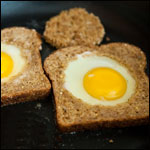 Egg In The Hole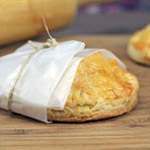 Breakfast Hand Pies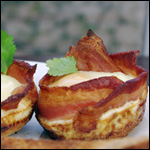 Bacon Breakfast Cups

May the force of breakfast be with you.
Click here
.