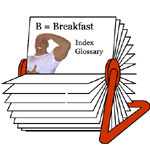 Halloween
Also called "All Hallows Eve", Halloween is a holiday that occurs annually on October 31. Derived from a pagan festival, it's the night when ghosts and spirits have the power to roam the world. It's customarily celebrated by children dressing in costumes and going door-to-door to collect candy.
Special Section:
Mr Booo...reakfast's Halloween Headquarters
- Includes Recipes and Jokes
Costume Idea:
Dress Like A Donut
- Homemade Halloween Costume
Recipes with "Halloween" in the title:
The editorial content above may not be reproduced without the written permission of Mr Breakfast.com. Please contact us for reprint requests.