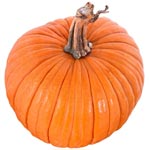 Pumpkin
A spherical orange gourd (aka squash) that grows on a vine. In cooking, pumpkins are most popular in pies, but they can be prepared like any winter squash. The seeds are often husked and roasted to produce a nutty snack food.
The pumpkin seems to have originated in Central America. Seeds from related plants were found in Mexico dating back to 5500 B.C. Pumpkin is a good source of Vitamin A, potassium, fiber and certain anti-oxidants.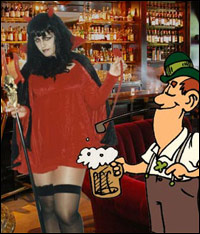 Pumpkins are used to carve Jack-O-Lanterns during Halloween. The concept of the Jack-O-Lantern seems to stem from the Irish legend of Stingy Jack. Long story short, Stingy Jack upset the devil while playing drinking games. When he died, heaven didn't want him and the devil was still upset. That left Jack roaming the earth in spirit form. For reasons unknown, Jack roamed the earth with a lantern carved out of a turnip. Naturally, it's easier to fashion lantern from a pumpkin than a turnip, and over time the pumpkin as a lantern became symbolic of Halloween.
To see a pumpkin in your dreams, implies openness and your receptiveness to new ideas and experiences. A pumpkin is also symbolic of female sexuality.
The world's largest pumpkin was grown in 2005 by Larry Checkon of North Cambria, Pennsylvania. It weighed in at a whopping 1,469 pounds. That's heavier than most grizzly bears! The previous record was held by Steve Daletas of Oregon. His 2004 pumpkin weighed 1,385 pounds.
Interesting Pumpkin Fact:
The pilgrims made pumpkin pie by filling a hollowed out pumpkin shell with milk, honey and spices, then baking it. See
this related recipe
.
Articles that reference "Pumpkin":
Recipes with "Pumpkin" in the title:
Recipes with "Pumpkin" in the ingredients:
The editorial content above may not be reproduced without the written permission of Mr Breakfast.com. Please contact us for reprint requests.