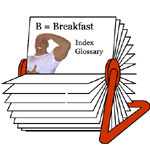 Product Reviews
Mr Breakfast has got your back. No more inferior cereals. Down with pathetic Pop-Tarts!
Check this page
often to see the best and worst of new breakfast products.
If you have an opinion about a product (listed in the product reviews section or otherwise) please
write to Mr Breakfast
or post a message on the
message board
.
If you represent a company with a product you like to have reviewed, please visit
this contact information page
.
The editorial content above may not be reproduced without the written permission of Mr Breakfast.com. Please contact us for reprint requests.