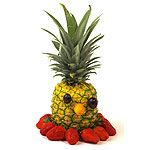 Pineapple
A tropical fruit with a spiny, diamond-patterned, greenish-brown skin and swordlike leaves. The edible juicy yellow flesh beneath the rough skin and surrounding a hard core has a distinctive tangy sweet taste. The name "pineapple" comes from the fruit's resemblance to a pine cone. Pineapples are fat-free, cholesterol-free and high in fiber and vitamin C. One 3/4 cup serving of fresh diced pineapple contains only 57 calories.
"Pineapple" is also a slang term for a hand grenade. At Mrbreakfast.com, the term usually refers to the fruit.
Interesting Pineapple Facts
If you dream about eating or serving pineapple, you will have social success. If you dream of grwing or harvesting pineapple, you will have a steamy new love affair.


In the mid-15th Centry, pinapples were carried on sailing vessels to prevent scurvy.


In the Carribean, pinapple is called "anana" which is the naitive Tupi word for "excellent fruit".


Pineapples take about 18 months to mature, compared to 3 to 4 months for most other fruits.
Articles that reference "Pineapple":
Recipes with "Pineapple" in the title:
Recipes with "Pineapple" in the ingredients:
The editorial content above may not be reproduced without the written permission of Mr Breakfast.com. Please contact us for reprint requests.