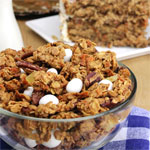 Twice-Baked Carrot Cake Granola
3 cups Old Fashioned oats
2/3 cup chopped pecans
1/2 cup all-purpose flour
2 teaspoons cinnamon
1/2 teaspoon grated nutmeg
1/2 teaspoon salt
1 and 1/2 cups grated carrot (about 2 medium carrots)
1/2 cup brown sugar
1/2 cup butter
1/4 cup pure maple syrup
1/4 cup honey
1 teaspoon vanilla
1/4 cup dried pineapple - chopped
1/2 cup yogurt-covered raisins
Why twice-baked? Because it needs to be. If you see other recipes where the carrots are a fresh, lovely orange color, be skeptical. Those carrots are soft and the granola is far from crunchy. Carrots add a significant amount of liquid, therefore cooking time has to be adjusted significantly. We found that we got the best results by baking the granola twice. To emulate the taste of great carrot cake, this recipe doesn't shy away from flavor or sweetness. Yogurt-covered raisins help bring to mind the cream cheese frosting that no well-meaning carrot cake should ever be without. A touch of pineapple is in the best carrot cakes so it has also found its way into this granola. A little bit of flour helps create clusters within the granola. (This recipe was developed, tested and photographed in May 2015.)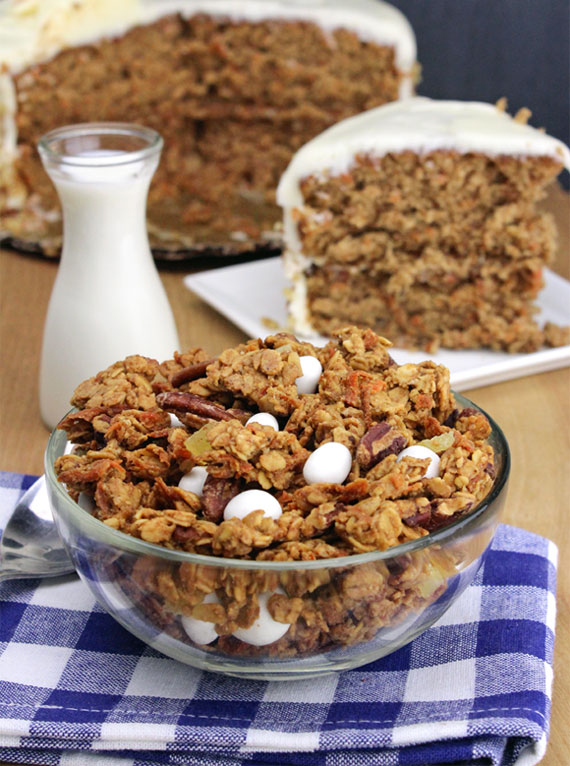 How To Make Twice-Baked Carrot Cake Granola
Preheat oven to 350 degrees.
In a large bowl, stir together the oats, flour, pecans and spices.
In a small saucepan over medium-low heat, melt the butter. Add the maple syrup, honey, vanilla, grated carrots and brown sugar. Stir until brown sugar is completely dissolved and mixture is well combined.
Pour the wet ingredients over the oat mixture and stir until the oats are well-moistened.
Transfer to a lightly greased baking sheet. Spread the mixture into a fairly even layer.
Bake at 325 for 35 minutes - flipping and stirring midway. Stir in the pineapple.
Allow the granola to cool completely - about 15 minutes. Test for crunchiness. The granola will likely have a cookie-like texture at this point.
Return the granola to the oven and bake at 300 degrees for 30 more minutes - stirring every 10 minutes. After it cools this time, stir in the yogurt-covered raisins.
Stores well in an airtight container for 10 days.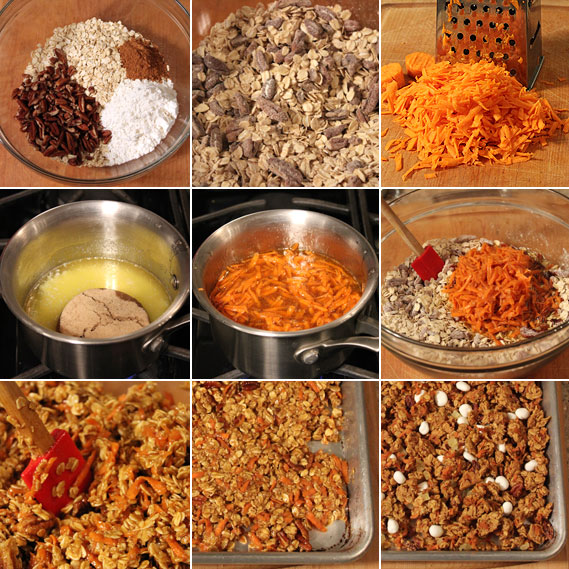 Cooking Notes By Mr Breakfast:

The carrots and brown sugar are treated as wet ingredients so that the grated carrot is completely sweetened and flavored - giving a candied carrot effect.

If desired, the cinnamon and nutmeg can be replaced by 2 and 1/2 teaspoons of pumpkin pie spice which is essentially cinnamon and nutmeg with a bit of ginger and allspice.

It's important to add the yogurt-covered raisins at the very end after the granola has completely cooled or you'll end up with a sticky mess. Believe me. I've tried it both ways.

During the first cooling stage, break up any large clusters that have formed. Clusters are awesome but if they're too big, they'll feel soft and cookie-like compared to the rest of the crunchy granola.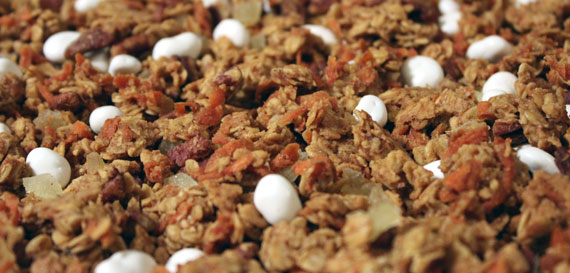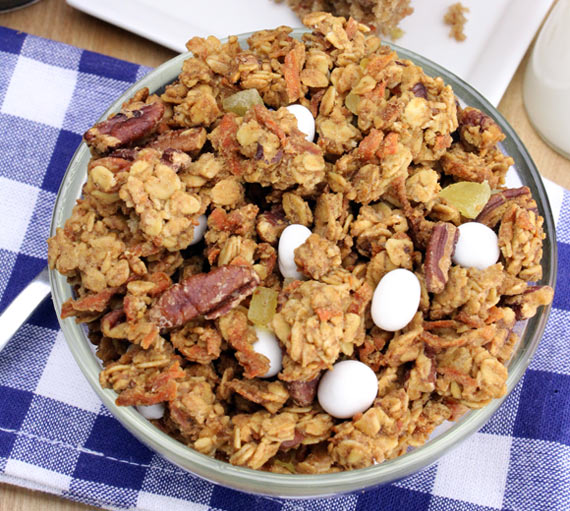 All the wonderful flavors of carrot cake in the form of granola including yogurt-cover raisins to mirror the frosting.
Mr Breakfast would like to thank
Mr Breakfast
for this recipe.
Comments About This Recipe
What do you think of Twice-Baked Carrot Cake Granola?
Overall Average Rating =
(out of 5)

From cronmeal (Team Breakfast Member)
Thank you! I'm making gift bags of this for 2 of my friends who LOVE carrot cake. I tried one recipe from a girl's blog (I hate her now but I'll be nice and not say the name) and the granola was soft and plain bad. I wish I'd found this recipe first. It is exactly what I what was looking for. This one works. I was so frustrated. Now I'm very happy. Thanks!

Comment submitted: 11/30/2015 (#19674)



From Melissa
So yummy! I didn't have any maple syrup on hand so I used my homemade version. It is scrumpish! I did add the yogurt raisins a bit too soon so it's sitting in the refrigerator hardening up. I will make this again!

Comment submitted: 8/15/2015 (#19510)




---
Connect With Mr Breakfast: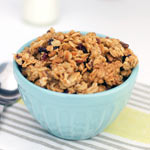 Orange Marmalade Granola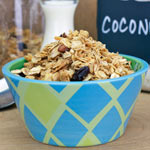 Coconut Granola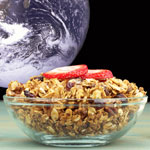 Earth Day Granola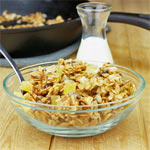 Skillet Granola

When's the last time you had breakfast in a cup made of bacon?
Click here
.