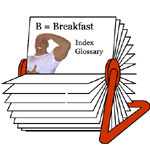 Zucchini
"Hi. Mr Breafast here. Let me be Mr Honesty for a moment. The only reason zucchini is in this glossary is so that I'd have something to put under "z". However, going through the site to organize the glossary, I was able to put together a cute little collection of zucchini breakfasts. The hash brown recipe is actually very good.
Articles that reference "Zucchini":
Recipes with "Zucchini" in the title:
Recipes with "Zucchini" in the ingredients:
The editorial content above may not be reproduced without the written permission of Mr Breakfast.com. Please contact us for reprint requests.
"Great Breakfasts" Start With The Letter "Z"
Zucchini