Pumpkin Pancakes
2 cups flour
2 Tablespoons granulated sugar
4 teaspoons baking powder
1 teaspoon salt
1 teaspoon cinnamon
1 and 1/2 cups milk
1 cup pumpkin puree
4 large eggs - separated
1/4 cup melted butter
Sift together dry ingredients. Combine milk, egg yolks, butter and pumpkin puree. Stir into dry ingredients until just blended. Beat egg whites until stiff and fold into batter. Pour onto hot, oiled griddle, about 1/3 cup at a time. Cook until tops bubble and turn and cook other side.

For fun at Halloween, try sprinkling completed pancakes with that orange-colored sugar (usually found near the muffin and cake mixes in the grocery store.)
Mr Breakfast would like to thank
caroline
for this recipe.
Comments About This Recipe
What do you think of Pumpkin Pancakes?
Overall Average Rating =

(out of 5)

From Monster Mom
You made our Halloween morning! Kids and husband agree... super good! I also added 1/8 or so teaspoon of nutmeg with the cinnamon.

Comment submitted: 10/31/2013 (#17099)



From Swannie
Really good. I took advice from the comment by 'Barbieg' and added a packet of instant oats (regular) to the batter. And also a pinch of nutmeg like many people here. Texture and and taste was awesome.

Comment submitted: 10/11/2012 (#14591)



From gooch
Very nice! I added some freshly grated nutmeg, maybe 1/2 teaspoon or so. I though that the comment from "Barbieg" was really interesting about adding a flavored oatmeal packet to the batter. Maybe next time. And there will be a next time.

Comment submitted: 10/19/2011 (#13050)



From salud
Very easy. Great moist texture. I added 2 teaspoons of vanilla. Tasted great with butter and maple syrup. Thanks and Happy Halloween Mr Breakfast!

Comment submitted: 10/7/2011 (#12989)



From Linz
Awesome!! Took others tips and added nutmeg and a little vanilla.

Comment submitted: 10/31/2010 (#11489)



From ChopLou
It was very good. Would make it again.

Comment submitted: 10/15/2010 (#11389)



From Barbieg
These are very good... I added 1/2 tsp nutmeg and a package of cinnamon bun oatmeal.... omg They were awesome!

Comment submitted: 11/14/2009 (#9043)



From T. Crest
We loved them. Topped them with whipped cream and cinnamon / sugar. Also added a little vanilla to the batter.

Comment submitted: 11/1/2009 (#8950)



From O. Hoho
Added a full can of pumpkin puree, extra cinnamon, vanilla, yummmm.

Comment submitted: 10/29/2009 (#8923)



From D.D. Thunder
Really good but it definitely needs the vanilla and nutmeg added as other people have suggested.

Comment submitted: 10/19/2009 (#8862)





From londonsje (Team Breakfast Member)
These turned out perfect! I also substituted canola oil for butter. They were very very tasty! My daughter had a "happy plate" for once!

Comment submitted: 6/1/2009 (#8198)



From BabyBear
It was lovely and tastes really good.

Comment submitted: 2/25/2009 (#7660)





From LindaE (Team Breakfast Member)
My family loves them... the new favorite for fall.

Comment submitted: 11/4/2008 (#6749)



From Swiing
This was great. The only substitution I made was Canola oil for melted butter.

Comment submitted: 12/25/2007 (#4246)





From Heatherhrtly (Team Breakfast Member)
I also added about 1/8 tsp. each of nutmeg, ginger and just a pinch of clove. Instead of just mixing in the sugar, I gradually added it to my egg whites while whipping to give them more structure and hold more air ( I like fluffy pancakes, and this were just that!) They were a great autumn football sunday breakfast.

Comment submitted: 10/14/2007 (#3763)



From pancake lover
Added a pinch of nutmeg, cloves, and allspice. Also added 1 teaspoon of vanilla and used Splenda and Smart Balance. My husband thought they were great!

Comment submitted: 3/6/2007 (#1752)



From Thundernuts
I too used more brown sugar and added 1/4 tbs. of nutmeg and cloves. I also added more milk to thin the mix as I like thinner, crisper pancakes over thick moist cakes. Made for overnight guests and it was a hit. Will keep this recipe.

Comment submitted: 10/19/2006 (#527)



From Chotii
I used brown sugar instead of white, and used a bit extra (until I could taste a bit of sweet). I sold them to my kids as "pumpkin pie pancakes", because the word 'pie' makes them extra special, you know. Even my littlest, who declared upon seeing them that she didn't want to eat them on general principles, dug in and ate like a champ!

Comment submitted: 9/15/2006 (#323)





From Mr Breakfast (Team Breakfast Member)

You are correct sir (or chick). There's a few fancy folks out there who like to roast and mash their own pumpkin (or butternut squash, mmmmm). But for us regular Joes, canned pumpkin will do just fine.

Comment submitted: 9/10/2006 (#294)



From PumpkinQuestion

I haven't tried this recipe, but is pumpkin puree the same thing as plain old canned pumpkin?

Comment submitted: 9/9/2006 (#289)




---
Connect With Mr Breakfast: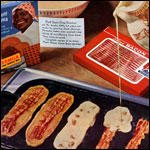 Bacon Strip Pancakes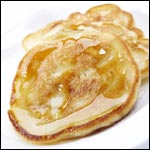 Reliable Homemade Pancakes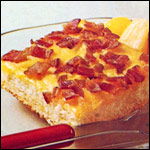 Maple-Bacon Oven Pancake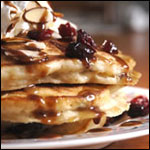 Cranberry Almond Caramel Pancakes

All you need to know. The basics and beyond!
Click here
.