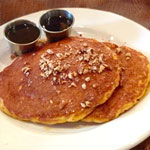 Low Carb Pumpkin Pancakes
1 large egg
1/2 cup pumpkin puree
1/3 cup flaxseed meal
1/3 cup whey protein powder
1 Tablespoon butter - softened
1/2 teaspoon vanilla extract
2 Tablespoons sour cream
2 packets Splenda or equivalent
1/2 teaspoon cinnamon
1/4 teaspoon ginger
1/4 teaspoon ground cloves
1/4 teaspoon ground allspice
1/4 teaspoon baking powder
1/4 teaspoon baking soda
This recipe has about 14 net carbs per serving. We recommend making the pancakes smaller than usual. Use a little less than 1/4 cup batter per pancake. Since there's no flour in the recipe, the pancakes are very tender. If you make them too large, they might break apart when you flip them or transfer them from pan to the plate. The pancakes aren't as sweet as their full carb brothers so make sure you have a good sugar-free syrup to serve them with.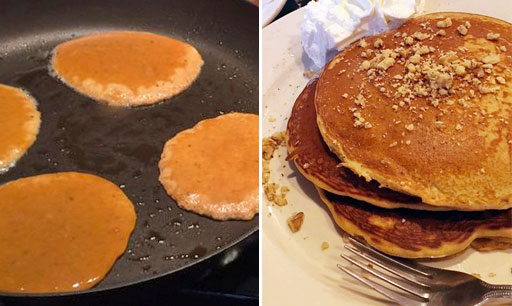 How To Make Low Carb Pumpkin Pancakes
In a medium bowl, lightly beat the egg. Blend in pumpkin, butter, vanilla and sour cream.
In a separate bowl, sift together all dry ingredients.
Combine wet and dry ingredients. Mix well.
On a lightly greased skillet or fry pan, dollop out about 1/4 cup of batter to make each pancake.
This makes about 6 pancakes.

A flour-less pumpkin pancake recipe that uses protein powder and flax meal. Best served with fresh fruit and sugar-free maple syrup.
Mr Breakfast would like to thank
AlwaysDieting
for this recipe.
Comments About This Recipe
What do you think of Low Carb Pumpkin Pancakes?
Overall Average Rating =
(out of 5)

From kathylewis (Team Breakfast Member)
Try using agave instead of sugar to take advantage of it's low glycemic index and substitute WW flour if you don't have any whey protein in your pantry!

Comment submitted: 6/6/2010 (#10632)



From Dottie Ryans
Thank you Mr Breakfast for this, I made it for my grandkids when they came over. Sophie doesn't like pumpkin, but even she ate this up. I'm helping my daughter introduce her kids to healthy foods and I'm glad to say that James and Isabella are onto pumpkin.
Even I had to have a try of this. I have to admit it wasn't as full of flavour as the less healthy variety, but I suppose we have to compromise! Don't we?

Reading back, this actually has quite a lot of fat, I don't know why it's in this section, but at least it had vegetables! Right?

I'll be trying some green bean recipe next, I hope. Probably not on pancakes though. That would be a yucky mess! Aren't I right?

I've made a couple of things since my pumpkin pancakes and will be reviewing. I'll have to keep coming on Mr Breakfast, won't I! It's a right food fiesta! Isn't it?

Thanks again
-Dottie

Comment submitted: 3/18/2010 (#10089)



From CJ on the rise

Nutrition Facts

User Entered Recipe

4 Servings



Amount Per Serving


Calories 463.2

Total Fat 27.6 g

Saturated Fat 7.5 g

Polyunsaturated Fat 1.9 g

Monounsaturated Fat 6.1 g

Cholesterol 534.1 mg

Sodium 309.1 mg

Potassium 412.4 mg

Total Carbohydrate 25.2 g

Dietary Fiber 10.0 g

Sugars 10.8 g

Protein 31.6 g


Vitamin A 211.6 %

Vitamin B-12 20.5 %

Vitamin B-6 10.2 %

Vitamin C 4.3 %

Vitamin D 16.8 %

Vitamin E 10.1 %

Calcium 16.5 %

Copper 4.1 %

Folate 16.2 %

Iron 31.6 %

Magnesium 6.6 %

Manganese 6.0 %

Niacin 1.6 %

Pantothenic Acid 17.8 %

Phosphorus 23.9 %

Riboflavin 38.4 %

Selenium 53.9 %

Thiamin 6.0 %

Zinc 9.6 %

Comment submitted: 2/21/2010 (#9875)



From Lloyd V.
Tastes great and quick and easy to make despite the long ingredient list. I would make this again.

Comment submitted: 8/25/2009 (#8600)



From pancake

I have not tried it yet because there is too much carb in it. Im on a low carb diet, and Im gonna be off tomorrow and then do an insulinchok to gain 2-6 kgs og muscle and then I will start bulking and eat whatever I want to. That also includes belgian vaffles. thake that mrbreakfast.com

Comment submitted: 1/14/2009 (#7364)





From boston93 (Team Breakfast Member)
Very sweet and delicious. I forgot to add the flax seed, but it still turned out great. My whole family enjoyed them.

Comment submitted: 5/11/2008 (#5250)



From Terrific
Yummy recipe! Thanks.

Comment submitted: 5/7/2008 (#5214)



From wolfcry-sama
I found this recipe to taste very delicious. I would reccomend a fruit topping - I tried it with strawberries and thought it was fantastic.

Comment submitted: 4/8/2008 (#4992)



From Healthy Alternatives

This is a great recipe, a keeper! Thanks.

Comment submitted: 2/5/2008 (#4557)



From Very Pleased
Hello, I lost my favorite recipe for pumpkin pancakes and just found this one. I needed a use for some pumpkin after I used 1 cup in pumpkin chili and was delighted with the pancake recipe, but it got misplaced. I am so pleased with this one. They turn out good enough... no topping is needed. Thanks.

Comment submitted: 9/22/2007 (#3614)





From Philbo (Team Breakfast Member)
I love this recipe! I've sub'd Oats and Vanilla flavored Soy Protein for the Whey Protein Powder. Both were very good. Can use yogurt in place of Sour Cream. If using canned pumpkin make sure it's Pumpkin only. I almost bought the processed pumpkin mix by accident, defeating the whole idea of healthy.

Comment submitted: 2/5/2007 (#1430)



From LowCarber
Made these last night with a few substitutions, winter squash instead of pumpkin and vanilla flavored soy protien (left out vanilla extract). Pretty darned good! I put some ricotta flavored with vanilla and splenda on them and that was pretty tasty. I''m also thinking about a savory pancake using some of these pancake receipes since I tend to veer more towards savory than sweet. Maybe use them for sandwiches?? Could be interesting with some shaved ham, smoked turkey and cheese?? Grilled in the toaster oven....yum!

Comment submitted: 1/19/2007 (#1250)





From wibk4 (Team Breakfast Member)
Interesting concept - we tried the recipe without the sour cream, using skim milk instead. Very flavorful - didn't need condiments at all! A fall classic!

Comment submitted: 9/22/2006 (#357)




---
Connect With Mr Breakfast: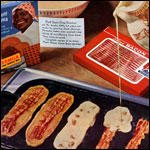 Bacon Strip Pancakes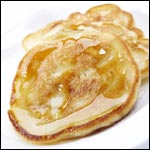 Reliable Homemade Pancakes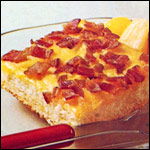 Maple-Bacon Oven Pancake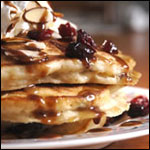 Cranberry Almond Caramel Pancakes

Just because it looks fancy and tastes great doesn't mean it's hard.
Click here
.