Low Carb Pumpkin Pancakes

(2 servings)

1 large egg
1/2 cup pumpkin puree
1/3 cup flaxseed meal
1/3 cup whey protein powder
1 Tablespoon butter - softened
1/2 teaspoon vanilla extract
2 Tablespoons sour cream
2 packets Splenda or equivalent
1/2 teaspoon cinnamon
1/4 teaspoon ginger
1/4 teaspoon ground cloves
1/4 teaspoon ground allspice
1/4 teaspoon baking powder
1/4 teaspoon baking soda
This recipe has about 14 net carbs per serving. We recommend making the pancakes smaller than usual. Use a little less than 1/4 cup batter per pancake. Since there's no flour in the recipe, the pancakes are very tender. If you make them too large, they might break apart when you flip them or transfer them from pan to the plate. The pancakes aren't as sweet as their full carb brothers so make sure you have a good sugar-free syrup to serve them with.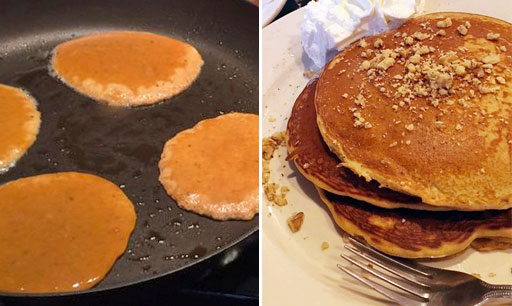 How To Make Low Carb Pumpkin Pancakes

In a medium bowl, lightly beat the egg. Blend in pumpkin, butter, vanilla and sour cream.

In a separate bowl, sift together all dry ingredients.

Combine wet and dry ingredients. Mix well.

On a lightly greased skillet or fry pan, dollop out about 1/4 cup of batter to make each pancake.

This makes about 6 pancakes.


A flour-less pumpkin pancake recipe that uses protein powder and flax meal. Best served with fresh fruit and sugar-free maple syrup.




Mr Breakfast would like to thank AlwaysDieting for this recipe.

Recipe number 1372. Submitted 10/9/2004.