Featured Items: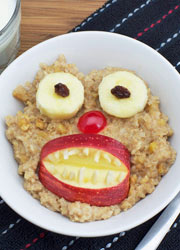 Creepy Oatmeal Monsters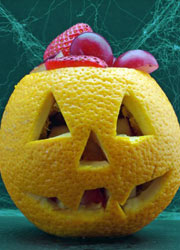 Jack O' Lantern Fruit Cups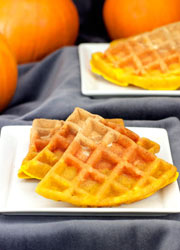 Candy Corn For Breakfast?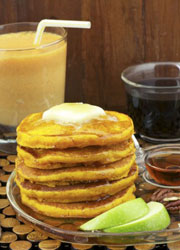 Pumpkin Breakfast Recipes
Mr Breakfast's 10 Favorite Halloween Breakfast Cereals

Count Chocula
General Mills
Introduced: 1971

Boo Berry
Post
Introduced: 1973

Cap'n Crunch Halloween Crunch
Quaker
Introduced: 2007

Creepy Cocoa Rice Krispies
Kellogg's
Introduced: 2002

Fruit Brute
General Mills
Introduced: 1974

Candy Corn Corn Pops
Kellogg's
Introduced: 2001

Halloween Brew Waffle Crisp
Post
Introduced: 2000

Franken Berry
General Mills
Introduced: 1971

Spooky Marshmallow Froot Loops
Kellogg's
Introduced: 1996

Yummy Mummy
General Mills
Introduced: 1988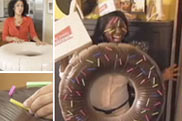 ---
4 Easy Ways To Halloween Up Your Breakfast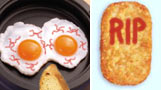 Ketchup Makes Great Blood:
If you squirt ketchup on a sunny side-up egg, it looks like a blood-shot eyeball. You can do the same thing with thin strips of red bell pepper in place of the ketchup. Additionally, if you write R.I.P. in ketchup on a hash brown patty , it looks just like a tombstone. Your friends will say "Rest in peace hash browns, because I'm gonna eat you up!"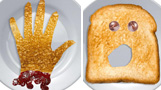 Terrifying Toast:
Trim a slice of toast to resemble a hand, foot or finger and then dollop strawberry or raspberry jam so it looks severed and bleeding. You can do the same thing with waffles and pancakes. For a quick, edible ghost, rip a small hole in a piece of toast to act as a mouth and then use chocolate chips or berries to make eyes.
Eggs-tremely Eerie Eggs:
Treat hard-boiled eggs like Easter eggs and use markers to make them look like the heads of ghosts, goblins and witches.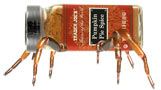 Scary Spice:
Pumpkin Pie Spice is a combination of cinnamon, nutmeg, ginger and allspice. Just a bit in pancake or waffle batter gives a feeling of pumpkin pie without using any pumpkin. Also try it in your French toast egg mixture and even sprinkled on toast. It's so good, it's scary.
---
---
6 Halloween Breakfast Jokes
What is a ghoul's favorite breakfast cereal? Rice Creepies!
When does a ghost have breakfast? In the moaning.
What do demons have for breakfast? Devilled eggs.
What do monsters eat for breakfast? Terri-fried eggs.
What is a witch's favorite oatmeal? Scream of Wheat.
What does Dracula drink at breakfast? Coffin with scream and sugar.
---
Additional Hair-Raising Reading