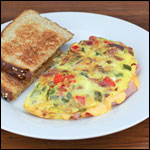 Denver Omelet
4 large eggs
1 cup onion - chopped
1/2 cup red bell peppers - chopped
1/2 cup green bell peppers - chopped
1/2 cup cooked ham - diced
8 slices bacon - cooked and crumbled
2 Tablespoons butter
1/2 teaspoon salt
1/2 teaspoon pepper
a couple drops drops of your favorite hot sauce (optional)
What is a Denver omelet? Almost everyone agrees that it should have chopped onion and chopped bell pepper cooked into the egg (preferably a combination of red and green bell pepper). Most people would expect small cubes of ham in there too. Whether or not it should have cheese as a filling or a topping is up for debate. The recipe submitted here is sort of a Meat Lover's Denver Omelet. It includes crispy, crumbled bacon with the ham and vegetables. For more of a purist's Denver Omelet, just skip the bacon.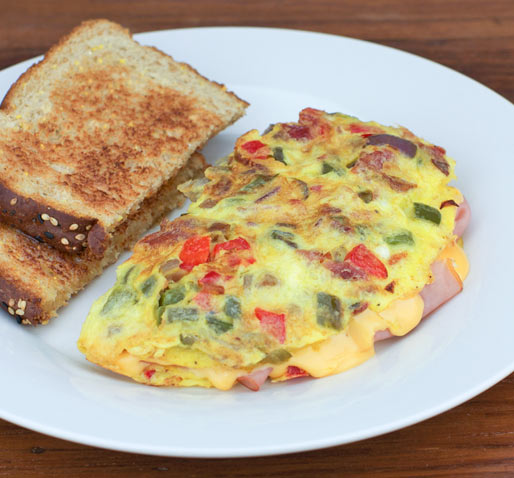 How to Make A Denver Omelet
Melt butter in a large skillet or on a griddle.
Saute onion, bell pepper, ham and bacon in the butter until the onion starts to become translucent.
In a small bowl, whip the eggs lightly. Add salt and pepper and hot sauce if desired.
Slowly, stir the eggs into mixture in skillet. Lightly brown on one side. Turn over and lightly brown other side.
Alternative Version For One Omelet

The Denver Omelet recipe above works great and has received some very good reviews. When I made it, I switch up the ingredients just slightly based on what I had around. Instead of using chopped ham, I filled the omelet with very thinly sliced deli ham and 1 slice of American cheese.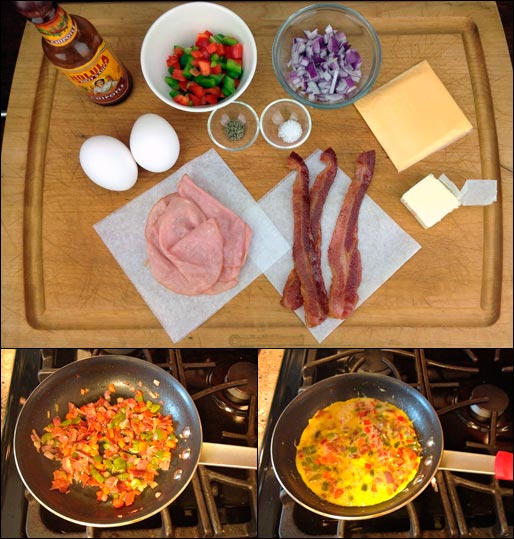 So the ingredients I used for one omelet were 2 eggs, 1/4 medium red bell pepper, 1/4 medium green bell pepper, 1/4 medium onion, 3 slices of crumbled bacon, 4 slices of thinly sliced ham, 1 slice of American cheese, 1 Tablespoon butter and a little salt and pepper.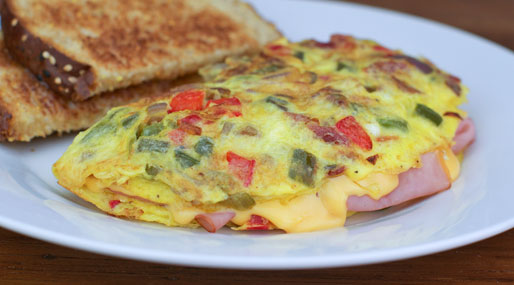 You can omit the bacon for a more traditional Denver Omelet... but I like mine kinda meaty (sometimes I even add a slice of American cheese).
Mr Breakfast would like to thank
ILoveBagels
for this recipe.
Comments About This Recipe
What do you think of Denver Omelet?
Overall Average Rating =

(out of 5)




From Katz

I agree with Lily... it's a folded frittata. Set the eggs first and add the fillings.

Comment submitted: 9/6/2019 (#20847)



From D. Dailey
Any restaurant menu... you will see diced ham and green bell pepper, that's what make it a Denver. Point blank. Onions need to be in there but it's the ham and bell pepper that go so well together.

Comment submitted: 12/8/2018 (#20687)



From Nette
I actually think this is the best omelet I have seen in a while. I would add mushrooms to mine though and cheese on the top! Delicious. P.S. People can be so negative sometimes... go make your own omelet if you don't like this one! It looks good to me!

Comment submitted: 3/4/2018 (#20534)



From Chef Zak

This omelet is a western omelet. The Denver omelet has mushrooms added to it!

Comment submitted: 1/4/2018 (#20485)



From J. Las Casitas
What this Omelet has or what it doesn't have, any way you make it, traditional or personalized, it's a good warm belly filler that will make it easier to get to the Lunch (truck or sit down). Just enjoy it either way you make it, Cheesy, Meaty, Eggie, and or Hot Sauce, or Salsa, Sour Cream... It's even great with just Salt and Pepper. "Just Enjoy" - Las Casitas #91-John

Comment submitted: 12/27/2017 (#20478)



From Just Is

I think she meant 3 slices. Probably just a typo.

Comment submitted: 11/22/2017 (#20448)



From Mwjakel
Made this with what was in the fridge. Didn't have ham so I used a few breakfast sausage links. Also, used pico de gallo instead of the usual ingredients. The smoked chipotle tobacco sauce made it that much better.

Comment submitted: 2/24/2017 (#20209)



From grizzle
Great eggs! Fast. The best.

Comment submitted: 11/9/2016 (#20114)



From Lily

Lovely recipe, but it's not an omelette unless you fill it and fold it. This is a frittata because it doesn't tell you to fold it. I suggest you put the cheese inside, fold it and let the cheese melt.

Comment submitted: 9/30/2015 (#19574)



From T-RAY148
YUMMY!!!

Comment submitted: 8/13/2015 (#19508)



From Phil H.
Liked it a lot... skipped the ham because I didn't have any, but did everything else. Lots of flavor.

Comment submitted: 7/15/2015 (#19478)



From Xizzi
I have one every morning, however I substitute the eggs with egg beaters as it is is much healthier and lo cal - I skip the bacon (yuk), but add diced ham, onion, tomato, green pepper - awesome.

Comment submitted: 3/19/2015 (#19328)



From C.S. Reid
I love a good Denver omelet and this came out perfect.

Comment submitted: 2/11/2015 (#19261)



From Oceanside

A true Denver omelet does NOT have cheese. If it did, it would be a Western omelet.

Comment submitted: 1/12/2015 (#19207)



From Wonder Cook
Really good idea for my kids (or maybe just me) for when they're home from a sleep over.

Comment submitted: 4/29/2014 (#18850)



From B. W. Kaye
Great, but I don't do the bacon and I add some sour cream at the end. Delicious!

Comment submitted: 3/4/2014 (#17339)



From casey
@JB - It's because he was making a smaller portioned meal.

Comment submitted: 1/12/2014 (#17245)



From Zack BG
I'd use better cheese.

Comment submitted: 9/29/2013 (#16669)



From David RK
One of my top 5 favorite breakfasts of all time. Interesting how you used sliced ham. I'll have to try that next time.

Comment submitted: 4/28/2013 (#15770)



From JB 43

Ummm... the picture has 3 slices of bacon... not 8 pieces... what's up with that?

Comment submitted: 3/19/2013 (#15423)



View all 56 comments for this recipe.



---
Connect With Mr Breakfast: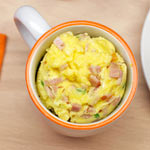 Microwave Farmers Omelet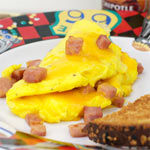 Ham & Cheese Omelette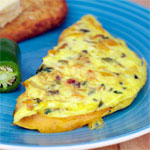 Jalapeno Omelet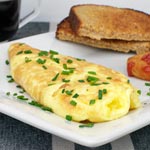 40 Second Omelet