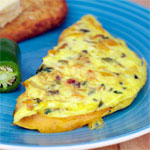 Jalapeno Omelet
5 large eggs
1 fresh medium jalapeno pepper - cored and minced
1/3 cup green peppers - diced
1/3 cup red peppers - diced
1/3 cup onion - diced
1/3 cup sharp cheddar cheese - grated
1 teaspoon Tabasco
1 teaspoon cilantro - finely chopped
1/2 teaspoon salt
1/4 teaspoon pepper
1 or 2 Tablespoon butter - for frying
I was in the mood for something spicy this morning (June 2013), so I decided to finally try this recipe from 'DixieChick' that was submitted way back in 2005. The user comments below are spot on. This is a great omelet. I did adjust it slightly to make a single serving. I used 2 eggs, 1/2 of a jalapeno and about 1/3 of single orange bell pepper. I particularly liked the flavor of the cilantro and the double dose of heat from the jalapeno and the Tabasco. Starting the day with a little fire wakes up the senses.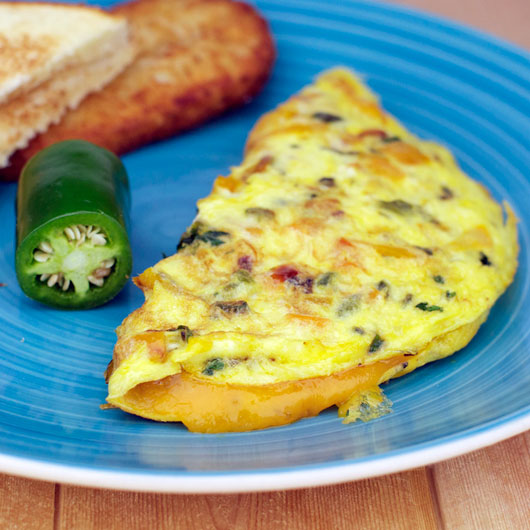 How To Make A Jalapeno Omelet
Melt butter in a large, heavy frying pan.
Add jalapeno peppers, green peppers, red peppers and onions and saute until onions become transparent. Season with salt, pepper, Tabasco and cilantro. Beat eggs with 1 Tablespoon of water and slowly pour throughout the sauteed mixture.
Simmer covered over low heat until the eggs are set. Add cheese to one side and carefully flip the other side over. Remove from heat and cover for an additional minute to melt the cheese completely.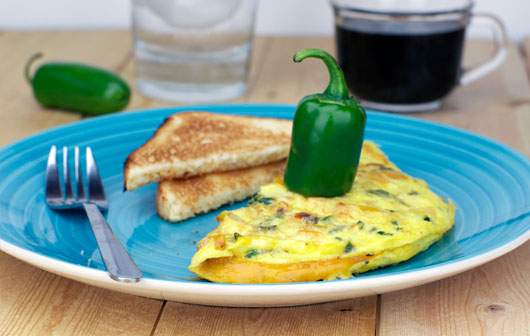 Fresh and spicy. If you want it mouth-burning hot, don't core the jalapeno. The seeds are the hottest part.
Mr Breakfast would like to thank
DixieChick
for this recipe.
Comments About This Recipe
What do you think of Jalapeno Omelet?
Overall Average Rating =

(out of 5)

From Jeffers

The seeds are NOT the hottest part. It's the capsaicin (white membrane) that provides the heat.

Comment submitted: 8/20/2019 (#20830)



From Bobbyr55

I have never made this particular omelet, but I would never put water in an omelet. I prefer using milk instead; it makes for a better tasting omelet.

Comment submitted: 3/2/2018 (#20532)



From Mme Jeanette
For the real spicy guys, use Madame Jeanette Peppers instead of the Jalapeno. I love it!

Comment submitted: 4/16/2016 (#19875)



From Vidya
Nice.

Comment submitted: 12/7/2015 (#19685)



From Y.E.S.

Add spicy sausage and make it extra hot!

Comment submitted: 12/3/2015 (#19679)



From Jacobell
I added farm fresh sausage. DELICIOUS!

Comment submitted: 11/4/2015 (#19622)



From Nick
Very good, made a few changes by adding chopped tomato and a bit of chorizo. Tasty.

Comment submitted: 5/17/2015 (#19413)



From Elle L.
I like adding some mushrooms too.

Comment submitted: 1/16/2015 (#19213)



From missmk
Added green, red and yellow peppers with the jolly's. Best omelette I have made yet! Very Yummy!

Comment submitted: 11/16/2014 (#19114)



From Rkia
Delicious! Yummy! I've eaten it 5 mornings in a row now.

Comment submitted: 11/23/2012 (#14897)



From N. John
Best omelet ever! Spicy. It almost made my head explode. Delicious!

Comment submitted: 1/11/2012 (#13414)



From Mike Coffee
Here's what I did: fry up some mexican chorizo (or you could use spicy breakfast sausage) and crumble it as it cooks. Add it to the omelet when you add the cheese. I like a lot of heat, so it was super good.

Comment submitted: 11/12/2011 (#13160)





From sebra (Team Breakfast Member)
Jalepenos in an omelette was bit intimidating, however this recipe has a great flavor to it. If you take out the seeds and the membrane it just leaves a nice mild heat, if you like it hot leave it in there. Serve this up with a piece of toast and a glass of mammosa and you got yourself an elegant breakfast.

Comment submitted: 10/18/2010 (#11412)



From Lady44
It was nice I added green and yellow peppers along with salsa, and gouda cheese.

Comment submitted: 3/4/2010 (#9972)



From Fahim
This was the first time I ever made an omelet. I really liked it, but I added mushrooms just because I love mushrooms.

Comment submitted: 2/11/2010 (#9684)



From Rick

Good, but one mistake. The seeds are not the hottest part of the pepper, it's acually the membrane of the pepper.

Comment submitted: 10/11/2009 (#8821)



From Hot Breakfast
Yummy!!!!!!!

Comment submitted: 1/31/2007 (#1380)



From Latin Chick
People need to try something new who says theres only sweet food for breakfast.

DELICOUS!

Thanks DixieChick.

Comment submitted: 1/22/2007 (#1275)




---
Connect With Mr Breakfast: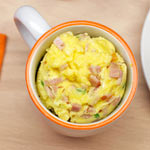 Microwave Farmers Omelet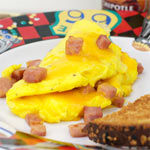 Ham & Cheese Omelette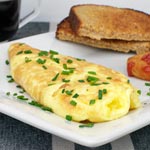 40 Second Omelet