Denver Omelet

(2 servings)

4 large eggs
1 cup onion - chopped
1/2 cup red bell peppers - chopped
1/2 cup green bell peppers - chopped
1/2 cup cooked ham - diced
8 slices bacon - cooked and crumbled
2 Tablespoons butter
1/2 teaspoon salt
1/2 teaspoon pepper
a couple drops drops of your favorite hot sauce (optional)
What is a Denver omelet? Almost everyone agrees that it should have chopped onion and chopped bell pepper cooked into the egg (preferably a combination of red and green bell pepper). Most people would expect small cubes of ham in there too. Whether or not it should have cheese as a filling or a topping is up for debate. The recipe submitted here is sort of a Meat Lover's Denver Omelet. It includes crispy, crumbled bacon with the ham and vegetables. For more of a purist's Denver Omelet, just skip the bacon.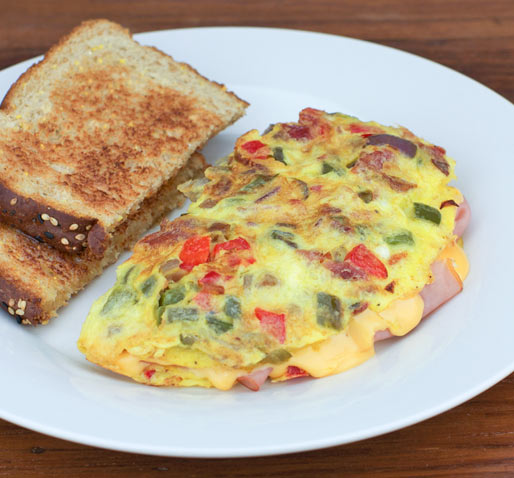 How to Make A Denver Omelet

Melt butter in a large skillet or on a griddle.

Saute onion, bell pepper, ham and bacon in the butter until the onion starts to become translucent.

In a small bowl, whip the eggs lightly. Add salt and pepper and hot sauce if desired.

Slowly, stir the eggs into mixture in skillet. Lightly brown on one side. Turn over and lightly brown other side.


Alternative Version For One Omelet

The Denver Omelet recipe above works great and has received some very good reviews. When I made it, I switch up the ingredients just slightly based on what I had around. Instead of using chopped ham, I filled the omelet with very thinly sliced deli ham and 1 slice of American cheese.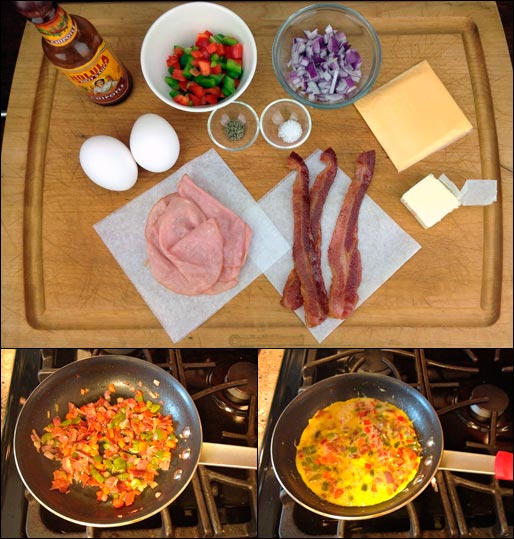 So the ingredients I used for one omelet were 2 eggs, 1/4 medium red bell pepper, 1/4 medium green bell pepper, 1/4 medium onion, 3 slices of crumbled bacon, 4 slices of thinly sliced ham, 1 slice of American cheese, 1 Tablespoon butter and a little salt and pepper.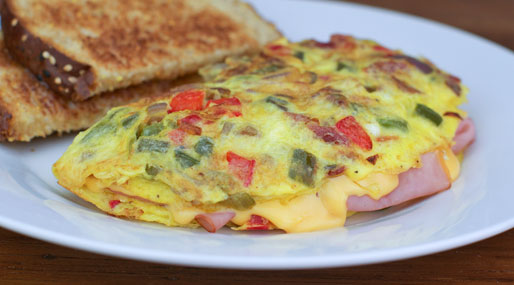 You can omit the bacon for a more traditional Denver Omelet... but I like mine kinda meaty (sometimes I even add a slice of American cheese).




Mr Breakfast would like to thank ILoveBagels for this recipe.

Recipe number 1426. Submitted 2/7/2005.