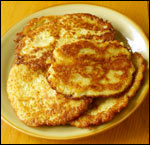 Mashed Potato Pancakes
2 cups mashed potatoes
1 large egg - lightly beaten
6 Tablespoons all-purpose flour
1 and 1/2 Tablespoons grated onion
salt and pepper - to taste
vegetable oil for frying
In a medium bowl, whisk together the mashed potatoes and egg. Add the flour and onion and mix all together well. Add salt and pepper to batter if desired.
In a large skillet or on a griddle, heat vegetable oil (about 3 Tablespoons maybe) over medium-high heat. Dollop batter onto the heated surface in heaping tablespoons. Flatten each dollop slightly with the spoon to create the cakes.
Cooking time is about a minute per side. They should be golden brown on each side, so I usually cook them with my eyes more focused on the pancakes than the clock.
If cooking multiple batches, transfer completed cakes to a paper lined microwave-safe plate in the microwave. If needed when all the cakes are done, microwave the stack for 20 seconds to assure they're all warm.
I hope you like them. I sure do!

I like these with butter and maple syrup. But since they're more savory than sweet, they are also terrific with a fried egg and grated cheese on top. You can also try adding some chopped parsley or basil for color - or spice them up with jarred roasted red pepper or jalapenos! Delicious!
Mr Breakfast would like to thank
MamaMia
for this recipe.
Comments About This Recipe
What do you think of Mashed Potato Pancakes?
Overall Average Rating =

(out of 5)




From Ashford
I, too, had some leftover mashed potatoes from Thanksgiving and made these pancakes tonight. This is a great recipe - easy and delicious.

Comment submitted: 11/30/2015 (#19678)



From M. J. Balmer
Delicious! Made them the Sunday after Thanksgiving with leftovers. Will make again. Thank you for sharing the recipe :)

Comment submitted: 11/28/2015 (#19672)



From Roberta2
It was awesome.

Comment submitted: 12/16/2014 (#19151)





From ncrsaa (Team Breakfast Member)
Just made them for special Sunday breakfast and everyone (dad and kids) thought they were great! I made them as directed, except I skipped the onions. Good stuff! Thanks!

Comment submitted: 9/2/2013 (#16368)



From Kejriwal
I liked it better than hash browns to have as a side dish. The edges get just a little crisp but the inside is soft. Very nice.

Comment submitted: 11/14/2012 (#14838)



From katlover

I did this, but why did they stick to the non-stick pan? It was a potato mess. What did I do wrong? Is my pan bad?

Comment submitted: 8/15/2012 (#14294)



From waldo b.

Awesome!

Comment submitted: 7/27/2012 (#14195)



From bopper
Loved it. Thanks much!

Comment submitted: 6/29/2012 (#14089)



From speedway
Had it as a side dish with fancy scrambled eggs. I used advise from one of the comments and added shredded Cheddar cheese too. It went really well the the scrambled eggs and it was great to get a taste of both at once. I give this recipe a thumbs-up.

Comment submitted: 2/18/2012 (#13553)



From Paul
This was way better than I thought it might be. I'd make it again.

Comment submitted: 12/26/2011 (#13347)



From crazytypist
This was easy to make and was a great way to get rid of all my mashed potato leftovers. Very tasty. Next time we will try with shredded cheese on top.

Comment submitted: 11/27/2011 (#13241)



From Glennigan

I have been making potato pancakes for a while and this pretty much follows my recipe except for a couple of things. Mind you this is not heart-healthy. I grate my potatoes and I fry them in bacon grease. Then I eat them with loads of salt & butter, no applesauce. Told you it was not heart-healthy.

Comment submitted: 11/9/2011 (#13134)



From kim bennani
I just made them with finely diced cornichons... so yummy.

Comment submitted: 10/1/2011 (#12958)



From Kathy
I made them with shredded cheese in the batter, then topped with sour cream! 5/6 kids thought they were awesome!

Comment submitted: 9/16/2011 (#12910)



From N. Carolina
I just made these for my in-laws and got great comments. They were really good. So thanks.

Comment submitted: 9/6/2011 (#12879)



From Nell
So glad I found this. I like it better than the shredded potato kind - which I love, so I'm pretty happy.

Comment submitted: 5/4/2011 (#12645)



From Hoops&Dee
Made it again this weekend. Great every time. I top them with sour cream and chives. My husband tops with maple syrup. Anything goes... delicious.

Comment submitted: 4/3/2011 (#12386)



From keyes1
They came out a little dry then expected but were AWESOME!

Comment submitted: 3/24/2011 (#12341)



From cece33
Great use for leftover mashed potatoes. This is a really good recipe.

Comment submitted: 2/28/2011 (#12215)



From Etompkins3127
I've been doing this one for about a year now, but adding Creole Seasoning to the potatoes. It's a great way to kick off the day.

Comment submitted: 2/4/2011 (#12067)



View all 70 comments for this recipe.



---
Connect With Mr Breakfast: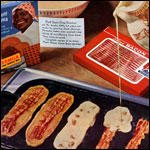 Bacon Strip Pancakes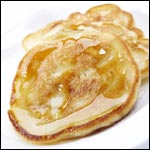 Reliable Homemade Pancakes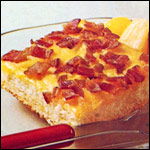 Maple-Bacon Oven Pancake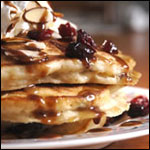 Cranberry Almond Caramel Pancakes